Where to Find the Best Family Shows and Special Events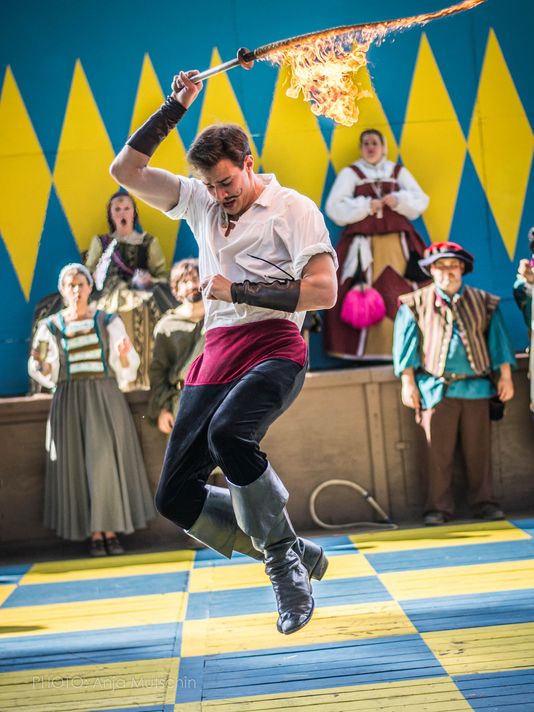 May is jammed pack with family shows – whether you are looking for play, musical, movie…. or any other type of show, there is something for the entire family! And better yet, NJ Kids has found the best of the best. Now all you have to do is order the tickets and get ready for some show-stopping fun!
BergenPAC
30 North Van Brunt St, Englewood. www.bergenpac.org
Music of the Masters: Beethoven & Brahms. May 1. Heroes make the impossible seem possible, no matter the obstacle. Danielpour's clarinet concerto— co-commissioned by the NJSO for magnetic soloist Anthony McGill—is inspired by the life and times of Dr. Martin Luther King Jr. Beethoven's operatic heroine Leonore rescues her wrongly imprisoned husband; her courage shines through in this overture.
Climb a Willow to the Sea God's Palace. May 3. This performance is based on a traditional story from Gangwon Province about brotherly love. This work features live paintings as actors draw 8 different paintings on traditional Korean paper that later become the background for the scenes. Shadow puppets emerge from the painted scenery along with traditional music to stimulate imagination and creativity while making the audience feel like they are reading a lyrical picture book.
The Fair Lawn Community Center/George Frey Center
10-10 20th Street, Fair Lawn.
The Complete Works of William Shakespeare. May 2. All 37 plays in 97 minutes! Join Skyline for this irreverent, fast-paced romp through the Bard's plays. The Complete Works of William Shakespeare (Abridged) was London's longest-running comedy! Join these madcap men in tights as they weave their wicked way through all of Shakespeare's Comedies, Histories and Tragedies in one wild ride that will leave you breathless and helpless with laughter. www.skylinetheatrecompany.org
The Wizard of Oz at Old Library Theatre. May 16-18.
The Count Basie Theatre
99 Monmouth Street, Red Bank.
Shrek. May 2-4. Shrek, based on the Oscar® winning DreamWorks film, brings the hilarious story of everyone's favorite ogre to life on the stage. In a faraway kingdom, an unseemly ogre shows up to rescue a feisty princess. Throw in a donkey who won't shut up, a bad guy with a SHORT temper, and a dozen other fairy tale misfits, and you've got the kind of mess that calls for a real hero...and his name is Shrek. Full of new songs & great dancing, SHREK THE MUSICAL is part romance, part twisted fairy tale and all irreverent fun.
Papermill Playhouse
22 Brookside Drive, Millburn.
Are You My Mother? May 3. At long last, Baby Bird emerges from her shell and expects to be greeted by her mother's song. But her mother is not there. Where is she? Why isn't she home? With the help of Dog, Cat, and Hen, Baby Bird sets out in search of Mother Bird in this colorful musical adventure based on P.D. Eastman's whimsical and well-loved picture book.
The Lion, The Witch, and The Wardrobe. May 10. This enchanting musical is based on C.S. Lewis' adventure story about four children of war-torn England, who accidentally enter the land of Narnia by climbing through a magic wardrobe.
Luna Stage
555 Valley Road, West Orange. 973-624-8880. www.wbgo.org/kids
WBGO FREE Kids Jazz Concert Series. May 3. The interactive, hour-long concerts give kids opportunities to learn about and enjoy the distinct qualities of jazz! Q&A sessions with the artists, small gifts, and a chance to win a door prize are just some of the reasons to come out and join us!
Raritan Valley Community College
118 Lamington Road, Branchburg.
Peter Pan. May 4. Come enjoy the journey of a group of children in turn-of-the-century London who use their imaginations to reenact the story of Peter Pan. This story empowers children to create their own world of make-believe.
Bedtime at Raritan Valley Community College. May 8-10. Bedtime is an exploration of games. Two friends discover a world of adventures before bedtime that distracts them from falling asleep. Their good will and naivety allow them to find enjoyment in everything that surrounds them, with a cozy bedroom as their setting.
IZOD Center
50 State Route 120, East Rutherford. izodcenter.com
WWE Extreme Rules. May 4. For the first time ever, Extreme Rules Pay Per View comes to the Izod Center in New Jersey this May! New Jersey goes Extreme!
The Broadway Theatre of Pitman's live Children's Theatre
43 S Broadway, Pitman. 856-384-8381
Three Little Pigs. May 9-10. Three little pigs are out in the world all on their own. Two of them build their homes out of sticks and straw. The third is much more industrious and builds his home out of bricks. All three of them are warned of the mischievous Big Bad Wolf coming their way. Will the wolf huff, puff and blow their houses down? Join us for some music and laughter to see what happens.
NJPAC
One Center Street, Newark. njpac.org
Mother's Day Weekend with Alvin Ailey Dance Theater. May 10-11. Alvin Ailey American Dance Theater has always been known for its vibrant fusion of dance styles. The company returns with programs that include some of its newest works- LIFT and D-Man in the Waters (Part 1)- as well as classics including The River, Night Creature, Pas de Duke and Revelations, Alvin Ailey's undisputed masterpiece, inspired by blues, spirituals and gospel music.
Stuart Little . May 17. Follow the misadventures of a most unusual mouse in this delightful adaptation of E. B. White's classic children's book.
The Kelsey Theatre at MCCC
1200 Old Trenton Rd, West Windsor. 609-570-3333
The Emperor's New Clothes. May 16-17. This original musical adaptation by Kaleidoscope Theatre of the delightful Hans Christian Andersen fairytale teaches the audience the importance of telling the truth. The story deals with an emperor who is obsessed with clothes, and his two tailors, Wilhelm and Lucinda, who outsmart him by making him an invisible set of clothing for his procession. Several members of the audience join in the merriment with one youngster becoming the star of the show and saving the tailors from the wrath of the Emperor!
Shrek, The Musical - Live On Stage. May 30-June 1.
In a faraway kingdom turned upside down, things get ugly when an unseemly ogre — not a handsome prince — shows up to rescue a feisty princess. Throw in a donkey who won't shut up, a bad guy with a SHORT temper, a cookie with an attitude and over a dozen other fairy tale misfits, and you've got the kind of mess that calls for a real hero. Luckily, there's one on hand...and his name is Shrek. Full of all-new songs, great dancing and breathtaking scenery, Shrek,
Union County Performing Arts Center
1601 Irving Street, Rahway. 732-499-8226. www.ucpac.org
Sensory Friendly Theatre: AESOP'S FABLES. May 18. Aesop's delightful fables of wit and wisdom, including Performances specially designed and adapted for children with autism and sensory sensitivity. Stag at the Pool, The Tortoise and the Hare, The Fox and the Grapes , The Wind and the Sun, and The Lion and the Mouse come to life through the large and colorful puppets of nationally acclaimed puppeteer and storyteller, Jim West.
New Jersey Renaissance Faire in Bordentown
May 31-June 1. Join us the first two weekends in June! The New Jersey Renaissance Faire is fun for the whole family as you step back in time to the days of yesteryore and 16th century merry olde England. The New Jersey Renaissance Faire features six stages of performances, music, and entertainment, as well as a full scale chess match, sword fighting, a full scale joust, glass blowing, falconry, and other fun filled and educational activities. 1195 Florence-Columbus Road, Bordentown. www.njrenfaire.com