Ready to get crafty? March is National Craft Month, so what better time to perfect a previous craft or try your hand at a new one. And if you're unsure where to begin, worry no more! There are tons of fantastic family workshops for all ages, plus new classes and great sites to explore to get you started. Even better, NJ Kids has found the best of the best so roll up your sleeves – it's time for some family fun!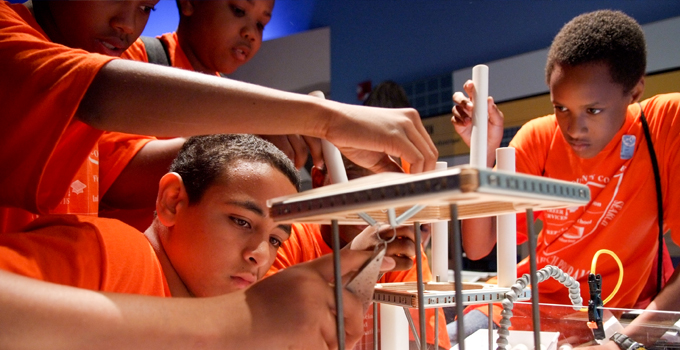 Skyscraper! Achievement & Impact at Liberty Science Center
Start your crafty month at Imagine That! in Florham Park – they have a craft every weekend included in admission price. March crafts include: Make a Bookmark, Decorate a Kite, Make a Macaroni Bracelet, and Decorate a Shamrock.
Sign up for a class at Raritan Valley Community College – Lego Building, Fashion Sewing, Creative Art, and more.
It's Family Fun Day at the Museum of Early Trades and Crafts in Madison on March 8th; on March 16th it's Lucky Leprechaun Day - Irish history, activities, refreshments and, of course, crafts!
Messy Artist in East Hanover invites you to a FREE Story Time and Craft every Tuesday at 1PM. Don't forget to check out their classes – they've got something for all ages, from toddlers to teens.
Get artistic at the Montclair Art Museum – every Wednesday at 4PM come make a project using a variety of recycled materials. Free with admission.
Fire up the grill - Classic Thyme in Westfield offers cooking classes for the entire family. (And best of all, you get to eat your masterpiece!)
Butterflies and Art at the World of Wings in Teaneck! Two classes offered every Thursday (11AM and 4PM) where kids explore fun ways to turn common household objects into crazy, cute critters. FREE with general admission.
Sample Camp Riverbend's awesome summer activities on March 15th - games, crafts, cooking and more! Drop in any time between 10AM and 12PM. RSVP required.
Read and Explore at Terhune Orchard in Princeton – Learn all about composting, then make a compost container to take home. Tuesday, March 4th at 10AM and Saturday, March 8th at 10AM. Registration requested.
Enjoy a family show at NJPAC (and watch actors exhibit their favorite craft!). March 29th - 'We're on a Bear Hunt'!
Or run off and join the circus…. the Ringling Brothers Barnum and Bailey Circus at the IZOD Center, that is. Pulling into town March 19th – March 23rd.
Participate in daily farm chores, including butter churning, corn cracking, and harness cleaning at Fosterfields Living Historical Farm on March 16th. 12 - 4PM.
Calling all parents – perfect the craft of a happy marriage when you drop the kids off at Little Gym for Parent Survival Night! Summit: March 21st; Cranford: March 22nd
Build a Rain Barrel at the Stony-Brook Milstone Watershed in Pennington while learning how to capture and reuse rain water in your home garden. March 23rd. Fee and registration required.
Study the art form of Kente Clothe, and then weave a colorful pattern to share at the Princeton Art Museum on March 8th.
If you can't beat 'em, join 'em – kids of all ages (teenagers, too!) will love a day at iPlay America – let them show off their video and arcade game skills!
Sign up for a Music Together class and introduce young children to the wonderful world of music.
Saddle up for some horseback adventures at Seaton Hackney in Morristown. It's also time to register for their summer camp.
Or if performing arts is your craft, don't forget it's sign up time for Cresskill Performing Arts Summer Program.
String a bracelet or necklace during open beading time at Just Bead Yourself in Westfield. Also: Special Events, tea parties, princess parties, Mother and Daughter Beading and more.
Craft some fabulous family memories at Woodloch Pines in Hawley, PA. Endless fun includes Cupcake Wars, Gingerbread Wars, Bingo, Arts and Crafts, skating and tubing and much more.
Sculpt your mind and body at Fitness Factory Gym in Rockaway– the place where kids learn to have fun and be healthy.
Lace up the shoes and hone your bowling skills at Plaza Lane Bowling Alley in Morristown.
The new Build It Lab in Westfield is the place to be for the budding scientist, computer guru or builder - workshops and classes from Lego and Minecraft to Robotics, Programming, Physics, Chemistry, Biology and more.
Visit the Penn Museum on March 9th and enjoy a drop in workshop on abstract pottery designs of the Southwest Native American tribes. Then illustrate your own 2-D pottery shape.
What could be better than building structures out of wood and steel? Building them with candy! Design and build candy structures while learning about foundations and support at the Liberty Science Center. Saturdays in March.
March workshops at the Visual Arts Center in Summit include clay animals, cakes and pies galore, sand bottles and Native American sand painting.
Design a water wheel that utilizes rivers and streams to generate power at the Newark Museum during their Saturday and Sunday Drop-In Workshops.