Songs Share Positive Messages of
Friendship, Kindness, Anti-bullying, Imagination and Active Play
Release date January 28, 2014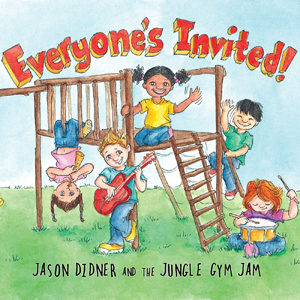 Montclair, N.J. –Jungle Gym Jam announces the release of its first album "Everyone's Invited," which exhibits positive themes relevant to kids of all ages.
Jason Didner, host of the Cool Rockin' Daddy Video Show (http://coolrockindaddy.tv), and founder of the kindie band, Jungle Gym Jam (www.junglegymjam.com), is releasing the band's first official album of tunes and wholesome lyrics created by Didner and his wife, Amy. The album takes parents, grandparents and kids from infants to teens on a wonderful journey that shares messages of kindness and friendship while encouraging imagination, active play, and a love of learning — and most importantly— not to leave out anyone because all are welcome.
Get tickets at http://junglegymjam.ticketleap.com/everyonesinvited
"I'm really pleased with how the album captures the live experience we've shared with audiences," Didner said. "Moments, such as when a toddler shakes a maraca with a huge smile on his face; a young mother rocks her baby in time with the music; or a pair of elementary school-aged girls invent a new dance to go with a song they heard for the first time."
The Didner's approach their songwriting with humor, much of which is inspired by everyday discoveries with their two-year-old daughter, Holly, whom they call "the heart and soul" of the band. Their parenting experiences are reflected in tunes, such as "My Glasses," where they learn their one-year-old needs to wear glasses and through song, positively reframe the way children who have experienced this may feel about themselves.
"Peek-a-Boo Moon," captures the excitement of a young child's discovery as she looks up at the sky and a cloud drifting away reveals the moon. The fun of learning is celebrated in "Five Sea Lions," a tune that makes learning to count fun. "The People Exhibit at the Zoo," chronicles the precious time a father and child spend together as they discover that animals in the zoo are just as fascinated with us as we are with them. The band's signature song "Jungle Gym Jamming," communicates messages of anti-bullying and encourages kids to "put down that video game and get outside and play."
"Everyone's Invited!" is now available for pre-order on iTunes athttp://junglegymjam.com/everyonesinvited. Customers who place a pre-order receive the tune "Jungle Gym Jamming" immediately and the remaining tracks on January 28 for $9.99. Starting January 28, the CD can be purchased at Watchung Booksellers (www.watchungbooksellers.com) in Montclair be ordered from CD Baby for $12.99 starting January 28 at http://www.cdbaby.com/Artist/JasonDidnerandtheJungleGymJam.
A companion e-book to "Everyone's Invited," is available free-of-charge online (http://junglegymjam.com/wp content/uploads/2014/01/Everyones-Invited-Companion-Book-to-the-Album.pdf) with stories and words behind the songs and fun activities, such as coloring pages and puzzles.
Launch Party and Family Festival: A CD launch party and Family Festival will take place on Sunday, January 26 at 11:30 a.m. at Just Jake's Bar and Restaurant in Montclair, N.J. (www.justjakes.com). Jungle Gym Jam will perform the entire album, and refreshments will be available. Special guest, Marc Bazerman of Baze and His Silly Friends (www.mysillyfriends.com) will also perform and other fun family activities, such as face painting with Fancy Faces and Places (http://www.facebook.com/FancyFacesandPlaces) and juggling with The New Captain Kangaroo (http://www.facebook.com/newcaptainkangaroo), will take place. Kids will be encouraged to dance and play with beach balls to the music. Tickets are available for purchase online at junglegymjam.ticketleap.com/everyonesinvited.
Get tickets at http://junglegymjam.ticketleap.com/everyonesinvited
Families are encouraged to bring a nonperishable food item or cash donation for the Human Needs Food Pantry of Montclair to help the area's hungry families. Those who make contributions will get a raffle ticket for drawings to win CDs and other band merchandise. The Human Needs Food Pantry asks that donors check the expiration date on the items they wish to donate.
For further information contact Jason Didner at 201-838-1205 or Jason@JungleGymJam.com.
About Jungle Gym Jam: Kids around the world are experiencing the sounds of Jungle Gym Jam (www.junglegymjam.com), a kindie band founded by Jason and Amy Didner, in their families' kitchens and cars, over the radio airwaves, Internet radio and podcasts as numerous DJs spin the band's tunes carrying messages of anti-bullying. Jungle Gym Jam is featured on an episode of the "No Cover" TV show for TV-34 Montclair, a municipal access station, which can be viewed on the band's press page at http://www.JungleGymJam.com/press.