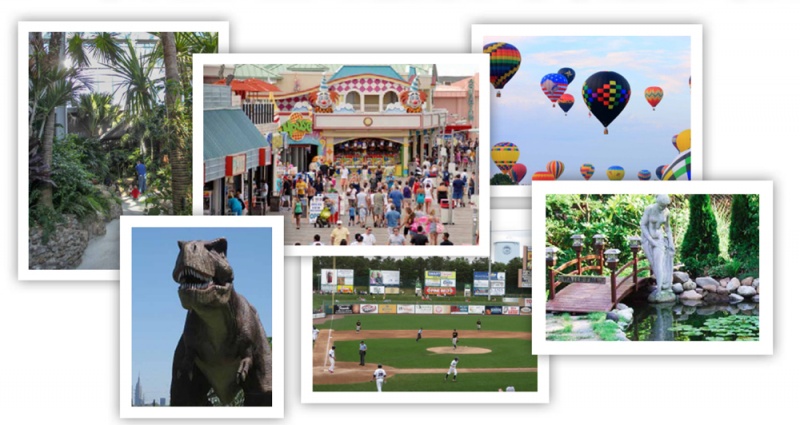 School's been out for most of us for at least a week or two, and if your kids are anything like ours, it took barely a day before... "There's nothing to do!" But, before you begin pulling your hair out - NJ Kids is here to help! July is officially known as Anti-Boredom month, and we've got an amazing list of boredom busting ideas for you! Good-bye I'm bored, hello fun!
Hooray for Hollywood! Grab a chair or blanket and enjoy a free flick on the beach. Towns up and down the shore are premiering hits like Hotel Transylvania, Madagascar 3, Jaws, Wreck it Ralph, Back to the Future and More! (For complete listing, check out our website at …..)
Watch the sun rise with over 100 balloons dotting the sky at the 31st Annual Quik Check New Jersey Festival of Ballooning…and stay for a day of entertainment, activities and good times! Balloons ascend again at 6:30 PM then enjoy music shows from stars like Blues Traveler and REO Speedwagon. This three day event at the Solberg Airport in Whitehouse Station is held July 26, 27, 28. Special balloons this year include a giant American flag, a lighthouse, Elvis, and more!
Toot-toot! Climb aboard the Thomas Express for a Day Out with Thomas. Young train lovers will cheer at the chance to meet Sir Topham Hatt, then hop on board a full-sized Thomas the Tank Engine for a 25-minute scenic ride through the countryside. Other activities include story telling, arts and crafts and more. Thomas returns to Phillipsburg July 5th-7th and July 12th -14th.
Triceratops, T-Rex, Apatosaurus, oh my! Step back 90 million years in time and wander along the ¾ mile trail past over 30 giants who once roamed the earth at Field Station Dinosaur. Workshops, games and activities teach about these prehistoric wonders. Special Events throughout the summer include Dozin' with the Dinos (July 13th and August 10th) - the ultimate sleepover, with a chance to explore the dinosaurs after dark, make s'mores and experience Dinosaur Alive! 3D. (Space is limited, reservations required).
No more frantic, "Don't Touch!" – at the Garden State Discovery Museum touching is expected! Hands-on science exploration, arts and crafts, pretend play and climbing and building at this interactive gem for children 0-10. Stay for the day and enjoy a performance at the Discovery Theater's Summer Series 2013 – shows include Peter Rabbit and Little Red Riding Hood.
Take Exit 98 on the Garden State Parkway and head over to Jenkinson's in Point Pleasant. Visit sea life from around the world at the aquarium, beachcomb with staff members down by the water, enjoy a display of fireworks, listen to concert or watch a movie on the beach – and don't forget the rides, arcades and summertime food stands!
And before you leave, check out the Tallest Castle right there on Jenkinson's Beach in Point Pleasant. See how world renowned sculptor Ed and NJ resident Alan Fumo are building the 'Sandy Castle' - projected to reach 50 feet tall. (And best of all, 100 percent of the proceeds will go directly to provide assistance to local residents and businesses struggling to recover from Superstorm Sandy.)
Or head to Belmar on July 17th to check out the NJ Sandcastle Contest! These aren't your ordinary shovel and bucket constructions; they are true works of art (but don't forgot your sandcastle supplies and enjoy an afternoon of more modest building!)
Grab your mitt and take them out to the ball game! Catch the Boys of Summer at a park near you - Newark Bears in Newark, Somerset Patriots in Bridgewater and the BlueClaws in Lakewood. Special events galore throughout July from Fireworks, special guests and giveaways!
Come meet and mingle with fellow moms (and kids) at NJ Kids Sponsored Mommy and Me Meet Up at the outlets at Bergen Town Center on July 18th. Story time, dance, music, crafts, prizes, arts and crafts and more! And best of all – it's FREE! You bring the kids, we'll bring the fun!
Wander through the 96 acres of specialty gardens surrounded by 1000 acres of woodland at the NJ Botanical Gardens. There are specialty tours just for kids, including a scavenger hunt and special events for the entire family, including a Butterfly Walk on July 14th, and a Family Woodland Hike on July 21st. Both are Free!
Spend a day in Cape May, a National Historic District. Animal encounters at the Cape May Park and Zoo, breathtaking views from the top of the Cape May Lighthouse in Cape May Point State Park, a chance to spot mammals out on the water on a whale-watching excursion, trolley rides through the downtown.
Experience Illuminate – a dazzling light show, which tells a story through dance and technology. The show, "Artist of Light," is about Jacob, a talented young artist with a magical paintbrush, which grants him the power to turn the characters of his imagination into living creatures. When the paintbrush is stolen and used it for evil, Jacob fights to save his town and friends. It is NYCs most electrifying show and is bound to WOW the entire family!
Celebrate America's birthday – from fireworks on the 4th to a tour of a Washington's Headquarters in Morristown to Monmouth Battlefield and the Museum of Early Trades and Crafts. Don't forget to include the Statue of Liberty in your plans – it reopens on July 4th following cleanup from Hurricane Sandy. Limited tickets to access the crown now available! Reservations required.
Learn about animal conservation as you take a "safari around the world" at Turtle Back Zoo. Travel from South America to the Plains of America, from Australia to New Jersey – all in a day! There's also mini-golf, a ropes adventure, train ride, carousel and more! And mark your calendar for a special movie night on July 18th!
The State Fair Meadowlands is back! Come experience NJs largest family event (now in its 27th year!) with over 150 rides and attractions (catch it before the closes for another year on July 7th)! Fireworks, musical guests, food, arcade games, free show (including a Big Cats Show), the original Batcopter, and so much more! Special admission prices July 2nd and July 7th.
Think Museums are closed on Mondays? We've got two that are open - NJ Children's Museum (and every Monday there is a different fun-filled theme, including Princess and Pirate and It's a Jungle Out There) and Liberty Science Center (Imax movies, Grossology Exhibit, Touch Tunnel, Wildlife Challenge, plus much more).
Take in a bit of nature at the Camden Children's Garden just across the river from Philly. They are hosting two special events this month: BlueBEARy Blast and Celebrate NJ Day Family Festival on July 13th and 14th, and Storybook Celebration Family Festival on July 27th and 28th.
And if you can make a weekend of it, head across the river into Philadelphia and enjoy the exhibits at the Penn Museum (the mummies are a family hit!). Don't miss a special presentation of "Finding King Tut" on July 24th on the Family Stage.
Picnic high above the buildings of Manhattan's west side along the High Line. Enjoy a peaceful break from the hustle and bustle as you stroll along the reclaimed and beautifully landscaped subway lines, then relax on one of the benches and enjoy a snack or a meal watching the traffic below.
Don't let the rainy day blues get your down – surprise the kids with a trip to Monster Golf, or Bounce U or Planet 301. The day couldn't look brighter when they have the change to run, jump, and play (and hopefully tire themselves out!).
Cool off in one of NJs spray grounds – wet, water fun (and great exercise!). Check out Dorbrook Park in Colts Neck, Asbury Splash Park in Asbury Park, Hamilton Park Splash Pad in Jersey City, Walter Lubbe Jr. Playground, Bergenfield, NJ, Veterans Park Sprayground and Playground in Monroe