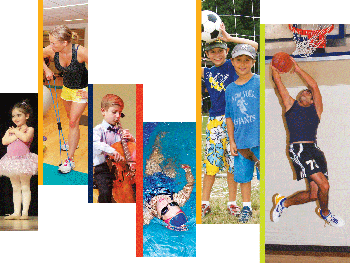 In celebration of a new musical season, the JCC Thurnauer School of Music will hold an Open House for the entire community on Sunday, September 15, from 1–4 pm.
Thurnauer faculty, students, and parents will provide guided tours; where potential students will be able to try sample classes, visit an instrumental "petting zoo", and enjoy an outdoor court yard concert. The music school open house is part of the Kaplen JCC on the Palisades' afternoon Open House.
Adding to the fun will be a variety of sample classes and demonstrations for children, including:
Aloha Ukulele, our NEW CLASS, a fun leap into strings for the first time musical beginner, ages ranging from 4 to 6, (a great introduction to strings, playing basic melodies, scales, chords, and playing-by-ear) From 2-2:30pm
I've Got Rhythm, children, ranging from toddlers to 6, will explore and express music through learning rhythm, creative movement, song, and percussion instruments. From 2:30-3pm
Instrumental Petting Zoo, for toddler through elementary, a hands-on, fun-filled opportunity to discover an array of strings, percussion, winds, & more! From 1-2pm
Instrumental Discovery, for 3rd grade to high school, an opportunity to try a variety of string instruments, percussion, winds, & more! Our students and faculty will be showcasing each instrument and encouraging older students to discover their musical interest. From 3-4pm
Young People's Chorus @ Thurnauer & Thurnauer Jazz Combo Concert, music and song in the court yard to finish the open house day. From 4-4:45pm
JCC Thurnauer School of Music faculty and staff will be on hand to speak about classes and instrumental & vocal programs. For more information on the Open House and sample classes, please call the JCC Thurnauer School of Music Office at 201.408.1456 or email thurnauer@jccotp.org
Classes start on October 6th. Register for classes at www.jccotp.org/thurnauer
About the JCC Thurnauer School of Music
The JCC Thurnauer School of Music, New Jersey's leading community music school, has been designated a Major Arts Institution by the New Jersey State Council on the Arts. Open to everyone with a desire to learn music, it offers a comprehensive program of private lessons for students of all ages on every instrument and voice, plus musicianship classes and orchestral, choral, jazz, and chamber ensembles. Concert and master class artists have included Glenn Dicterow, Pinchas Zukerman, Wynton Marsalis, Joshua Bell, Yefim Bronfman, Paquito D'Rivera, Mark O'Connor, Alan Gilbert and musicians from the New York Philharmonic, Francisco J. Núñez, Bob McGrath, Colin and Eric Jacobsen, and many others. Recipient of a special award for "excellence and high standards" from The Chamber Music Society of Lincoln Center, the JCC Thurnauer School of Music is a member of the National Guild for Community Arts Education. It is an integral part of the Kaplen JCC on the Palisades, a non-profit organization serving more than 20,000 people annually from Bergen County and beyond.