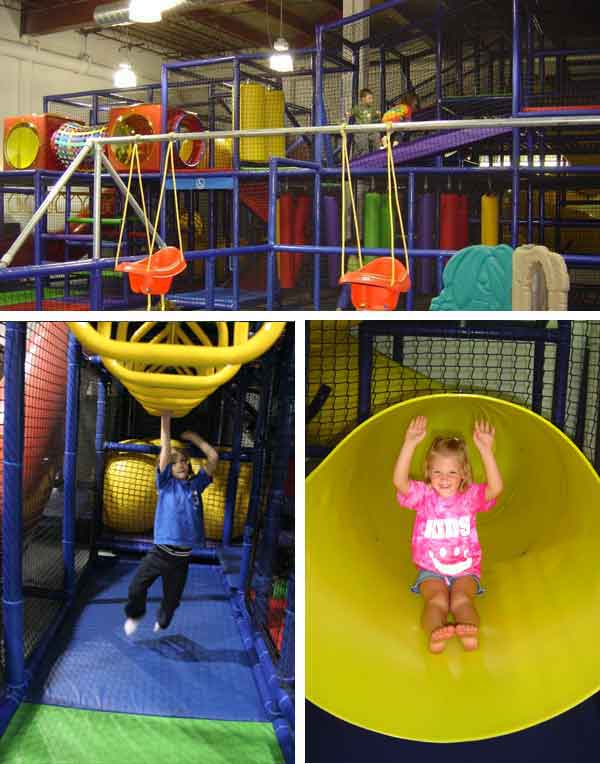 Cooped up and stir crazy? The days may be shorter, the weather is colder and there is a general grayness in the air – but don't give up on staying active and healthy. There are plenty of opportunities to get the kids up and moving, (and worn out!) – and still stay indoors! Here are some of our favorite indoor active fun places to go.
SAHARA SAM'S INDOOR WATER PARK
Don't think water fun is just for the summer – Sahara Sam's has a massive indoor park that is open year round, and has endless options for the entire family. There's the 350-foot Nile Mile body slide, the Congo Bongo Adventure River, Lizard Lagoon – and so much more. The park is open weekends in January, and Thursdays and Fridays from 4PM-9PM. SPECIAL JANUARY EVENT: On January 10th, the park is hosting S.E.A.S – a special evening for kids with special needs and their families. This event does sell out, so get tickets early.
Sahara Sam's (535 N. Route 73, West Berlin, www.saharasams.com)
COCO KEY WATER RESORT
Another great water park is located in Mt. Laurel. CoCo Key has over 55,000 square feet of indoor fun, from water slides and a lazy river to Dip-In for little tykes to the spa for adults. The resort also has hotel rooms, so you can turn this day trip into an overnight adventure.
Coco Key Water Resort (915 Route 73, Mount Laurel, www.mtlaurelcocokey.com)
BOUNCE HOUSES
Getting tired of telling your kids to quit bouncing on the bed? Why not take them to an indoor bounce house where they can jump to their heart's content! These fantastic gyms are everywhere in NJ, so there is bound to be one close to you! There's Bounce U (70 Eisenhower Parkway, Paramus, www.bounceu.com), Pump it Up (Roselle Park and Randolph, www.pumpitupparty.com), and Jump on In (69 Route 17 South, Hasbrouck Heights, www.jumponinfun.com). They all have something for the entire family – from preschool play date bounce times to family night bounces and 'Tuesday 2 for 1' Bounce. Bounce U also offers a sensory bounce for special needs families. For another great trampoline place, check out Rebounderz in Edison (www.rebounderzedison.com) – a huge indoor trampoline arena, with special weekly events such as Trampoline Dodge ball. And don't forget about Jump on In – it was the original bounce house in New England, and is now open here in NJ (www.jumponinfun.com). They have lots of inflatable structures, plus a trampoline basketball game. They are also offering weekly Jump and Learn Science and Art programs – combining art, science and bouncing fun!
SKATING ARENAS
Union Sports Arena (www.unionsportsarena.com) offers year round skating fun. During the winter months, there are daily public skating hours, plus a Learn to Skate Program where beginners can take lessons. Skate rentals available. (TIP – Bring a helmet. Lots of kids (and adults) wear them now and it protects little heads from falls and slips.) Other public skating places include Bridgewater Sports Arena in Bridgewater (www.bsaarena.com), Mennen Sports Arena in Morristown (http://www.morrisparks.net/aspparks/mennenmain.asp), Warinanco Ice Skating Arena in Roselle (http://ucnj.org/community/parks-recreation/activities-programs/warinanco-ice-skating-center/), and Richard J Codey Arena in West Orange (http://essexskatingclub.org/arena/).
DIAMOND ROCK – ROCK CLUMBING
Are the kids climbing the walls? How about bringing them to Diamond Rock and let them climb the rock walls instead! At Diamond Rock, there is 3,000 square feet of sculptured surface with 20 feet to 37 feet of climbing for the novice to the expert. Hourly passes are available, as well as classes and instructor led climbs. Diamond Rock (182 Route 10, East Hanover, www.diamondrock.net)
PLAZA LANES BOWLING ALLEY
Grab a ball, lace up the shoes and enjoy a game or two of bowling at Plaza Lane Bowling Alley. There's nothing like watching the ball rolling down the lane and praying for a strike! Best of all, Plaza Lanes offers a Sunday morning special from 9-11:30AM.
Plaza Lanes Bowling Alley (300 Main Street, Madison, http://www.plazalanesbowling.net)
INDOOR GOLF
So it's cold and snowy outside – that doesn't mean you still can't tee off! Mini Golf is now an all year round game, thanks to some great indoor courses. Monster Mini Golf in Union is an exciting monster themed, glow in the dark 18-hole course. It's both challenging for older kids, and easily playable for younger ones – a perfect activity for the entire family (www.monsterminigolf.com). Greenhouse Golf in Waldwick has both an Alpine themed mini-golf course AND a PGA simulator, where you can choose from over 500 different courses (www.greenhousegolf.com).
INDOOR BOARDWALK FUN
Summer may still be months away, but why not enjoy a day of indoor boardwalk fun – arcade games, rides, laser tag and more! iPlay America in Freehold has got tons of boardwalk games (complete with tickets you can cash in for prizes), mini-bowling, and laser tag, plus 8 exciting rides. (www.iplayamerica.com) At Funplex (two locations: East Hanover and Mount Laurel, www.funplexeasthanover and www.funplexmountlaurel), there are endless activities from bumper cars and go-karts, to mini-golf (outdoors), an arcade, bowling and much more. They also host special events (it's scouts night at both locations on January 31st). Funtime America in Eatontown is opening this January, and will have indoor amusement park rides, climbing wall, laser tag, and a bounce and play area. (www.funtimeamerica.com)
INDOOR PLAYGROUNDS AND HANDS-ON EXPLORATION
Check out an indoor exploration playground for younger children – they are all around NJ. At Kids U, the bell is ringing! This campus for kids offers classes, plus also has the PlayQuad, a 2000 square foot play and exploration area (www.kidsu.com). Funtime Junction in Fairfield has a GIANT soft playground, plus rides, arcade games and more. (www.funtimejunction.com) Imagine That! in Florham Park is perfect for a day of pretend play – they've got a pirate area, arts and crafts, TV News Room, post office, doctors office and so much more (www.imaginethatmuseum.com). Kidz Village in Kenilworth is another great place for hands-on fun (www.kidzvillage.com) and then there's Jungleerific in Howell (www.jungleerific.com) and Glowhouse Kids in Butler (www.glowhousekids.com).
POLE POSITION RACEWAY
Well, this may not be truly an active activity – but it will get your heart rate up as you nuckle up and get ready for some high-speed fun! Pole Position in Jersey City is 80,000 square foot facility with two race tracks – cars can go up to 45 mph! A great place for older kids!
Pole Position Raceway (99 Caven Point Rd, Jersey City, www.polepositionraceway.com)