Outdoor Family FUN begins at Imagine That!!! for Summer 2020
As NJ reopens, Imagine That is listening to our NJ parents. We understand plans have changed, vacations cancelled, family events postponed, but we remain determined to create the best summer yet for our patrons.

Just as the pandemic threw you a curve ball, we also had to make adjustments as our audience has made it clear they are at different comfort levels with the current situation."

WE are happy to announce our NEWEST OUTDOOR OPTIONS to accommodate our friends who want to gather but prefer an outdoor space. Our new plush turf squares will be used for our Outdoor Summer Series, including magic shows, singalongs and even an ADULT COMEDY night for mature audiences only. Get your babysitter lined up!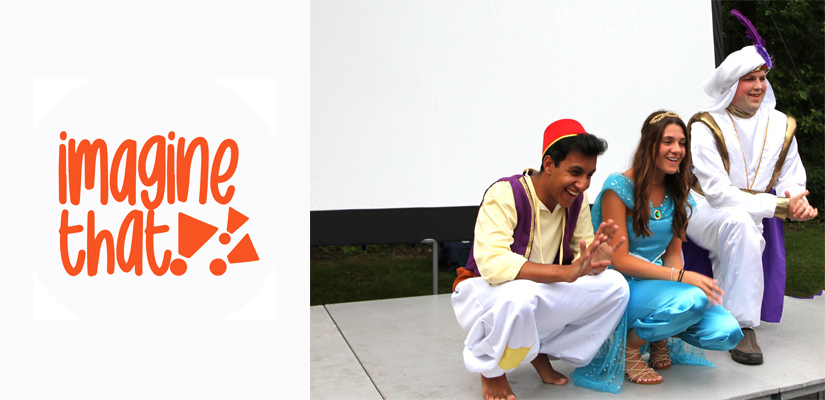 Celebrate your child's birthday party outdoors PRIVATELY

Along with our weekend afternoon/night programming we are introducing our Outdoor Birthday Party Packages, starting July 11, 2020 through Fall 2020. Whether you want to include a magician, a favorite character or a variety of REPTILES (our newest party option) in your child's celebration, we will work with you to create a memory of connection and celebration in a social distancing climate. To ensure that your party guests enjoy themselves, we include amenities like a large tent provided for shade or protection from light rain and access to indoor bathrooms as well as the SAME GREAT MENU we have offered for our indoor guests. We also limit 1 outdoor party celebration per time slot (10am, 12pm, and 2pm time slots for Saturdays and Sunday)

We will continue to have indoor celebrations as soon as we are able to within the State Guidelines, as well as include Curbside/Backyard and Virtual Options.
To book your socially distance birthday party, call 908.803.8487.

Visit imaginethatmuseum.com for more details about all our outdoor options. Call 973.966.8000, email contactus@imaginethatmuseum.com

Imagine That!!! is conveniently located at 4 Vreeland Rd in Florham Park NJ, serving the greater Morris County New Jersey area and beyond.