Spend the the day in NYC visiting the Christmas tree and holiday window displays and more!
Visiting the Rockefeller Center Christmas Tree and department store window displays are iconic New York City things to do during the holidays. Against a backdrop of the night sky sits a 78 foot North Spruce bathed in a twinkle of multi-colored lights that illuminate the Rockefeller Center Christmas Tree. Children of all ages will love it. Get those cameras out! Meanwhile, department store elves have toiled behind the scenes to create magical window wonders that come to life. Macy's, Lord & Taylor, Saks Fifth Avenue and so many more. Hold onto your kids' hands, stroll around Manhattan, smell the chestnut roasted air and enjoy the holiday traditions in NYC!
2015 Rockefeller Center Christmas Tree Lighting
45 Rockefeller Plaza New York
Dec 2. The Rockefeller Center Christmas Tree is a world-wide symbol of the holidays in New York City. Live performances.
19th Annual Dana Holiday Lighting in Central Park
Charles A. Dana Discovery Center, NYC
Dec 3. Celebrate the season at our 19th Annual Holiday Lighting in Central Park. Meet Santa and friends, watch a live ice carving demonstration, sing carols on the Plaza, and warm up with hot cocoa and cookies. The event concludes with lighting a flotilla of trees on the Harlem Meer. Afterward skate on the Wollman Rink, a winter tradition in New York.
The Origami Holiday Tree at American Museum of Natural History
Central Park West at 79th Street, New York
Nov 23 – Jan 10. An annual tradition for more than forty years. Produced in partnership with OrigamiUSA, the tree is delightfully decorated with more than 800 hand-folded paper models created by local, national, and international origami artists.
Grand Central Holiday Train Show
89 E 42nd Street, NYC
This popular model railroad exhibition features Metro-North, New York Central, and subway trains departing from a miniature Grand Central Terminal on a 34'-long, two-level "O" gauge layout.
The Gaits 2015: A Winter Soundwalk at The High Line
High Line at Gansevoort Street
Dec 21,5:00 pm to 6:30 pm.
The Gaits: A Winter Soundwalk is a free, downloadable smartphone application that features a score of electric guitar chords, zen gongs, and more composed by Lainie Fefferman, Jascha Narveson, and Cameron Britt. As participants walk along the High Line, footsteps are turned into twinkling metallic sounds, electric guitar chords, dulcimer notes, water splashes, car horns, and applause. 
Holiday Window Displays In NYC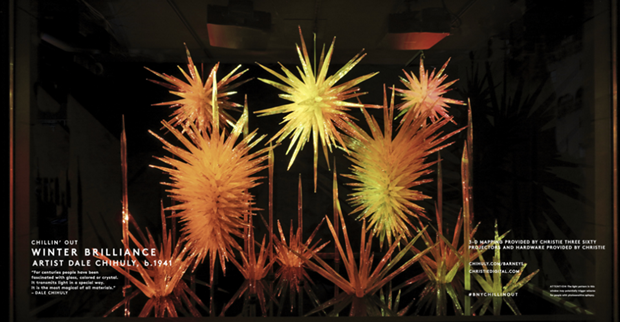 Barneys New York
660 Madison Avenue, NYC
Chillin' Out, a wondrously wintry take on holiday 2015. Arctic temperatures, high-speed chases, live ice carving.
Bergdorf Goodman's
754 Fifth Avenue, NYC
Brilliant Holiday Swarovski Display

Bloomingdale's
1000 Third Avenue, NYC
Holiday Through the Senses
Lord & Taylor
424 Fifth Avenue, NYC
A Few of Our Favorite Things
Macy's
151 W 34th Street
A Charlie Brown Christmas
Saks Fifth Avenue
611 Fifth Avenue
Winter Wonders of the World