Imagine walking through an open field among life-sized animatronic dinosaurs.
New Jersey's Favorite Dinosaur Adventure is now open, returning for the 10th Anniversary Season! Field Station: Dinosaurs - a thrilling dinosaur park featuring life-sized pre-historic reptiles can be found at beautiful Overpeck Park, on the banks of a scenic creek and surrounded by natural woods in Bergen County.
Families will be amazed as they witness over 30 live shows, games and activities daily, connecting the story of the dinosaurs to our world today. Plus enjoy the exciting Jurassic Jump bungee trampoline! At the center of it all is the fun, the joy and the wonder of dinosaurs. Our expedition takes every family on an adventure – full of mystery, surprise, and a sense of awe. .
Field Station: Dinosaurs (https://jerseydinos.com/) opens for the season from Memorial Day weekend through Labor Day weekend. Dinosaur enthusiasts young and old will have the opportunity to visit the park until Labor Day weekend when the park closes on September 5th. Then the park opening extends to November on weekends only. From October 1 through October 29, enjoy Dinosaurs After Dark on Friday and Saturday evenings, among other planned events throughout the seasons.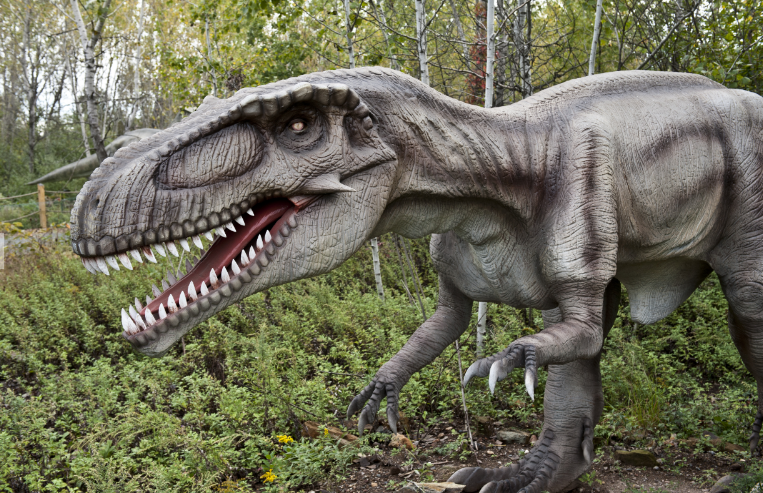 Field Station: Dinosaurs is a world-class family attraction that combines cutting-edge science with the creative minds of great artists and teachers to create a one-of-kind experience that's thrilling, educational and fun. The Field Station is an oasis of natural wonder just minutes from New York City. Named "One of the World Best Spots for Dinosaur Lovers" by Fodor's, the Field Station is trip back in time with over thirty realistic hand-sculpted dinosaurs brought to life by the brilliant engineering of the world's leading roboticists and the imagination of our paleo-artists. Workshops, games and activities connect the story of the dinosaurs to our world today, giving new relevance to their lives and power to the tale of their extinction. Paleontologists have worked to ensure that the exhibit encompasses the latest theories and discoveries in the fields of paleontology, geology and environmental studies.
Field Station: Dinosaurs is your ticket to pre-historic family fun this summer. Walk along the trail, check out the 30+ life-sized dinosaurs and participate in fun activities. Here's the schedule.
The park is open rain or shine 10 AM to 6 PM, Saturday and Sunday only from opening weekend May 28th through June 26th. Beginning on June 28th the park is open Tuesday through Sunday 10 AM to 6 PM.

Spring Season: May 28 - Jun 26
Saturdays & Sundays, 10AM-6PM
Open Memorial Day, Monday, May 30

Summer Season: Jun 28 - Sept 4
Tuesdays-Sundays, 10AM-6PM
Open Labor Day, Monday, Sept 5

Fall Season: Sept 10 - Nov 13
Saturdays & Sundays, 10AM-5PM
Also Open 10AM-5PM on:
Monday, Oct 10 (Columbus Day/Indigenous People's Day)
Thursday, Nov 10 & Friday, Nov 11
For camp groups, scout outings or school adventures, reserve your expedition today. Interested parties may reserve group bookings at https://jerseydinos.com/groups/ . Additional information can be found online at https://jerseydinos.com/.
Field Station's address is 3 Overpeck Park Driveway in Leonia, NJ.