Looking to get close to nature this Spring? It's time to study the earth and take part in some family friendly outdoor fun. With earth day activities ahead, let's go tap a tree for syrup, plant seeds, grow vegetables, or snap some selfies among the budding flowers. Go discover some great indoor/outdoor flower exhibitions around the NJ, NY, and PA areas. They're filled with educational displays and fun things to do for kids. Hike through the woodlands or walk through beautiful gardens, be on the lookout for colorful blooms. Connect with nature and teach kids to love and appreciate the earth!
Kid Friendly Nature Adventures
Celebrate the peak of maple sugaring season. Go to the Maple Sugar Festival At Great Swamp Outdoor Education Center in Chatham NJ. On March 2, 2019, you can go enjoy tree tapping demonstrations, syrup taste tests, and fun games. Try a hike called "Maple Sugaring History" and discover how sugaring has changed over time.
Go on a family friendly Woodland hike March 17, 2019 at the New Jersey Botanical Garden at Skylands in Ringwood NJ. Kids can learn about plants and animals. NJBG is open year round. You can walk through specialty gardens surrounded by 1000 acres of woodlands and marked trails. These gardens are filled with all types of plants and flowers - lilacs, azaleas, wildflowers and more!
Explore the Everett Children's Adventure Garden At The New York Botanical Garden. Through March 18, 2019, take part in Wintertime Wonders - learn about the wonders of plants and animals in winter. Through May for Spring Fun: watch animals and plants wake up from winter with seeds sprouting, buds bursting, and birds nesting. In general, this 12-acre Adventure Garden is perfect for youngsters to learn about nature.
Have some fun at the Discovery Garden At The Brooklyn Botanical Garden. It's a kid friendly one-acre garden filled with many plants and hands-on activities. Learn about garden wildlife, uncover mysteries of plants, and explore fruit and vegetable gardens. Wonderful Children's courtyard lets you sow, tend, and harvest plants.
Family Friendly Flower Shows
The Philadelphia 2019 Flower Show features the theme of "Flower Power, The Power of Flowers". Learn how flowers impact our lives. It takes place March 2-10, 2019 at the Pennsylvania Convention Center. This Flower Show provides acres of discovery for children. Imaginative gardens with 10 acres of landscapes, garden vignettes, and floral displays. Kids will love the "Butterflies Live" experience, feed butterflies and learn their importance.
For orchid lovers, not to be missed is The Orchid Show At The New York Botanical Garden in the Bronx. It runs now through April 29, 2019. NYBG's 2019 theme is "The Orchid Show: Singapore" - a dazzling tribute to the "City in a Garden". Did you know that Singapore's national flower is the orchid? See Supertrees (vertical habitats) and Arches with amazing orchids displayed. Exhibits are all filled with beautiful orchids. Another great show is the Orchid Extravaganza at Longwood Gardens in Pennsylvania. It runs now through March 24, 2019. Big wow factor with colorful orchids displayed everywhere.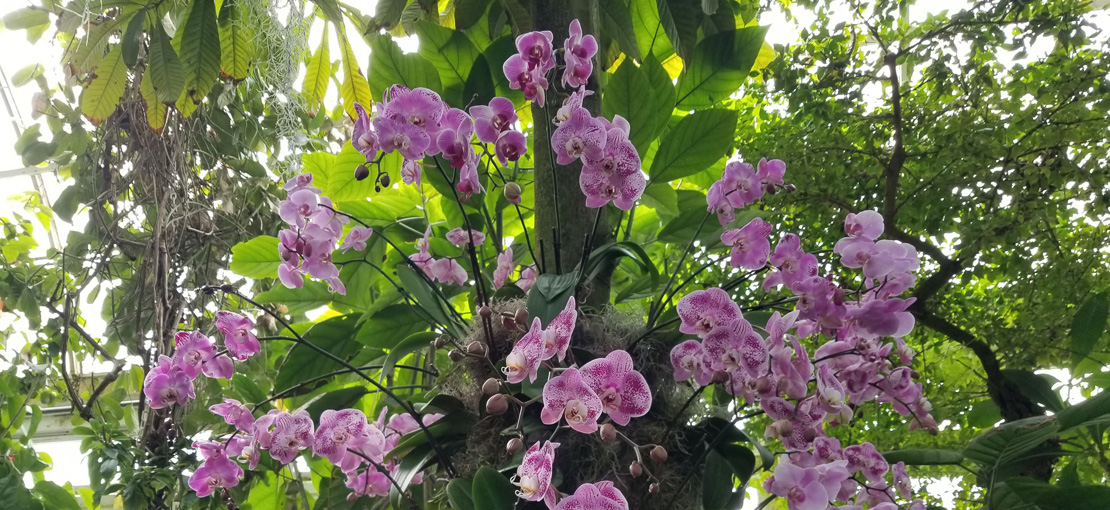 Explore Free New Jersey Gardens
Deep Cut Gardens (Monmouth County Park System) in Middletown NJ is open year round. Look around 54 acres of gardens and greenhouses. Showcasing 52 varieties of roses and over 180 bushes. Parents can ask for a Garden Safari Backpack. It contains all you need to help you discover new ways of seeing living and non-living features of the gardens.

Free ground admission at The Frelinghuysen Arboretum in Morris Township NJ. Take a stroll through gardens, open fields, woodlands, and groves of flowering trees. The Arboretum is a center for plant, garden and flower shows. Family friendly with children's programs throughout the year.
You can also check out Reeves-Reed Arboretum in Summit NJ. It's free but donations are suggested. Walk the historical gardens. See trees such as the Sugar Maple Tree and Bald Cypress. Go hike wooded trails and walkways. Engage the kids with nature, the outdoors, plants, and flowers.
For more flower fun, Rutgers Garden in New Brunswick NJ is open year round with no visitors fee. Check out what plants and flowers are blooming in the gardens. Explore 180 acres of natural habitats. Kids can make their own discoveries. Plenty of gardens to see including flower, rain, tree collection, bamboo grove, woodland, frog pond, and more! Their Community Youth Garden has vegetables, fruits, herbs, and ornamentals. Sounds like fun!