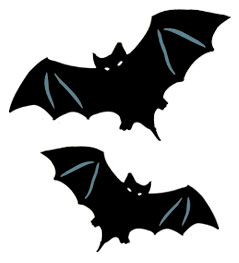 Halloween is right around the corner, so I took a trip to my local bookstore to check out some of this year's spooky book offerings. And were there a lot – some new ones and some old favorites. Here is a quick list of a few of my favorites:
Frankenstein – A Monstrous Parody - Written by Rick Walton, Illustrated by Nathan Hale (penned under the pseudonym Ludworst Bemonster). Frankenstein is an enchantingly humorous spoof of the classic story, Madeline ("In two crooked lines, they bonked their heads / pulled out their teeth / and wet their beds"). Children familiar with the original Madeline will get a kick out this book – and even if your young reader hasn't yet met Madeline, it's still a fun, silly Halloween story. Ages 5+
There Was An Old Lady Who Swallowed A Bat - Written by Lucille Colandro, Illustrated by Jared D Lee. Another twist on an old favorite – this time the old lady is swallowing a bat, an owl, a cat, a ghost, a goblin, some bones, and a wizard, Ages 4+
Teeny Tiny Woman - Written by Paul Galdone. A classic ghost story about a teeny tiny woman who finds a teeny tiny bone in a teeny tiny graveyard and takes it home to her teeny tiny home to make some soup. What happens next when she settles down for a nap? Read on if you dare! Ages 5+ (Really not scary!)
Click Clack Boo - Written by Doreen Cronin, Illustrated by Betsy Lewin. The animals on Farmer Brown' farms are back and ready for some good ole Halloween fun. What is Farmer Brown to do? Ages 4+
Who's at the door - Written by David Mead and Ron Berry, Illustrated by Chris Sharp. An interactive, lift the flap and ring the bell book for younger children. Fun for kids to guess who's at the door…. and they'll love ringing the bell!
Stellaluna - Written by Janell Cannon. Perhaps not a true Halloween book, but this enchanting story of a lost bat is perfect for this season, plus teaches an important lesson of friendship.
Reviewed by Jenny Tananbaum