Things to Do Easter 2023
Bring out the Easter fun this Spring. There are many activities to do in New Jersey this Easter for kids of all ages - Egg Hunts, Train Rides, Bunny Photo Ops, Easter parades and more! The events listed below are open to the public, some require tickets in advance. Be sure to check with your local town municipality, as they may hold Easter Egg hunts for town residents only. In addition, your favorite restaurants may offer special Easter brunches, breakfasts, lunches and dinner options. See NJ Kids calendar more events.
Egg Hunts and Easter Eggstravaganzas
Storybook Land Easter Egg Hunt & Easter Bunny
Stop by Storybook Land in Egg Harbor Township on April 1, 2, 7, 8, 10, 2023 for a classic Easter Egg hunt from 12PM-4PM. It's designed for small children in mind. Visit with the Easter bunny. With your admission ticket, you can access unlimited rides and attractions. Located in Egg Harbor Township, this is a fun theme park for young children.
Annual Easter Egg Hunt at Liberty Hall Museum
Sat, April 8, 2023 (3:30pm time slot still open) for an egg-cellent adventure. Children will explore the grounds of Liberty Hall searching for hidden plastic eggs filled with Easter treats. There will be a surprise visit from the Easter Bunny. Reservation required. 1003 Morris Avenue, Union NJ.
Cape May Zoo - 2023 EggstravaganZOO
Sat, April 1, 2023, 10am-2pm. FREE event at the Cape May County Park and Zoo. Bring your camera, meet and take pictures with the Easter Bunny. Educational displays, scavenger hunt, crafts and live animal encounters. Get there early and don't be late because the Easter Egg Hunt starts promptly at 10am.
Kinder Joy Eggstravaganza at Bergen County Zoo
Sat, April 1, 2023, 10am-2pm. Bergen County Zoo Easter activities, bunny photo, and treats by Kinder Joy. Ticket required.
2023 Easter Egg Hunt in Hoboken
Sat, April 1, 2023, starts at 11am. FREE but registration is required. This egg hunt will take place at the Mama Johnson Field (4th & Jackson) in Hoboken NJ. There will be morning and afternoon egg hunts. Take pictures with the Easter Bunny, crafts, and games.
Jenkinson's Boardwalk - 2023 Egg Hunt
Sun, April 2, 2023, 1pm. FREE. Dig for eggs! Limit 3 eggs per child. Annual Easter Egg hunt on the beach. Open to kids up to 10 years old with separate age group hunts. No age limit for separate special needs egg hunt at Adventure Lookout Ropes Course. Jenkinson's Boardwalk in Pleasant Beach NJ.
Seaside Heights - 2023 Easter Egg Hunt
Sun, April 2, 2023, 1pm-2pm. FREE Easter Egg Hunt on the beach at Seaside Heights (Seaside Heights Beach & Boardwalk). Over 10,000 pastel eggs are buried in the sand and filled with prizes.
2023 Easter Eggcitement Eggtravganza Takeover - Atlantic City at the Showboat Resort Hotel
Fri-Sun, April 7-9, 2023. A 3 day event featuring a Pajama Pizza Party, Brunch with the Easter Bunny, Kids Fashion Show, and "That Girl Lay Lay & Friends Live" appearance. Photo-ops, face painting, inflatables, and more! Admission ticket required, either for all 3 days or just April 9th Easter Sunday event.
Spring Celebration at the Pier Village in Long Branch
Sat, April 8, 2023, 1pm-3pm. Stop by the carousel stage on the boardwalk at Pier Village. Meet and greet the Easter Bunny (complimentary). Enjoy kids activities - face painting, games, music, carousel rides, and more! Note: fee for select activities.
Ridgewood Easter in the Park
Sat, April 8, 2023, 11am-2pm. Open to all and fun for the whole family. Easter celebration at Memorial Park at Van Neste Square in Ridgewood NJ. Meet the Easter Bunny, take photos, wear your best bonnet, arts & crafts, music and more!
Easter Celebration - The Historic Village at Allaire
Sat, April 8, 2023, 11am-4pm. Annual Easter Day fun for the whole family. See if you can spot the Easter Bunny roaming around. Participate in egg dyeing, egg roll competition, story telling, village scavenger hunt, Easter selfie stations, music, entertainment and more! Must buy tickets in advance.
Greater Wildwood Jaycees Easter Egg Hunt
Sat, April 8, 2023, noon. FREE, children ages 1-12 are invited to dig for eggs in the sand. Each egg contains a prize. Lincoln Ave in Wildwood NJ.
Kiwanis Club of Trenton 102nd Annual Great Egg Hunt
Sat, April 8, 2023. The Easter Bunny will ride through Trenton on a fire truck at 9:30am. The procession will pass through each of the City's wards before ending in Cadwalader Park at 11:30 a.m. City residents are invited to greet the Bunny as he drives by. The Bunny will then kick off the 102nd annual "Great Egg Hunt" in Cadwalader Park at 11:30 a.m., featuring 3,000 eggs hidden throughout the park. The hunt is open FREE of charge to all Trenton children up to 12 years of age accompanied by an adult. Face painting, a petting zoo, games and music will also be part of the festivities. All children at the Park will receive a treat from the "Bunny Patrol" free of charge.
Easter Egg Hunt at Diggerland
Sat & Sun, April 8 & 9, 2023, 1pm. Come to Diggerland's Easter Egg Hunt. Eggs are hidden in Easter Egg patches at Diggerland. Tons of eggs with prizes. There are two age group hunts. Admission ticket required, located in West Berlin NJ.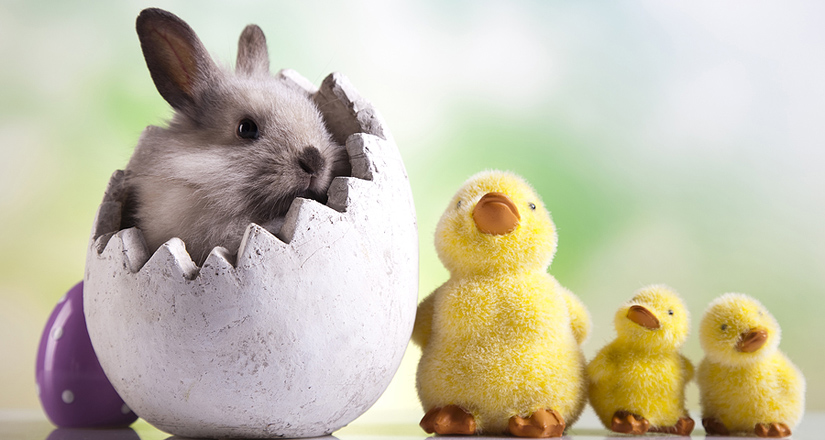 Easter Bunny Trains
Delaware River Railroad - Easter Bunny Train Ride And Egg Hunt
Ride the Easter Bunny Train and visit with Mr. E. Bunny on April 1, 2, 8, 9, 2023. Ride along the scenic Delaware River, leaving Phillipsburg and arriving at Lime Kilns. In front of the Lime Kilns will be an area filled with Easter Eggs. Music and jugglers on train. 100 Elizabeth St, Phillipsburg NJ.
Whippany Railway Museum - Easter Bunny Express 2023
All aboard with the Easter Bunny! Take a fun 45-minute Easter Bunny Express round trip train ride along the Morris & Erie Whippanong Trail. The train departs on the hour at 1pm, 2pm, 3pm, 4pm. This train runs on select Saturdays and Sundays through April 8, 2023. Purchase tickets online in advance recommended. 1 Railroad Plaza in Whippany NJ.
Strasburg Rail Road Easter Trains
Fri-Sun, April 7-9, 2023. The Easter Bunny will hop from train to train to meet all the kids. The conductor of the train is none other than Peter Cottontail. Select between three types of Easter trains - coach, premium and dining car. All these steam train rides are 45 minutes long. Infants ages 0-1 can ride free on laps. It's a fun activity for the whole family so book your tickets in advance. Strasburg Rail Road is located in Ronks, PA.
Easter Photo Ops
Easter Bunny At Imagine That!!!
Sat, April 1, 2023. Kids ages 12 months to 10 years old can meet the Easter Bunny and take a photo between 11am-12pm. Also receive a special gift. Stay and enjoy open play at Imagine That!!! Buy your ticket in advance. Located at 4 Vreeland Rd, Florham Park NJ.
Easter Bunny at the American Dream Mall
Now through April 9, 2023, story by for the photo with the Easter Bunny in the Garden Court. The mall is conveniently located in East Rutherford NJ.
Photo with the Easter Bunny at Jenkinson's Boardwalk
Sat, April 8, 2023 (1pm-4pm) and Sunday Apr 9, 2023 (12pm-3pm). Take a FREE picture with the Easter Bunny at Jenkinson's Boardwalk.
Bunny Photo Experience At Simon Mall Properties
Meet the Easter Bunny and take a photo. This experience runs through April 8, 2023. Customers may book reservations ahead of time. Get 2 free gifts when you book online.
• Menlo Park Mall, 55 Parsonage Rd, Edison
• Newport Centre, 30 Mall Dr W, Jersey City
• Ocean County Mall, 1201 Hooper Ave, Toms River
• Quaker Bridge Mall, 3320 US Hwy 1, Lawrence Township
• Rockaway Townsquare, 301 Mt. Hope Ave, Rockaway
• The Shops at Riverside, 390 Hackensack Ave, Hackensack
---
For more Easter fun, visit NJ Kids calendar and things to do.