Fourth of July 2022 Celebrations, Where to see Fireworks
Happy Birthday America! Spectacular Fireworks will light up the night sky in New Jersey and surrounding areas. Spend time with the family during the day at the beach, boardwalk, or a BBQ. At night, go check out July 4th fireworks in New Jersey or Macy's 4th of July Fireworks Show in New York City. All events are free and available to the public unless otherwise noted. Please check with venue for any schedule changes. Tip: Bring noise reduction earmuffs for kids with sensitive ears. Check NJ Kids Calendar for more events.
Atlantic City - North Beach Fireworks
Friday July 1, 2022 at 9:30PM. Free to the public, North Beach boardwalk area. Fireworks can be viewed from the Hard Rock Hotel & Casino, Ocean Casino Resort, Showboat, and Steel Pier.
Atlantic City - Tropicana 4th of July Fireworks
Monday, July 4, 2022, 10PM. The Tropicana in Atlantic City presents the Grucci July 4th Fireworks over the Beach and Boardwalk.
Cape May Independence Day Fireworks
Monday, July 4, 2022, 9PM. Fireworks Extravaganza in front of Congress Hall in Cape May NJ. Enjoy viewing along the beach at Convention Hall as well.
Lower Township Independence Day Festival - Cape May
Sunday, July 3, 2022. Independence Festival begins at 5PM along the Bay. Fireworks at 9PM over North Cape May Bay, Emerson Ave. Bring chairs or blankets.
Chatham Independence Day Parade and Fireworks
Monday, July 4, 2022. Parade starts 10:30AM. Fireworks display begins at dark, approximately 9:30PM. Enjoy festivities and listen to live music by The Star Band. Chatham Middle School, 480 Main Street, Chatham NJ.
Florham Park Fourth of July
Monday, July 4, 2022. Day time events with kids activities and parade at the center of town, lawn at Borough Hall. Fireworks at night 9PM over Recreation Center fields in Florham Park NJ. Online donations are appreciated.
Freehold Independence Day Concert & Fireworks
Sunday, July 3, 2022, 6PM-11PM, gates open 5:30PM. Live music & entertainment featuring Rock & Roll Chorus, Lil Asmar & Garden State Prodigies Band, RockitFish, and Kason Jackson. Watch Fireworks at dusk live from the Freehold Raceway. Bring blankets & chairs.
Hackensack 4th of July Celebration
Monday, July 4, 2022. Family fun with games, activities, food vendors at 5PM. Performance by Fillet of Soul at 7:30PM. Fireworks Spectacular at 9:00PM. Foschini Park, 278 River Street, Hackensack, NJ.
Jersey City July 4th Celebration
Monday, July 4, 2022. 12PM-10PM. At the 50 Star Fire Show, enjoy live music, all day food trucks and drink at Exchange Place in Jersey City. Musical guests include Flo Rida, Diesel AKA Shaquille O'Neal, and Funk Flex. Night time Grucci Fireworks display with an incredible showcase of pyrotechnics at 9:30PM. Waterfront at Exchange Place, Jersey City, NJ.
Livingston July 4th 2022 Celebration
Monday, July 4, 2022. Fun starts 9AM, Fireworks 9:15PM. Featuring classic Auto Show called "AutoFest 2022" - showcasing antique cars, muscle cars, collector cars and motorcycles. All Day family and kids activities start at 10AM with pony rides, Powerhouse Studios, ice cream eating contests, video games, face painting and more! Musical performer this year is Steppin' Out Band. Brings chairs or blankets to watch Fireworks show. Memorial Oval, South Livingston Ave, Livingston, NJ
30th Annual Oceanfest at Long Branch
Monday, July 4, 2022, 10AM-10PM. All day Oceanfest festival with family friendly activities - clowns, costumed characters and more! Take a walk along Long Branch's famous beachfront and enjoy dance performances and musical acts. Sample food from vendors and check out various crafters. Cap off the night with a spectacular Fireworks Display at 9PM. 1 Ocean Blvd, Long Branch NJ.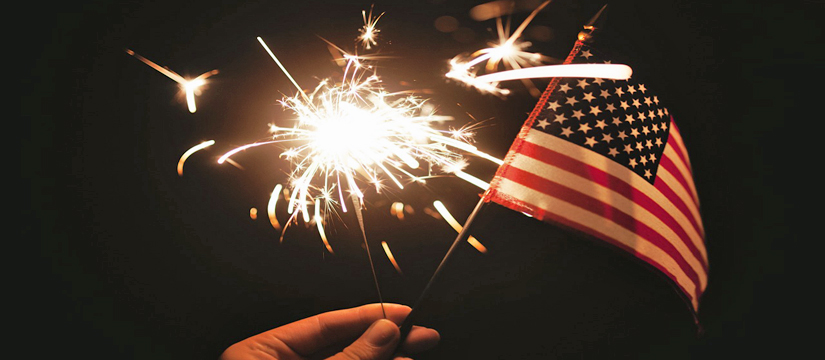 New Providence Fireworks
Sunday, July 3, 2022 at 9:30PM. Fireworks will be visible from most areas in New Providence. Bring lawn chairs or blankets. South Street, New Providence NJ.
New York City Macy's 4th of July Fireworks
Monday, July 4, 2022, 9:25PM. Go experience NYC's Macy's Fourth of July Fireworks. Thousands of shells will light up the sky - 25 minutes worth of dazzling displays live from five barges positioned on the East River in midtown Manhattan between 23rd Street & 42nd Street. Public viewing locations and dedicated entry points will be set up along elevated portions of the FDR Drive around Midtown Manhattan, enter at FDR & E23rd St., FDR & E34th St, and FDR & E42nd St. Additional viewing locations at Gantry Plaza State Park in in Queens, Transmitter Park in Brooklyn, Bushwick Inlet Park in Brooklyn, and Marsha P. Johnson State Park in Brooklyn.
Ocean City Fourth of July Celebration
Monday July 4, 2022. There will be a kite flying competition at 7PM, followed by a spectacular Ocean City NJ boardwalk fireworks display at 9PM.
Paramus Festival & Fireworks Show
The Mega Bit Events Food Truck & Music Festival will be held Sunday July 3, 2022 from 11AM-7PM at the Westfield Garden State Plaza - inflatables, kids activities, over 20 food trucks. July 3rd evening Paramus Fireworks Show and entertainment (6PM-10:30PM) will be held at the Cliff Gennarelli Sports-Plex in Paramus, NJ.
Parsippany Independence Day Fireworks and Concert
Monday, July 4, 2022. Concert by Overboard starts at 7PM and Fireworks show at dark, approximately 9:30PM. Held at Parsippany High School, 20 Rita Dr., Morris Plains NJ.
Celebrate Our Stars & Stripes - Perth Amboy & South Amboy
Saturday, July 2, 2022. Independence Day Festival from 3PM-9:20PM with fabulous fun, food, and family festivities.
Spectacular Fireworks Show at 9:20PM:
Perth Amboy - View Fireworks at Sadowski Parkway on the waterfront.
South Amboy - View at Raritan Bay Waterfront Park.
Point Pleasant Independence Day Fireworks
Monday, July 4, 2022 in the evening. Jenkinson's Boardwalk annual Independence Day fireworks on the Point Pleasant beach at dark!
Ridgewood 4th of July Celebration
Monday, July 4, 2022, Gates Open 6PM. Musical entertainment with The Stillettos, The Nines, Rowan Aderhold, and The Dad's Night Band. Evening Fireworks Extravaganza by Grucci at 9PM. Buy tickets in advance or at gate. Veterans Field in Ridgewood, NJ.
Seaside Heights July 4th Fireworks
Monday, July 4, 2022 at 9:30PM. Enjoy fireworks display from anywhere along the Seaside Heights boardwalk.
Somerset County 4th of July Celebration
Monday, July 4, 2022. Enjoy food, music & fun. The Jersey Blues will reenact a Revolutionary War encampment from 6 to 9 p.m. Musical guest performer this year will be The Fabulous Greaseband. Enjoy spectacular Fireworks at 9:30PM, North Branch Park on Milltown Road in Bridgewater NJ. Bring lawn chairs or blankets.
Summit's 75th Annual Fourth of July Celebration
Monday, July 4, 2022, festivities begin at 12PM, Fireworks at 9:15PM. Independence Day Children's Decorated Bicycle Parade, food trucks, rides, music, and more. Grand Fireworks display at night. Soldier's Memorial Field, Ashland Rd, Summit NJ.
Union Township 4th of July Spectacular
Monday, July 4, 2022. Silver Arrow Band Concert at 7:30PM. Fireworks Spectacular at 9PM. Biertuempfel Park, Union NJ.
Wildwoods Fourth of July Fireworks Spectacular
Monday, July 4, 2022 at 10PM. Special Fireworks Spectacular visible from anywhere on the Wildwoods boardwalk in NJ.
Woodbridge Township Independence Day Fireworks
Friday, July 1, 2022, Gate opens at 4PM, View Fireworks under the Stars. Bring your lawn chairs and blankets. Special Musical guests Am Gold, Yacht Rock Party. Alvin P. Williams Memorial Park, Sewaren, NJ.
Visit NJ Kids for more things to do in NJ.