Monday, June 22nd, 11am - 1pm
Bounce U Paramus 70 Eisenhower Drive, Paramus, NJ
Admission Donation is $18 for all kids over 1 years of age. Parents are free. Admission of $18 includes, unlimited access to all giant inflatable rides including; 2 story slides, obstacle courses, sports Arena, the popular 2 story Spider Climb and slide, and more.
Also included will be on hand Balloon twisters, Glitter tattoo artists, Kosher pizza and drinks for all paid kids. There will also be special appearances from licensed famous Characters, a great opportunity for kids to have their picture taken with. In addition, there will be a "Cash Bar" offering; Cotton Candy, "Pucker Powder", Pizza and drinks for the adults, as well as Scooped Ice Cream!
For more information: bounceu.com/paramus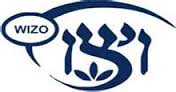 Introducing: New Jersey Chapter of Women's International Zionist Organization.
WIZO NJ - social connection of Jewish Women of New Jersey while raising funds to improve the lives of thousands of Women and Children in Israel.
WIZO opened first day care center in 1920.
WIZO - one of the most important women organization in the world. 250,000 members in 50 countries working together.
WIZO USA established in 1982. Working to support and fund WIZO projects in Israel, promoting Jewish identity and education.
Next to Israeli Government WIZO is the largest provider of social services in Israel.
WIZO operates over 800 social welfare projects in Israel: 183 childcare centers, caring for 20,000 children of working mothers, immigrants, special needs children and needy families. Summer camps, 9 schools, 2 shelters for battered women, 5 youth villages, 35 day care centers in Army Force Bases.
WIZO is NGO (non-governmental organization) with consultative status at ECOSOC (economic and social council) and UNICEF (UN International Children's Emergency Fund) coordination, policy review and recommendations on economic, social and environmental issues as well as interpretation of the internationally development goals.
WIZO is different from other non-profit organizations that only deal with short-term though important needs. We want to enable people to break out of the cycle of poverty. The reality is that, in the short-term, some people do need food, and we help to provide it. But in the long-term, they need to be empowered, to be able to get themselves and their families back on their feet. And we strongly believe in the empowerment of women and children. We want to ensure that students are not forced to drop out of school, and that they and their parents become constructive members of Israeli Society.