Field Station: Dinosaurs will proudly call Bergen County's Overpeck Park its new home
Leonia, NJ – Today, Bergen County Executive James J. Tedesco III announced that Field Station: Dinosaurs will be joining the Bergen County Parks system. With the theme "9 Minutes from Manhattan - 90 million years back in time," Field Station: Dinosaurs is a world-class family attraction that combines cutting-edge science with the creative minds of great artists and teachers to create a one-of-a-kind experience that's thrilling, educational and fun. Field Station: Dinosaurs will proudly call Bergen County's Overpeck Park its new home.
Over thirty life-sized, realistic dinosaurs (including the ninety foot long Argentinosaurus) come to life thanks to the brilliant engineering of the world's leading roboticists and the imagination of their artists. Scientists from the New Jersey State Museum have worked to ensure that the exhibition encompasses the latest theories and discoveries in the fields of paleontology, geology, and environmental studies.
Workshops, games and activities connect the story of the dinosaurs to our world today, giving new relevance to their lives and power to the tale of their extinction and at the center of it all is the fun, the joy, and the wonder of dinosaurs. The Field Station: Dinosaurs exhibit takes every family on a shared adventure - full of mystery, surprise and a sense of awe.
"Last Summer, I shared my vision for the parks system with the residents of Bergen County. This includes a desire to create additional destinations within our parks, and today's announcement is a significant step toward achieving that goal" said County Executive Tedesco. "Field Station: Dinosaurs is a world class attraction that will bring their successful mix of education and fun to our children and offer something that no park in the State of New Jersey or region can."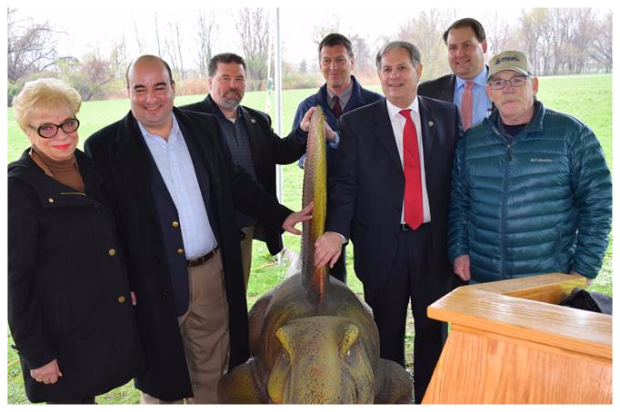 Bergen County Parks Director James Koth added that "the arrival of Field Station: Dinosaurs will bring much needed educational programming and experiences focused around science based themes such as ecology, paleontology, archaeology, and the environment. Additionally, the exhibit and the site on which it is to be situated, a reclaimed former landfill, will bring a heightened awareness of environmental challenges and how to responsibly reclaim and re-purpose such areas as open space for public benefit."
Guy Gsell, President and Founder of Field Station: Dinosaurs remarked that, "The outpouring of support we received in the face of extinction was amazing. From teachers and educators all the way up to the Lieutenant Governor's office, we got letters, emails and phone calls with great ideas on ways to keep the Field Station in New Jersey. With their help, we found a new site that will allow Field Station: Dinosaurs to educate and entertain children for years to come. We looked at wooded lots and empty properties from the Pinelands to the Highlands but we couldn't ask for a better, more beautiful site than Overpeck County Park or more innovative, forward thinking partners than County Executive Tedesco and the Bergen County Parks Department."
"We are excited that Field Station: Dinosaurs will be remaining here in the Greater Meadowlands Region of Bergen County. Resident families and visitors who already enjoy a great county park system will now have another fine amenity. I commend the County Executive Jim Tedesco and his team for being forward thinking and eliminating obstacles that will keep the Field Station: Dinosaurs in our region" said Jim Kirkos, President Meadowlands Chamber of Commerce.
"We are excited to welcome 'Field Station: Dinosaurs', a world-class attraction that thrills while providing educational and entertaining programs to Bergen County," said Bergen County Freeholder Chairman Steve Tanelli. "We will also now be able to use a reclaimed landfill that will be integrated back into our park system while helping to educate our children for years to come. This project is a great step in our shared vision for the future of our Bergen County parks, and how we can use public-private partnerships like this to transform them into year-round destinations."
Additional Information:
Field Station: Dinosaurs will be establishing a temporary seasonal exhibition located on approximately 14 acres within the Henry Hoebel section of Overpeck Park, located to the north of Fort Lee Road while the site for its more permanent 35+ acre home is being designed, permitted and constructed within the Teaneck section of Overpeck to the south of De Graw Avenue across from the Glenpointe Hotel & Office Complex. Subject to design and regulatory approvals, the long term site is expected to come "to life" in 2018.
Once reported to be considering a new home in Kansas, the retention of Field Station: Dinosaurs as a res
u
lt of County Executive Tedesco's commitment to the local and regional economy by growing jobs within Bergen has retained approximately 120 jobs and approximately $150,000 of tax revenue within the State of NJ.
Overpeck County Park is Bergen's largest single tract of parkland in Central Bergen at 811 acres spanning the municipalities of Leonia, Palisades Park, Ridgefield Park, and Teaneck, and encompassing Overpeck Creek, a tributary of the Hackensack River which feeds into the Meadowlands regional ecosystem. It is prized as one of the crown jewel's within the Bergen County Parks System, attracting approximately one million visitors annually and will be further bolstered by the arrival of this major attraction and family destination.