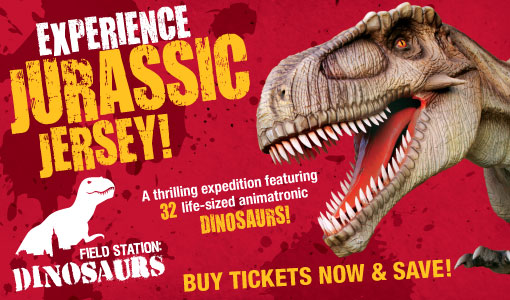 Field Station: Dinosaurs, the thrilling dinosaur expedition where families can get up-close with 32 life-sized animatronic dinosaurs, opens for their third season on May 24, 2014. Families can enjoy interactive shows starring a 15-foot juvenile T-Rex, game shows to test your dinosaur knowledge, a dig site, the 3D movie Dinosaurs Alive! and hands-on workshops, created with paleontologists and scientists at the New Jersey State Museum. In 2012 Field Station: Dinosaurs was named the Best Local Theme Park by Time Out New York Kids and in 2013 it ranked number two on Fox News' list of the best dinosaur theme parks in the world.
Returning this season are the exciting nighttime events Dozin' with Dinos and Dinosaurs After Dark. At Dozin' with Dinos explorers are invited to an overnight campout adventure among the dinosaurs. At Dinosaurs After Dark guests experience a nighttime adventure complete with ghost stories, singing around the campfire, s'mores and an up-close visit with T-Rex. Rounding out the season are a number of special events including the highly popular Scout Days (June 14 and September 27) where scout groups and all other park guests can participate in extra programming throughout the park about camping, bugs, birds, dinosaurs and more.
Special Events:
May 24: Opening Day
June 14: Scout Day on National Get Outdoors Day
June 15: Father's Day at the Field Station
July 19-20: Dinotrux Weekend
August 16-17: Puppetry Weekend
September 13: Careers in Science Day
September 20: Hudson County Day
September 21: Secaucus Day
September 27: Fall Scout Day
October 25-26: Pumpkin Carving Weekend
Special Offer:
NJ Kids Online Readers save 25%!
Use code: FSD14N2
Visit fieldstationdinosaurs.com or call 855.999.9010
* Discount valid for Day Pass admission only. Does not include the 3D movie. Not valid for Dinosaurs After Dark, Dozin' with Dinos, groups or birthdays. Not valid on previously purchased tickets. Ticket limit 8 per person. Cannot be combined with any other offers or discounts. Subject to availability. This offer may be revoked at any time. All sales subject to NJ sales tax.