Quick Winter Family Getaways
The Best Winter Fun Getaways in New Jersey and the Tri-State Area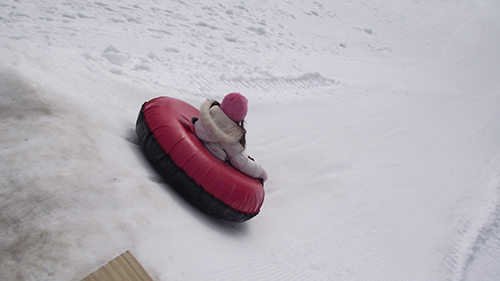 This winter may have you wishing you could hibernate until Spring, but now is the perfect time for a quick family getaway. The snow, ice and cold weather always seem less maddening (and the kids are less stir crazy) if you can pack up and head off for a couple of days of some family fun. In Hawley, PA Woodloch Pines Resort has endless winter activities, including snow tubing, ice-skating, skiing (off property) wagon rides...plus they also offer tons of indoor fun for the entire family. In Hamburg, NJ, Crystal Springs and Mountain Creek is the perfect getaway! They have snow tubing, skiing, ice-skating, cross-country skiing - and more, plus an amazing indoor biosphere pool. And at Rocking Horse Ranch in Highland, NY not only can you saddle up for some fantastic winter horseback riding, but they also have skiing, sledding, horse drawn wagon rides, tubing, and an indoor water park. Don't let the winter weather get you down - pack up for a weekend of family fun and memories! Need more getaway ideas? Click for Family Getaway and Family Resort Vacations. Click for New Jersey Field Trip Ideas
---
Things To Do This Week
Kids Week @ Intrepid Sea, Air & Space Museum
Thru Sunday, February 23
With different themes, activities, and partners each day, Intrepid Museum's Kids Week is nine days of entertainment, education, and excitement! Learn about 3D printing or robotics in hands-on workshop... New York
Pax Amicus Castle Theatre - The Little Mermaid
Saturday, February 22 - Sunday, February 23
The Little Mermaid has fallen in love with a Prince who lives on land, and the evil Sea Witch is determined to spoil their plans to live happily ever after. $15 for tickets! Go to our website for ... Budd Lake
Open Arms: Family Evening at Garden State Discovery Museum
Saturday, February 22 - Sunday, February 23, 06:00 PM - 08:00 PM
A Special Evening for Families with Children on the Autism Spectrum at the Garden State Discovery Museum. We invite your entire family for a FREE after hours event featuring open play and discovery... Cherry Hill
Jason Didner And The Jungle Gym Band To Headline At Family Fun Day
February 23,
02:30 PM - 04:00 PM
Don't let the cold, snowy winter get you down and stop you from having a great time with the kids! Full of fun activities including face painting, arts and crafts and children's entertainment,wh ile Jungle Gym Jam will perform songs celebrating friendship, kindness, learning ... Montclair
Sunday, February 23, 03:00 PM - 05:00 PM
The word "awesome" gets tossed around pretty loosely - but here's an evening that really earns that description. Ancient acrobatic traditions meet 21st century stagecraft with this elite group ...Newark
---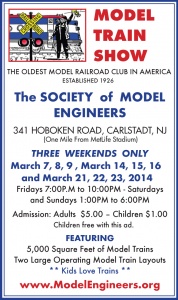 Model Train Show - coming This March
Kids Love Trains! The Model Train Show is here this March in Bergen County. Don't miss this annual Model Train Show Exhibit sponsored by The Society of Model Engineers, the Oldest Model Railroad Club in America. Enjoy an amazing exhibit of two large operating model train layouts (about 5,000 square feet of model trains).
Three weekends only. March 7-9; 14-16; and 21-23.
Fri 7-10pm, Sat and Sun 1-6pm.
341 Hoboken Road, Carlstadt, NJ

Kids Free with this NJ Kids ad!

| | | |
| --- | --- | --- |
| More Family Fun Events >> | More Fun Things To Do >> | |