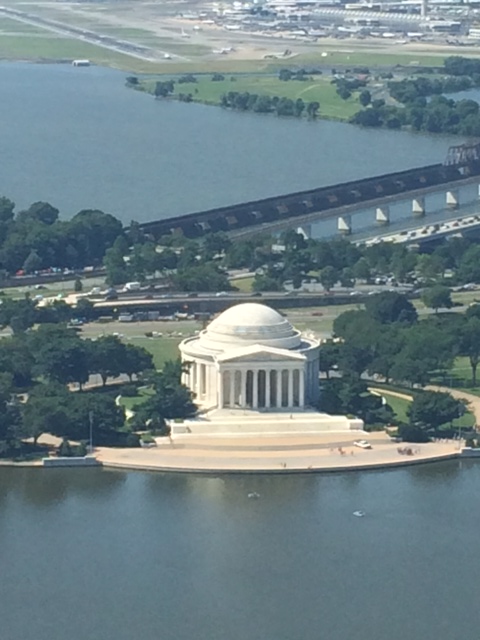 There are great urban family vacation destinations, and then there is Washington, D.C. Few cities can compare to America's capital as the perfect multi-generational trip – where else can you experience history, nature, science and culture and, amazingly, please children and adults of all ages? The only real problem: choosing what to do. So much fun is packed into the roughly 63 square miles of Washington, D.C. that it can be difficult to narrow down an itinerary – but the good news is that Washington DC is close enough so that you don't have to worry if you can't fit it all in this time. Without a doubt, you'll be back. Here is a 5-day sampler to get your trip planning started:
Day One – Arlington National Cemetery
After checking into your hotel, it's time to kick start the sightseeing. And who ever thought that visiting a cemetery would constitute a fun family activity. But Arlington National Cemetery, located just across the Potomac River in Arlington, VA (Arlington National Cemetery Station, Blue Line - Metro) is a must see. The cemetery is the resting ground for over 400,000 active military personnel, veterans and their families. It is both heartrending and uplifting to walk along the endless paths of gravestones. There are also monuments and memorials to famous Americans, including President Taft's Memorial, President John F. Kennedy's grave, and the Challenger Memorial. Make sure you have on good walking shoes: the cemetery is 624 acres and there is a lot of walking. The cemetery is open 365 days a year, 8AM-5PM; 7PM in summer months). 877-907-8585
NOT TO BE MISSED: The Changing of the Guard at the Tomb of the Unknown Solider: "Here rests in honored glory an American solider known but to God." The ceremony is held every ½ hour during the summer months (and on the hour during winter months); the elaborate Changing of the Guard is held in silence and with great military precision.
TOUR OPTION: ANC Tours is the authorized company of Arlington National Cemetery. Tours, with narration, depart continuously from the Welcome Center and pass by important sites of the cemetery. Ticket prices: Adults/$9.00 Children (3-11)/$4.75 Seniors/$8.00
TIP: Download ANC Explorer on your mobile device. Explore the history of the cemetery, learn about famous markers and monuments, and receive step-by-step directions to different important locations.
After leaving the cemetery, if you have some steam left in the legs, walk back into DC via the Arlington Memorial Bridge. Not only are there impressive views of the Potomac River and Lincoln Memorial directly across the water, but the roadway is also lined with memorials commemorating heroes from past wars.
Day Two: Washington Mall, Part I
Got a 'tween girl? She may be overly excited by the idea of visiting a mall – only to crash back down to earth when she realizes the National Mall is not filled with rows of stores and shopping opportunities. The Mall, in fact, is an approximately 4-mile loop that is ringed with memorials and monuments, the US Capital and 11 of the 19 Smithsonian museums.
There is no way to see everything on and around the National Mall in one day, so don't try to. Best bet is to start with one museum A few top picks include: National Museum of Natural History (highlights: dinosaurs, the Hope Diamond, insects, butterflies, gems and ocean life; naturalhistory.si.edu); National Museum of American History (best for older children; highlights: Fashions of the First Ladies, American on the Move, Food Through History, original Star Spangle Banner flag; americanhistory.si.edu); United States Holocaust Museum (the Main Exhibit is searing and could be troubling for very young children, but there is a fabulous exhibit geared to younger visitors, ages 8 and up: 'Remembering the Children: Daniel's Story'; ushhmm.org) International Spy Museum (interactive spy missions; geared to children 12 and older; Go early – it's a small museum and gets crowded.www.spymuseum.org); Smithsonian National Air and Space Museum (Highlights: Charles Lindbergh Spirit of St. Louis, lunar rock, Apollo 11 command module, tons of aircraft, Planetarium and Imax Theater; airandspace.si.edu).
Following the museum visit (many of the museums could never possibly be finished even in a day) it's time to start walking the Mall. A great start would be the Memorials around the Tidal Basin: Thomas Jefferson Memorial, Franklin D. Roosevelt Memorial, Korean War Veterans Memorial, Lincoln Memorial, Martin Luther King, Jr Memorial, Vietnam Veterans Memorial, and the National World War Two Memorial. It is a long walk, but there are enough benches to sit down and relax (and you can always find an ice cream vendor and get a treat).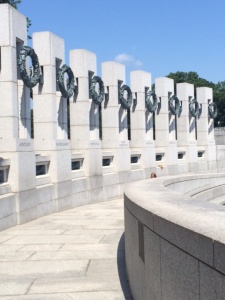 DON'T MISS: National World War Two Memorial – it is truly an awe-inspiring memorial to the 16 million men and women who served and the 400,000 who died. The two walls on opposite sides of the entrance tell the story of both the Pacific and Atlantic campaigns in carved relief.
TIP: Download the NPS National Map App for walking directions, site information and interesting facts. The WWII App also offers a detailed description of the carvings by the entrance.
NEED A BREAK? The Tidal Basin by the Jefferson Memorial has paddleboats for rent by the hour. They have both 2 person and 4 person boats. This is a great 'diversion' from history if the kids need a breather.
Day Three: Mount Vernon, and Alexandria, VA
Time to head out of Washington, DC for the day, to the home of America's Commander in Chief during the Revolutionary War and our country's first President. George and Martha Washington's mansion is now the most popular historic estate in the US, and visitors can tour the home, as well as walk at their leisure around the nearly 50 acre plantation, peeking into a dozen original structures including slave quarters, a blacksmith, and pioneer farm; pay tribute to General and Mrs. Washington at their tombs; and enjoy the beautifully landscaped gardens. The mansion is open ONLY to tours, and is a fascinating look into the life of Washington. As one young visitor said as she ran her hand along the bannister heading up to the second floor, "This is the original wood, which means my hand is touching where George Washington's hand touched."
Also don't miss The Donald W. Reynolds Museum and Education, a small museum that offers a glimpse into the life of George Washington. Younger children will also enjoy Story time with our 'First Lady', a hands-on activity (at the Education Center) and specialty demonstrations from the 18th Century. Also – ask for an Adventure Map at the Orientation Center.
TOUR OPTIONS: Standard Tour and Specialty Tours; Specialty tours include: A Slaves Life Tour, Garden and Landscape Tour, All the President's Pups (Dogs welcome!), Through My Eyes (costumed docents explore daily life), and a Signature Tour, where guests get to see areas of the mansion not normally open to visitors.
TIP: Purchase tickets on line before you go and try to take a morning tour before the grounds and parking lots get crowded. Tickets can be purchased at: https://secure4.gatewayticketing.com/MountVernon/shop/ViewItems.aspx?CG=TKTS&C=GA
WHERE TO EAT: There is both a full service restaurant in the Mount Vernon Inn and a self serve cafeteria on the grounds (the restaurant offers limited reservations for lunch Monday – Friday; Saturday no reservations are accepted. Dinner reservations are available and highly recommended).
Following your visit to Mount Vernon, if there is still time, stop by the Freedom House Museum (www.nvul.org/freedomhouse/; open Monday – Friday, 10AM-4PM; Weekends by appointment). While it is still a museum in progress, the Freedom House offers a vivid look at where slaves were held before being sold on the open market. Afterwards, enjoy a walk through Old Town Alexandra, stopping in the Torpedo Art Factory, a former WWI ammunition factory that was converted in 1974 to one of the largest visual arts center in US. Visitors can watch all types of artists working at their crafts. (torpedofactory.org) Later, grab an early dinner at the Waterfront Market and Café, where there are several options from this quick service bistro. Best of all, find a table outside along the water. (www.thewaterfrontmarket.com/home)
Day Four: National Mall, Part II
Start the day at the Washington Monument and take the 70-second elevator ride to the top. This is one activity you will not want to miss – the views from the top of this 550-foot marble obelisk dedicated to George Washington are breathtaking. Not only do you get a birds eye view of the entire Mall, on a clear day you can see into Maryland and Virginia. Kids will love watching planes landing at nearby Reagan National Airport. Maps and guides at each window highlight what you are seeing. There is also a small display (as you wait on line to descend back downstairs) detailing the history of the monument and how it was built.
TIP: All visitors ages 2 and up MUST have tickets to go to the top of the monument. A limited number of same day tickets are available at the Washington Monument Lodge by the 15th Street entrance, but supplies are depleted early in the day. Save time (and heartache) and order tickets prior to your trip at:
recreation.gov/tourParkDetail.do?contractCode=NRSO&parkId=77811
Once back outside, pick another museum for a visit OR head to the US Capital for a tour. This 45-minute tour stops in the Rotunda and National Statuary Hall. Save time to explore the Exhibit Hall to learn about the building of the Capital and the role of the US Congress.
All visitors must have a timed ticket to tour the capital so when planning your day consider getting the first trip up to the top of the Washington Monument and then factor in 2 ½ - 3 hours in between that time and the time of your Capital Tour. (Average visit at the Monument is about 1 hour). This will give you ample time to visit the Monument, and then walk to the Capital. (It is an approximately 1.2 mile walk). Schedule a later tour if you will need to grab lunch first. Tour tickets can be arranged through your local Representative or scheduled online at: www.visitthecapitol.gov
Day Five: National Zoo
It may be departure day, but make time for one more stop before the drive home. Smithsonian's National Zoo, a 163-acre park, is one of the nation's premiere zoological parks. Get up close and personal with wildlife from the Amazon, Africa, Asia and the Americas. The National Zoo is also one of only three centers in the US where a group of the endangered Giant Pandas are on display. The zoo is open 364 days a year (closed December 25th)
3001 Connecticut Ave NW, (202) 633-4888 nationalzoo.si.edu
TIPS: The best time to see the Giant Pandas are between the hours of 8AM – 2PM. Family Scavenger Hunt sheets can be downloaded and printed at home prior to your trip; they can be found on the zoos 'Plan Your Visit' page.
WASHINGTON, D.C. ESSENTIALS:
GETTING AROUND:

The Metro system in Washington, DC is safe and reliable. There are five lines: Red, Blue, Orange, Green and Yellow. (Silver Line opens July 26,2014)
You need a Smart Card or Paper Card to ride the metro
Cost of trip is based on destination.
Purchase a Smartcard to save an additional Paper Card fee
All passes must be inserted into the turnstile when entering AND exiting the metro (so don't throw away a used paper card)

WHERE TO STAY:

There is a hotel for every budget in Washington, DC – from lower budget stays at a Residence Inn to luxury getaways at the Four Seasons.
Georgetown is a great location to stay in – the metro is only a short walk away and the streets are lined with shops and restaurants.

WHERE TO EAT:

Lunch - Most of the museums and sites have restaurants on the premises, so they are a quick (although sometimes expensive) way to deal with lunch. Another option is to pack a small cooler with sandwiches and enjoy a picnic on the Mall.
Dinner – You can find just about every type of cuisine in Washington, DC. If you are staying in or around Georgetown, a few ideas include: Sea Catch Restaurant and Raw Bar (Seafood), J Paul's (American), and Ristorante La Perla (Italian). If you're looking for a restaurant steeped in political history, try Old Ebbitt Grill (675 15th Street, NW), a favorite of Presidents Grant, Cleveland and Teddy Roosevelt – and still a popular spot for current politicians.
ADMISSION FEES:

A great added bonus of a Washington, DC vacation is that ALL Smithsonian Institutions and many of the other national sites are FREE (some sites, including those you book online at home, require a small reservation fee)

WHITE HOUSE TOURS:

White House Tours MUST be scheduled through your local Representative. Call your rep's local office or visit their website for details. Be prepared to fill out forms with your name, address, dates of travel and Social Security number. For travel during busy months, contact your Representative AT LEAST 4 months in advance.
Written by Jenny Tananbaum, Suburban Mom