So many things to do...so little time. NJ Kids has compiled a list of family friendly ski and snowboard destinations throughout New Jersey, New York and Pennsylvania. Many of these ski areas offer Terrain Parks and Snow Tubing fun. We also spotted some upcoming events that we found of interest. Please call ahead to confirm hours of operation and verify any special offers, discounts, or restrictions. Here come the snow! Go Play!!!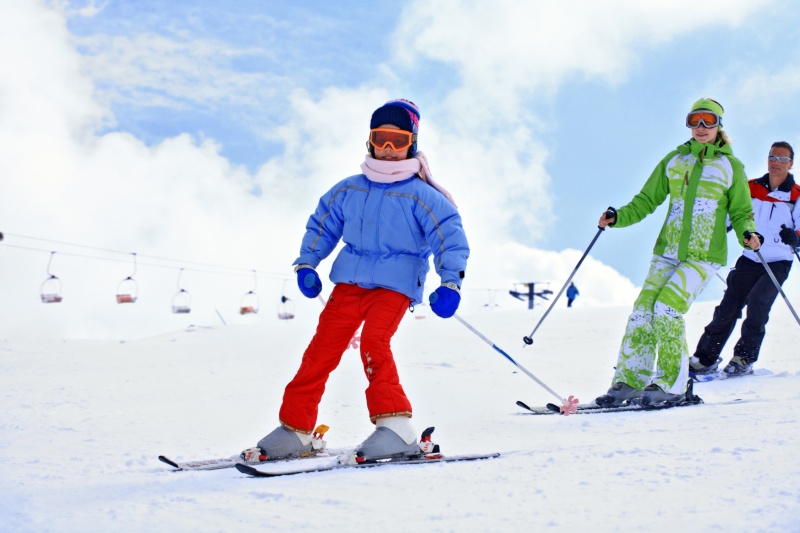 Campgaw Mountain offers skiing, snowboarding, and snow tubing! Great friendly mountain for the little ones. Lessons for age 3+. Daily lessons and Campgaw's Children's Academy offers a 3 week program (Campgaw Cruisers (Skiers) & Little Rippers (Snowboarders) Program) for ages 4-6. Also offering skiing and snowboarding lessons to individuals with Developmental Delays & Visual Impairments.
200 Campgaw Rd. , Mahwah, NJ. 201-327-7800.
Offers skiing, snow tubing, and snow boarding and awesome terrain park. Mountain Creek is home to the region's only true All-Mountain Terrain Park at Mountain Creek South. South boasts 18 dedicated park trails, 2 high-speed quad lifts, and more than 80 features. Group lessons ages 7+. Kids Kamp age 5-6. Special Events: New Year's Eve at Mountain Creek & Crystal Springs.
200 Rte. 94 , Vernon, NJ 518-263-4811
Offers skiing, cross country skiing, and snowshoeing. Explore more than 15 km of trails skate and classic skiing, including 60% beginner, 15% intermediate, and 25% expert trails. Offering flat trails better fit for children, handicapped, or visually impaired skiers. Another 8 km trail is designated for snowshoeing passing the highest point in NJ. Over 1600 feet in elevation guarantees that High Point is the snowiest spot in the metropolitan area. It's "New England", nearby! Lessons for ages 5+.
1480 Rt 23 , Sussex, NJ. 973-702-1222
Offering skiing & snowboarding in a family friendly environment with an emphasis on fun and learning. Perhaps the most accommodating and "kid-friendly" destination to enjoy skiing and snowboarding, whether you ski together or let the kids ski while you relax and unwind. All trails lead to the same base area. Skiing at Hidden Valley is like having your own ski resort. Skiing terrain and lessons and programs for everyone, at every ability level. Sign up for the Full Day Mountain Adventure: includes a lift ticket, lesson and lunch for skiers ages 4-6, and snowboarders ages 5-6.
44 Breakneck Rd, Vernon, 973.764.4200.
Pennsylvania Ski Mountains
The Pennsylvania Ski Areas Association (PSAA) offers 4th and 5th grade Snowpass programs at Camelback Mountain Resort! Fill out the application today, and discover how you can ski and snowboard for free this winter with the Snowpass booklet! Click here for more information
Offers skiing, snowboarding, and snow tubing with 23 Slopes & Trails, 2 Terrain Parks & Snow Tubing Park. Ski lessons for ages 3+. Offer morning, afternoon and full day kids lessons. Child Care facility is available for children 18 months and older while the parents are out on the slope. Special Events:
January 11-12: NASTAR is a National Recreational Racing Series giving every day skiers and snowboarders of all ages the thrill of racing.
February 3-7: Your Daughter or Son age 18 and under receive a FREE Youth Lift Ticket when parent purchases a full price Adult Daily Lift Ticket.
February 23: Winter Carnival Day. The base of Shawnee Mountain will come alive with a festive carnival atmosphere and a fun day
March 14-16: Military Appreciation Weekend. Active military and their immediate family will receive FREE lift tickets and ski/snowboard rentals.
March 16: Costume Carnival Day. Those in costume will receive a FREE day lift ticket.
I-80 Exit 309 339 Hollow Rd. Shawnee on Delaware, PA. 570-421-7231
31 trails of skiing and snowboarding fun plus great snow tubing with up to 20 lanes and 2 magic carpets. Offers CamelCare Adventurers, Kids 1/2 Day Programs, single session Learn To Packages, 1 1/2 hour group lessons, private lessons. Adaptive Program: Ski lessons for people with a wide range of disabilities. State-of-the-art equipment is provided, with the goal of making each lesson the best it can be.
Exit 45 I-80 One Camelback Rd. , Pocono Twp., PA. 570-629-1661.
Jack Frost Big Boulder offers skiing, snow tubing, ski lessons. 21 different slopes to include: ski school learning slope, 4 Easiest (beginner slopes, 6 More Difficult (intermediate slopes), 8 Most Difficult (advanced slopes) and 2 Terrain Parks. There are 9 lifts: 1 quad, 2 triples, 6 doubles and 1 ski carpet (used for kids lessons only). Live Entertainments (check website) for details. Offer 3 hours kids lesson. Adaptive Lessons - Offered every weekend at Jack Frost for our guests with disabilities
Big Boulder:1 South Lake Drive, Lake Harmony, PA . 570-443-8425. Jack Frost Mountain: 1 Jack Frost Mountain Rd, Blakeslee, PA. 570-443-8425.
Great mountain for little ones! Beginner lessons are held in a separate area. 39 trails (including 2 Glade Trails) and 21 crazy-long tubing lanes! Blue Learning Center is perfect for first time ski/snowboard students. New this season, first time ski/snowboarders will be treated to an open-ended daylong experience, plus expanded teaching terrains.
Rt 80 exit 304, 209S, Blue Mountain Dr. 610-826-7700.
New York Ski Mountains
Known as "The Friendly One" offers skiing and snowboarding. Offering FREE!!! Beginner Ski and Snowboard Lessons on weekends and holidays for first time skiers or boarders (age 5 and up). Tiny Tots Program introduce children (ages potty-trained to 4 years old) to the winter play ground in a relaxed, friendly, fun-filled atmosphere. Group lesson ages 5+.
40 Ski Lane, Warwick, NY. 845-986-4940.
Belleayre Mountain, NY's winter snow park is well known for being a kids and family friendly ski mountain. Offers Ski and snowboard lessons and kids camp – Just For Kids Learning Zone. 55 trails, parks and glades, 8 lifts, including the new High Speed Quad. Offer kids lesson 4+. Kidscamp: A full-day instructional program for skiers ages 4 – 12 and snowboarders ages 7 -12.
181 Galli Curci Road, Highmount, NY. 845-254-5600.
A family-friendly ski area, offers skiing, snow tubing, and ice skating. 49 trails, four terrain parks, a jib park and a 1,600 feet vertical drop on two mountain peaks, there's so much to experience. Terrain Parks for beginners (the wraparound mini park), intermediate (the warpath park) and experts (the warm up park). The Children's Learning Center offers lessons to children ages 3-7 years old, and anyone ages 8+ can choose from programs, private lessons and group lessons. Offer hourly, half day and full day lessons. Non-skiers ages 2-7 can have fun at the Children's Learning Center, while parents enjoy a day of skiing. Windham Mountain Adventure Park offers eight lanes of exhilarating snow tubing, ice skating, and a comfy lodge. The Adaptive Sports Foundation welcomes children and adults with physical and/or cognitive disabilities and chronic illnesses.
33 Clarence D. Lane Road , Windham, NY. 800-754-9463
Families and beginners will enjoy the trails of Hunter One, each specially designated for learning and comfort while on the slopes! Intermediates have a nice choice of summit-to-base groomed cruisers, and experts can challenge their skills when making turns on an impressive variety of advanced trails including the slopes of Hunter West. Snowtube: Up to 9 chutes, each nearly 1,000 feet long. Skil lessons: Single session and full day sessions. PlayCare: childcare services for ages 6 months to 6 years.
Route 23a & Route 32a, Palenville, NY.
Holiday Celebration Torchlight Parade and Fireworks (December 31st):Outdoor festivities with a kids' torchlight parade at 6:40pm, followed by the main torchlight parade down the mountain, and the fireworks show immediately following.
Presidents' Weekend Activities (February 15): Grand fireworks show starting at abour 7pm.