Spring into the "Garden" State
New Jersey got its nickname the "Garden State" for a reason as there is no shortage of beautiful gardens to explore. After visiting the NJ Flower show and looking forward to the many floral events coming up from the Philadelphia Flower show to the Orchid show at the New York Botanical Gardens, it makes me want to explore some of the many gardens right here in New Jersey. Wander through the daffodils and crocus, bring a picnic lunch or head out one of the many special events hosted by these great gardens.
A unique and quiet oasis in the center of a busy community, the Arboretum boasts a diversity of native wildflowers and trees. People of all ages visit the Arboretum to walk the three miles of trails, attend environmental classes and enjoy bird-watching.
Essex County Branch Brook Park (Newark)
Branch Brook Park is distinguished by being the first county park to be opened for public use in the United States. The park is noted for the largest collection of cherry blossom trees in the United States.
Essex County Presby Memorial Iris Gardens (Upper Montclair)
Located at the base of the 7 1/2 acre Mountainside Park, the iris gardens contain over 10,000 irises of approximately 1,500 varieties and produce over 100,000 blooms over the course of the season. Visitors can see by the arching slope of the garden beds why Presby is often referred to as the "rainbow on the hill".
The Frelinghuysen Arboretum (Morris Township)
The 127-acre Frelinghuysen Arboretum features numerous themed gardens, nature trails, an education center offering year round programs and events and a café with seasonal hours.
Greater Newark Conservancy (Newark)
Greater Newark Conservancy's 1.5 acre Urban Environmental Center features themed teaching gardens, a pond, an educational greenhouse and a historic building which hosts a state-of-the-art demonstration kitchen and classrooms. Its two satellite farm sites, on 3.5 acres, supply produce for seasonal farm markets and host a growing Community Supported Agriculture plot.
Greenwood Gardens (Short Hills)
Greenwood Gardens is a 28-acre public garden surrounded by 2,110 acres of South Mountain Reservation, a part of Essex County park system. The Gardens were a private estate until 2003, when the Blanchard family decided to transform them into a public garden.
Laurelwood Arboretum (Wayne)
Laurelwood Arboretum is a 30-acre botanically diverse property located in Wayne Township in northern New Jersey. Laurelwood features woodland trails and gardens, wildlife, two ponds, streams and hundreds of varieties of rhododendrons, azaleas and other unusual species of plants and trees. Gravel paths wind and connect through the arboretum, making it an ideal destination for nature lovers, hikers, runners, birdwatchers, artists and photographers. New additions are an accessible Sensory Garden and The Knippenberg Center for Education.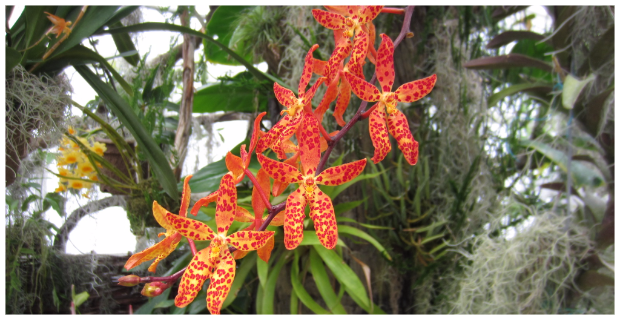 New Jersey State Botanical Garden (Ringwood)
Skylands, also known as the New Jersey Botanical Garden, is a mansion and 96-acre botanical garden in Ringwood State Park in the borough of Ringwood. Its formal gardens are open to the public year round.
Reeves-Reed Arboretum (Summit)
Celebrating over 40 years as an historic public garden, education resource, and non-profit conservancy, Reeves-Reed Arboretum engages, educates and enriches the public through horticulture and environmental education, and the care and utilization of the gardens and estate.
Richard W. DeKorte Park (Lyndhurst)
Located within the New Jersey Meadowlands, along the Atlantic Flyway, Richard W. DeKorte Park is a center of activity for wildlife and humans alike. Try some of the many nature trails surrounding the park; maps can be picked up at the Environment Center. The Marsh Discovery Trail is a floating boardwalk that allows visitors to cross over the tidal marsh impoundment at the Environment Center. All trails are relatively low impact and range from 1/2 mile to 3 miles walking distance. Don't forget to inquire about public programs, school programs, guided nature walks and more.
Van Vleck House and Garden (Montclair)
A classic & early 20th century Mediterranean-style house, surrounded by the estate's six acre park-like setting, welcomes visitors to enjoy all the garden spaces and to join them for classes, concerts, and special events.