A Great Family Fun Activity for Valentine's Month
For the 10th season, Newark Museum in collaboration with Ringling Bros. and Barnum & Bailey will present Circus Science this February 11th & 12th! With Ringling Bros and Barnum & Bailey Clowns from The Greatest Show On Earth, don't miss this family favorite weekend. It's loaded with hands on fun for the entire family immersed in the museum atmosphere! Here is an excerpt from their press release. Don't Miss It!
Every romantic who has ever dreamt about joining the circus, here's the perfect opportunity – with none of the doubts. Now mom and dad and kids of all ages can step into the "big top" center ring to draw the cheers and the glow of the spotlight. Kids will learn from real circus professionals the not-so-secret science behind juggling, magic and acrobatics and frolic in the circus traditions of face painting, balloon artistry and clowning around.
One lucky visitor (14 years of age or older) will win the chance to experience circus magic from a unique perspective -- as a full-fledged, baggy-pants clown. Get made up by an actual Ringling Bros. clown, be outfitted in an authentic clown costume and make the audience roar with laughter, as you perform with Clown Alley during the All Access Preshow at the Prudential Center in Newark, NJ, on Friday, March 2 at 6:30pm. The lucky winner will also receive a Family Four-Pack of tickets to that evening's show, so your friends or family can cheer you on from the peanut gallery, as you make your debut. Other prizes include an original work of art by the "Pachyderm Picasso" of Ringling Bros. and Barnum & Bailey and family four-packs of tickets to The Greatest Show On Earth!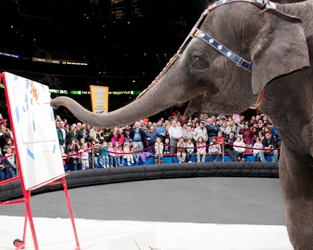 All weekend long, like magic, the tented garden and galleries will be transformed into a three-ringed extravaganza, featuring hilarious performances and remarkable feats of daring, along with thrilling lessons on Newton's Laws. Where else but the Newark Museum, can visitors actually learn to juggle, spin plates in the air, take a turn on a trapeze and, yes, even walk a tightrope, while being taught the science that makes it all possible – the physics behind the fun. The Newark Museum and its Science Department have jumped through hoops to stage a weekend's worth of circus wonder where families learn the theories of balance, centrifugal force, motion and gravity.
"By lifting the curtain on the science involved in traditional circus acts and providing action-propelled experiences in which parents and kids love to take part," said Museum Science Director Ismael Calderon, "Circus Science has earned top billing as a favorite science education weekend for all ages at the Newark Museum."
Circus Science will regale families with Ringling Bros. & Barnum and Bailey Circus Clown Shows at 11:30am, 1:30 and 3:30pm, and dazzle the crowds with Magic Shows at 12:30 and 2:30 and 4:40pm in the Alice Ransom Dreyfus Memorial Garden. Activities scheduled continuously from 10:30 a.m. to 4:30 p.m. throughout the Museum include face painting and balloon art, as well as workshops teaching such amazing skills as plate-spinning, animal origami, tightrope walking, magic, spin art, gymnastics and trapeze acrobatics. There will be a special presentation on juggling techniques by the Jersey Jugglers.
Admission to Circus Science February 11th and 12th, including either the clown or magic show performance is $10.00 for adults and $6.00 for seniors and children under 12. Tickets for additional performances may be purchased at $3.00 each. Members are admitted free of charge. All Museum workshops and exhibitions, including guided tours are free and open to the public. Tickets for programs and performances are provided on a first-come, first-served basis. Groups of 25 or more may call 973-596-5150 for advance ticket purchase.