| | |
| --- | --- |
| Have you ever driven past construction equipment and wanted to get behind one of those great earth-moving beasts? Diggerland USA makes that dream a reality! | |
Located in West Berlin, NJ, kids and adults can drive, ride, and operate machinery in a family-friendly and safe environment. From being rocketed 25 feet up in the air by the Sky Shuttle to getting into the cab of a big digger and actually digging with the arm, Diggerland is a unique theme park that you won't experience anywhere in the US!
Sign up to be the first to know when tickets are available.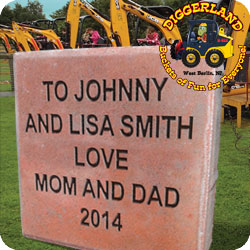 Be a Part of Diggerland USA
Create a lasting legacy of fun! Sponsor a paver with your personalized message. Pavers will be used in the Diggerland USA patio where guests can read your business or family name, memorial to a loved one, or any message you choose.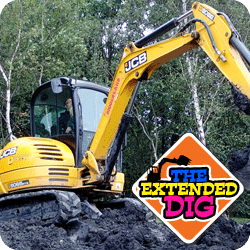 Celebrate the Big Day!
There are 364 days of the year to be boring. Make that one day unique and exciting! Birthdays at Diggerland USA create special memories that will last a lifetime...who can forget driving a giant digger?!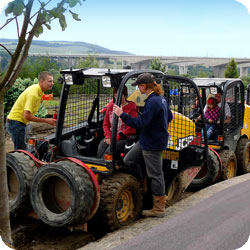 Families, Camps, & Corporate
Struggling to find a place for your company outing or family fun day that hasn't been done over and over again? Be the hero of your office or your family and book Diggerland USA for your next event!