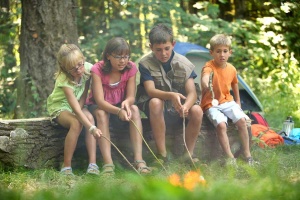 With fall approaching… it's time to familiarize yourself with autumn activities. More specifically, CAMPING!
Camping is one of America's favorite outdoor activities and continues to grow each year. There are countless recreational parks that allow camping in either tents or motor homes. Simply Google those in your area!
Camping requires a variety of items. I'm here to help! Use this camping checklist to ensure a good time in the outdoors with your family!
CLOTHES
Just as every other day, clothing is essential. Depending on the weather conditions, which you can never be too sure about, pack an assortment of breezy or cozy clothes.
socks
shoes
water friendly shoes
hat

sweater
rain jacket
underwear
swim suit
*In precaution of rain or storm, pack extra socks!
FOOD
This portion of the trip depends on the amount of people intended to feed. Nevertheless, I will assist you with suggesting which foods are best to bring camping. Depending on whether you are roughing it in tents or camping luxuriously in an RV with kitchen appliances, these items may differ.
Condiments- ketchup, mustard, mayo
Liquids-water, juice, coffee, soda
Snack foods- chips, pretzels, granola bars, pop tarts, cookies
Sandwich items- bread, pb&j, veggies, meat
Canned food- soup, fruit, veggies
And last but not least… marshmallows! CHECK
BEDDING
No one likes a cold nose and toes when they're trying sleep. Be smart, pack warm.
air mattress
sleeping bags
memory foam pad

pillow
sheets
extra blankets
And don't forget the stuffed animals!
ACTIVITES/ TOYS:
This is why you're here right! Pack the car with everything in sight. From Frisbees to bicycles, you can never pack too much sports equipment and toys! Also, click the site below for a list of Disney kid's camping craft ideas.
http://familyfun.go.com/summer/summer-crafts/summer-camp-crafts/classic-camp-crafts/
SAFETY KIT:
This is important. Remember to pack a safety kit in case of emergency. With children running around, constantly playing outdoors, a scraped knee is common! Don't worry, you'll be prepared with this checklist.
bandages
gauze
antiseptic creams and ointments
sterile wipes

headache medicine
tweezers
scissors
sunscreen/ aloe spray
References:
Disney Family Fun: Classic Camp Crafts
R.E.I.: Camping With Kids