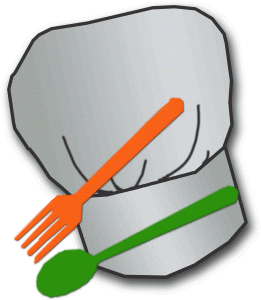 What's better than an easy and healthy meal? An easy, healthy AND kid-friendly meal! Head to France with this simple crepe dinner. Start with Chicken and Asparagus crepes, then finish off with Apples and Cinnamon crepes. Best of all, the crepes can be made in advance and the fillings can be made the day before, so all you have to do is assembly, cook and enjoy!
Crepe Recipe
Ingredients:
2 Cup flour
4 teaspoon sugar
1/4 teaspoon salt
2 cup low-fat milk
1 cup water
4 large eggs
Directions:
Mix flour, sugar and salt in a bowl. In another bowl, combine milk, eggs and water. Mix together. Refrigerate for an hour. When ready, coat non-stick pan with spray and heat. Take ¼ cup of mixture and put in pan, swirling around to make circle. Cook about 1 minute – if it can be shaken loose, it's ready – then flip and cook about 30 seconds on other side. Repeat with remaining mixture. Crepes can be used at once or frozen for later use.
---
Chicken and Asparagus Filling
Ingredients:
2 cups diced, cooked chicken
2 tablespoons finely diced onions
4 tablespoons flour
1-cup low fat milk
¾ cup chicken broth
¼ cup dry white wine
¼ teaspoon dried dill
Salt to taste
¼ cup low fat milk
Directions:
Preheat oven to 350 degrees. Dice chicken and place in a medium bowl; set aside. Sautee onions in a bit of butter or spray in a small saucepan over medium-low heat. Meanwhile, combine 1-cup milk and flour, then add to onions, stirring until smooth. Add broth, wine, and dill and simmer over medium to low heat until thickened, about 4 minutes. Add ½ of milk mixture to the chicken and mix to coat. Fill each crepe with about 3 tablespoons of chicken mixture, roll, and place in a 9X13 baking dish, seam side down. Repeat with remaining chicken mixture (you will have leftover crepe batter for dessert crepes). Thin out remaining milk mixture with the ¼ cup milk and pour over crepes. Bake for 20 minutes. Enjoy!
---
Apples and Cinnamon Crepes
Ingredients:
3 apples, peeled and roughly diced
1-tablespoon brown sugar
¾ teaspoon cinnamon
1-tablespoon water
Powdered Sugar
Directions:
Combine all ingredients in a saucepan and simmer for about 8-10 minutes, until apples are soft. Place filling in crepe. Top with powdered sugar. Enjoy!