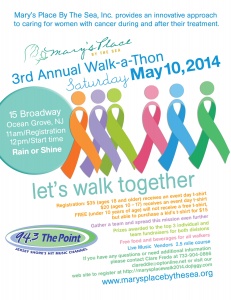 May 10, 2014 at 15 Broadway in Ocean Grove, NJ
Please join us for our 3rd Annual Walk for Mary's Place by the Sea! As we enter into our 5th year of our mission, we are in great need of your support to reach our goal of $200,000! We must expand to meet the needs of all those coming to us for support during their journey with cancer. As one guest writes:
"Cancer strikes at the very core of an individual. Your wonderful organization allows a person to feel alive again with future possibilities and provides the utmost of dignity." B.D.
Our walk is Saturday, May 10, 2014 at 15 Broadway in Ocean Grove, NJ, but we encourage you to begin raising funds now. It's never been easier to REGISTER, CREATE A PAGE and SHARE with your friends and family. We are asking for a lot of people to do a little bit to continue our growth and help us reach those living in quiet desperation. A heartfelt sentiment of another guest:
"I arrived sick, fragile and yes, broken from this dreadful disease; I could hardly climb the stairs. But two days later, I walked out strong, with a smile on my face and God's spirit singing loudly in my heart. You ladies literally saved my life- and I thank you from the bottom of my open, happy heart." C.M.
Registration is: $35 (ages 18 and older) receives an event day t-shirt
$20 (ages 10-17) receives an event day t-shirt
*FREE(under 10 years of age) will not receive a free t-shirt, but able to purchase a kid's t- shirt for $15
Prizes will be awarded to the top 3 individual and team fundraisers for both divisions.
Free food and beverages for all participants
Live music
Vendors
2.5 mile course
Start building your team TODAY!
Register at http://marysplacewalk2014.dojiggy.com. For further information, please contact Clare Freda at 732-904-0866 or clareddie@optonline.net
Thank you for your support…we are grateful!
Michele Gannon & Maria McKeon, Founders
** This event is rain or shine.