It's time to break out your red, white, and blue to celebrate America with one of the many 4th of July events happening in NJ. Whether you are looking for a parade, fireworks display, or a celebration, our list below highlights the local towns. As we find out about more fun stuff, we will keep updating the list to check back if you don't see your town.
Asbury Park July 4
On the beach - Heralded as the best Fireworks display on the Jersey Shore, the Asbury Park Independence Day Fireworks is fun for patriots young and old.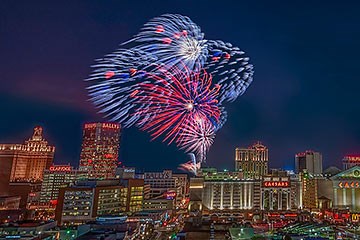 Atlantic City 4th of July Fireworks – July 4 starts at 9:30 PM
Over the Ocean off Atlantic City Beaches Atlantic City, NJ
Fourth of July weekend kicks off with one of the top five fireworks displays in the country. This free show is so big that it takes two ocean barges and one marina platform to fill the island's entire sky. More than 250,000 people take up their favorite viewing positions along the World Famous Boardwalk, at one of the many beach bar parties or viewing events, on the Steel Pier, or at the luxury casino resorts.
Atlantic Highlands Independence Day Fireworks – July 3 9:30 PM
At municipal harbor Simon Lake Drive Also join them for the Fireman's fair, running from June 30 to July 4th
Barnegat Township – July 4
At Barnegat Dock 427 E Bay Ave Concert at 7 pm; Fireworks at Dusk
Beachwood Borough 4th of July Fireworks – July 4
Beachwood's Biggest Day of the Year! Come celebrate America with great food, fun and FIREWORKS Vendors will be on site.
Bradley Beach - July 3 9 PM
Brinley Avenue beach, Bradley Beach
The Borough of Bradley Beach will present its annual display of fireworks on the beach on July 3 at 9PM. Rain date July 5
Brick Township – July 2 6:30 PM
Windward Beach Park, Princeton Ave, Brick Township
Summerfest concert featuring the Amish Outlaws with fireworks to follow at 9 pm
Bridgewater Independence Day Family Festival July 4 @5pm
North Branch Park 355 Milltown Rd, Bridgewater
Annual event offering children's entertainers and activities, including horse rides, moonwalk, giant slide, magic show, sing a longs, and cartoon characters. Other activities include stage performers and Revolutionary period groups. The evening culminates with fireworks.
Camden Waterfront Freedom Festival
The festivities will run Friday, Saturday, Sunday & Monday, July 3, 4, 5, & 6. Everyday there will be ongoing events like free concerts in Wiggins Park, military displays and demonstrations, attractions, amusements, giveaways, the Teach Fleet Lego Display on the Battleship New Jersey, all American food vendors, a beer garden featuring Flying Fish Brewery, Hippo Haven at Adventure Aquarium and other special events at the battleship.
Hazlet July 5 (rain date July 6th)
Veterans Memorial Park
Holmdel Longstreet Farm Independence Day Celebration - July 4 from 12-3 pm
Independence Day was a festive time in the 1890s. Patriotism was celebrated with music, games and good picnic food. Join the staff at Longstreet Farm as they celebrate the holiday with games and contests.
Jackson – Six Flags, July 3 thru July 5
Six Flags Great Adventure will host three days of special events to celebrate the 4th of July. The park will stage a fireworks display each night on Friday, Saturday and Sunday, July 3rd, 4th & 5th and special events every day. Other events include concerts by Magic! on Friday and by Daddy Yankee on Saturday and a July 4th Barbecue on Saturday and Sunday.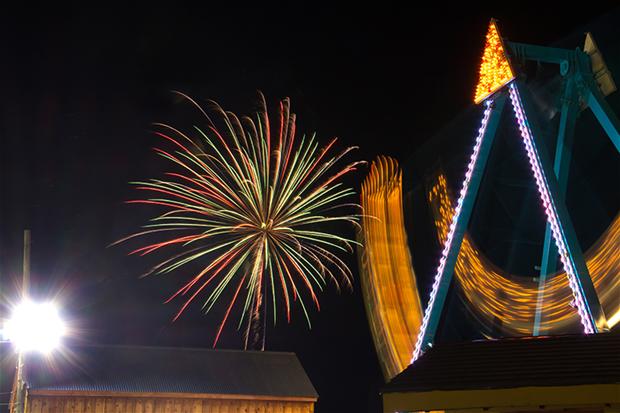 Keansburg Amusement Park – Fireworks July 3 & 4
275 Beachway Ave, Keansburg
Lacey Fireworks Spectacular & Freedom Concert - July 3
Freedom Concert: 6:30 to 10:15 p.m.
Fireworks Spectacular: 10:15 to 10:30 p.m.
This year's launch site is from William Bush Park, 4400 Chardonnay Drive SE in Lacey. The park will be closed to preserve a safe zone around the launch site. The best viewing is near College Street SE and Yelm Highway. Fireworks begin at 10:15 p.m. While waiting for the first burst, the public is invited to enjoy free music and activities at the Freedom Concert, in the parking lot at the Lacey Crossroads Shopping Center, 5500 Corporate Center Loop SE. This year's concert features Battle Rhythm, the 56th Army Rock Band. DJ Tony G will also be on hand to energize the crowd with family - friendly dance music. Performances occur from 6:30 p.m. to 10:00 p.m. Free face-painting and other children's activities will also be happening.
Lakewood – July 4 & 5 post game fireworks & Friday night fireworks after every Blueclaws game
First Energy Park 2 Stadium Way, Lakewood
Lavallette - Mon, July 6
Lavallette Gazebo, Philadelphia Ave.
Concert Begins at 7pm Fireworks at 9pm
Matawan – July 3 on Lefferts Lake 6 pm
Ocean City 4th of July Events
Bike Parade Registration 9 am at 40th & Asbury Ave. Parade begins at 10 am. Kite flying competition at 7pm followed by entertainment. A spectacular boardwalk fireworks display tops off the evening.
OceanFest in Long Branch – July 4 starts at 10 AM
Oceanfront Promenade, Long Branch
Vendors, Bands, exhibits, food, and fireworks
Ocean Grove 4th of July Parade – July 4 10:30 AM
Goes thru Main Avenue in Ocean Grove
Point Pleasant Beach - Fireworks at Dark July 3 – 9- 10 PM
Jenkinson's annual fireworks spectacular - every Thursday at nightfall throughout the summer thru Aug 31.
Sayreville Independence Day Celebration
June 28 @ 4:00pm (Rain date: July 5th)
Kennedy Park Washington Road (Ernston Road), Sayreville
This family celebration features live entertainment, children's games & rides and a food court with the fireworks grand finale at approximately 9:30pm
Seaside Park – July 4
Patriotic Bike Parade 10 am - Noon
Starting at the 5th Ave. Pier and ending at the 14th Pier

Seaside Heights Fourth of July Fireworks Extravaganza – July 4th, 9:30pm
Location: Bay Boulevard and Grant Avenue.
A spectacular fireworks display on the oceanfront. Fireworks are viewable from anywhere on the Seaside Heights Boardwalk and are sponsored by Coca-Cola. Free admission for spectators!
South Amboy
They will host a "Celebrate the Amboys" event on Thursday, July 2nd at Raritan Bay Waterfront Park. The festival brings together Perth Amboy and South Amboy to celebrate their recovery from Superstorm Sandy and Independence Day. The festival features a free concert, food vendors, children's rides, a stilt walker and a fireworks display staged by Garden State Fireworks Company. The concert will feature the music of the High Street Band, The Dayton Five and the Brian O'Connor All Star Band. The concert will start at 6:00 p.m. and the fireworks will begin about 10:15 p.m. The Park is located on Keenan Way off of John T. O'Leary Boulevard.
Toms River Independence Day Celebration at Mathis - July 4
Mathis Veterans Memorial Park, Rt. 166, South Toms River Borough
Enjoy music overlooking the Toms River, with free attractions for kids, vendor booths, crafts, food, and merchandise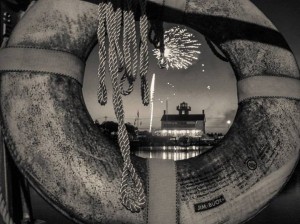 Tuckerton Seaport 4th of July Celebration
120 W. Main Street, Tuckerton
Parade followed by children's activities, baby parade, entertainment. Ice Cream Social from 3 – 8 pm. Fireworks over the lake at dusk. Free.
Wildwood 4th of July Events - Friday, Saturday & Sunday July 3, 4 & 5
The 4th of July Celebration in the Wildwoods features 3 days of free events, live entertainment and fireworks on the beachfront at the amusement park. The long holiday weekend will kick off on Friday morning, July 3, with the Wildwoods Independence Day Parade and the Patriotic Pooch Parade. The Independence Day Parade begins at 9:00 a.m. at 9th and Atlantic Avenues in North Wildwood and proceeds north to 1st and Surf Avenues. The Patriotic Pooch Parade will join the march through the Wildwoods at 8th and Atlantic Avenues. The fireworks will start at 10:00 p.m. on Saturday, July 4. The Wildwoods will stage a fireworks extravaganza that is centered on the beach at Pine Avenue near Morey's Piers.