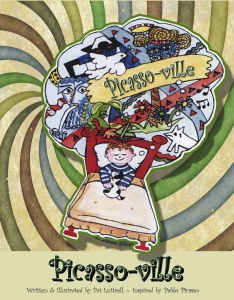 Written by Pat Luttrell.
New author Pat Luttrell, weaves a whimsical tale of a young boy's dream as he travels through an unusual village called Picasso-ville. Here he finds a sun bursting with red and blue lashes and a girl with green hair, he hears a musician playing a guitar with mouse like fingers. Here everything looks different, yet everything feels right. Each page offers vivid works of Pablo Picasso, which alone would dazzle the senses, couple them with colorful illustrations and rhyming words-and it sparks the imagination and helps to develop a new world of creative thinking for both parent and child.
Pat Luttrell is an early childhood educator with a passion for fine arts. With more than thirty years in the field, Pat has created a "Meet the Masters" program that teaches young children "the art of appreciation" of famous artists and their unique styles. The rhyming words describe the works of Picasso as seen through the eyes of children in the author's art appreciation class- at both Palisades Country Day School in Closter, and Palisades Pre-School in Fort Lee. Pat also serves as Director of Palisades Country Day Camp in Closter, N.J. for the past twenty one years. She has been a Bergen County resident for over forty years with her
husband, children and grandchildren.
Picasso-ville is the first of a series of dreamscapes that will introduce the "Masters" to the young child 4-8 years of age. It is available on Amazon.
Some comments and reviews from review section of Amazon.
This is the first book of it's kind for children that i have come across it is a great story and very magical for
children i would recommend this book i give it a 10+

My 6 year old daughter and I loved this book!!!, March 24, 2014. My daughter loves to draw and paint, She enjoyed looking at the different paintings. I found that the book was easy for my 6 year old daughter to follow. Some of the paintings we looked for hidden shapes. I also liked that the author wrote a small biography on the artist. I think it's important for the children to learn a little about the artist. I will certainly look for more books by this author.

Bought this book for my nephew and he loves it. The images are beautiful and the story was really good!
Read this book to my preschool class and they loved it! Really puts Picasso on the children's level. Exciting, fun and new! When is the next one coming out?!?!