September 30th, October 1st, & October 9th in NJ & PA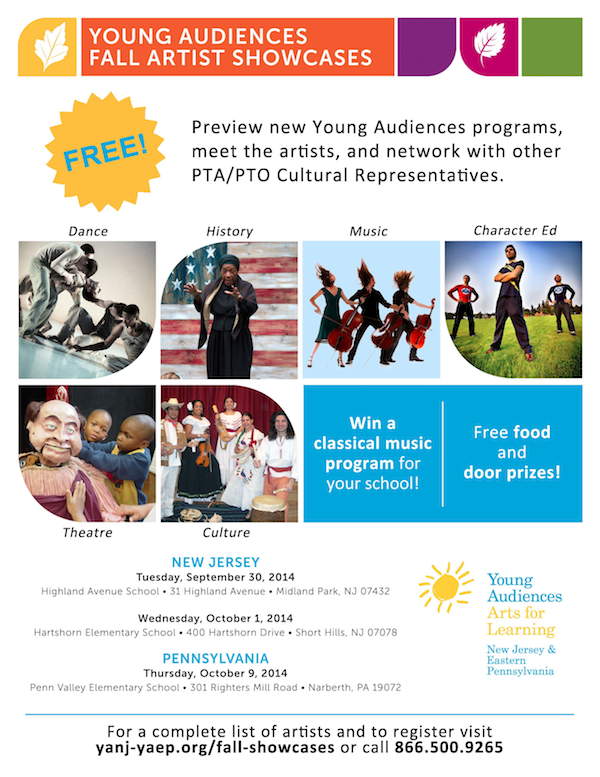 Young Audiences of New Jersey & Eastern Pennsylvania, (YA) the region's largest provider of arts education programs for grades preK-12, is holding free artist showcases from 9:00 a.m. to 12:30 p.m. on September 30th at Highland Avenue School in Midland Park, NJ, October 1st at Hartshorn Elementary School in Short Hills, NJ and on October 9th at Penn Valley Elementary School in Narberth, PA.
Teachers, school administrators and parents will be able to see performances by YA's new artists for 2013-2014. A sampling of dance, theater and musical performances will be presented to student audiences and any adults who are interested in scheduling a YA program for their schools.
"Young Audiences has been providing arts programming to the students at Highland Elementary School for over ten years and we have always been greeted by enthusiastic audiences, " commented Laurence Capo, President and CEO of Young Audiences. "We are honored that Highland Elementary Principal, Danielle Bache, along with her dedicated colleagues share our commitment to the importance of the arts in education."
The new artist lineup includes Operation Superpower, the very first Superhero Opera for students created by Julliard trained singers, that with their combined superpowers take a stance on bullying, Ten Hairy Legs, an all-male dance company that engages students with their stimulating dance that combines athleticism and artistry, and The Junk Jam Band, a high energy interactive and educational program featuring performers using recycled objects as homemade instruments to deliver messages of environmental awareness.
To register for the showcases and to obtain a complete performance schedule, please call Young Audiences of New Jersey & Eastern Pennsylvania at 866-5009-265 or visit www.yanj-yaep.org. Walk-in registration is possible on the showcase days.