Blooming Cherry Blossoms In NJ & Surrounding Areas
Spring is here and so are spectacular Cherry Blossoms. They are Japan's symbolic national flower and are also a symbol of friendship. You can see them around the greater New Jersey area and in neighboring states. Popular pink blossoms originate from Japan's Kwanzan Cherry trees, while the white blossoms are from the Japanese Yoshino Cherry trees. The Cherry Blossom blooming season is short, usually lasting only 2 weeks. A great day trip, go and check them out!
Brooklyn Botanical Garden Cherry Blossom Festival, Sakura Matsuri 2018
990 Washington Ave, Brooklyn, NY. 718-623-7200
April 28-29, 2018, 10AM-6PM
Admission Fee for non-members. This annual cherry blossom festival offers over 60 events and performances that celebrate traditional and contemporary Japanese culture. The festival marks the end of Hanami, the Japanese cultural tradition of enjoying each moment of the cherry blossom season. Check out BBG's Cherrywatch.
Central Park
79th Street, New York, NY.
FREE. Look for Cherry Blossoms near the Belvedere Castle in New York City's Central Park.
Cherry Blossom Festival @ Randall's Island Park
Field 62 & 63. Next to Urban Farm, Randall's Island Park, NY.
April 21, 2018, 12-4PM
FREE. Celebrate Spring and Japanese Culture. Welcome to Randall Island's Cherry Blossom Festival with live music performances, games, exhibitions, face painting, origami, kite flying, paper flower making, yo-yo balloon fishing and much more.
Cherry Blossom Tour in Newark
Cherry Blossom Welcome Center, Branch Brook Park, Heller Pkwy & Mill St, Newark. 973-268-3500
April 18-22, 2018
Take a 45 minute guided bus tour under a canopy of cherry blossoms and learn about Branch Brook Park. $ Admission.
Essex County Family Day at Branch Brook Park
Park Street Entrance, Newark. 973-268-3500
April 14, 2018, 11AM-3PM
FREE ADMISSION. Spend an afternoon Family Day among cherry blossoms. Fun for all. Participate in crafts, face painting, entertainment, paddle boats and more! Fishing Derby runs 12-2PM.
New York Botanical Garden Cherry Blossoms
2900 Southern Blvd, Bronx, NY. 718-817-8700
March-May
See over 200 pink and white Cherry Blossom trees along the curving path in the Cherry Collection section of the garden. $ Admission.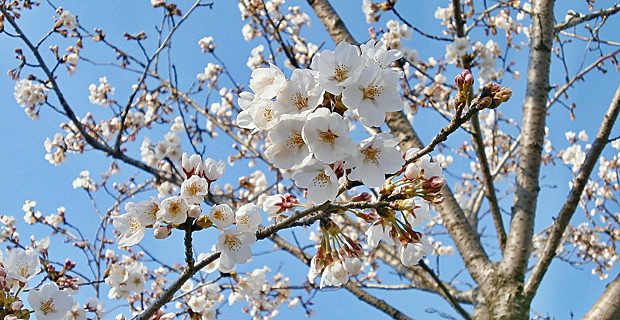 National Cherry Blossom Festival Parade
Constitution Ave, 7th to 17th Streets, NW, Washington DC. 877-442-5666
April 14, 2018, 10AM-12NOON
FREE. If you're in the DC area, go celebrate Cherry Blossoms and watch a spectacular 10 block parade with giant balloons, floats and marching bands. Celebrity entertainers and performers.
Newark Branch Brook Park Bloomfest
Cherry Blossom Welcome Center, Mill St Entrance, Newark. 973-268-3500
Apr 15, 2018, 11AM-5PM
FREE. Enjoy Bloomfest in New Jersey's pinkest park! A packed schedule of events includes Japanese cultural demonstrations, children's activities, live music, a craft marketplace, food and more!
Petalpalooza (part of National Cherry Blossom Festival)
The Wharf, 1100 Maine Ave, SW, Washington DC. 877-442-5666
April 7, 2018, 1-9:30PM
If you're traveling to the DC area this spring, the Waterfront is "home of the cherry blossoms". Spectacular Petalpalooza Festival with games and activities, live music, Japanese art and calligraphy, T-Shirt making for children, and evening Fireworks display.
Subaru Cherry Blossom Festival 2018 in Philadelphia
Various Venues Philadelphia area. 267-348-0250
April 7-15, 2018
Week long festival with events such as Kimono Dressing, Sakura Story Circle, Taiko Performances, Kabuki demos and more. Main event is Sakura Sunday April 15th 10AM-5PM, $ Admission. Featuring Japanese culture, live music, dance, martial arts, fashion, food and fun. Held at the Horticulture Center in Fairmount Park, 100 N Horticultural Dr, Philadelphia, PA.