Jersey Beaches are now open. Here's the update...
Usually, we'll be writing about the events and festivals that traditionally take place each year at the Jersey Shore, but this summer will be a contactless beach experience. This means no summer concerts or festivals or sporting events..... While beaches have now reopened, please remember we are the middle of a pandemic so be prepared for tough restrictions. Most beaches will open mid June with more staffing and more amenities (perhaps waiting until then may be a better option), but if you want to risk it, have fun and be safe.
Know what to expect:
Limit your outdoor gathering to 25 people according to the latest guidelines

Social distance and maintain a distance of 6 feet from each other, and 12 feet from other groups while sunbathing
Prepurchase beach badges - many beach are asking you to purchase using the viply app as there may not be any beach badge purchases at the beachfront. Bring cash and credit cards just in case.

All beachgoers will be asked to wear masks so don't forget to bring your face mask, covering and other protective gear

You may want to bring a small cooler with drinks and snacks as there will be limited or no food and concession stands open. Some beaches may prohibit eating, and definitely no alcoholic beverages.

You may be required to carry out your own trash, so bring some plastic bags.

Beware, parking may be limited. Most lots will be allowed a 50% capacity rate. You may have to purchase online parking passes.
Do not bring tents/canopies because they may not be permitted.

Do not bring bikes, rollerblades or skateboards because they may not be permitted.
Here's our list of Jersey Shore Beach Destinations ... and reopening updates
We have started a list of what's open, closed and what's nearby. Many major attractions are still closed, but we still list them here for future planning. We will keep you updated on more reopenings. Before you head out, please double check the latest on each beach website.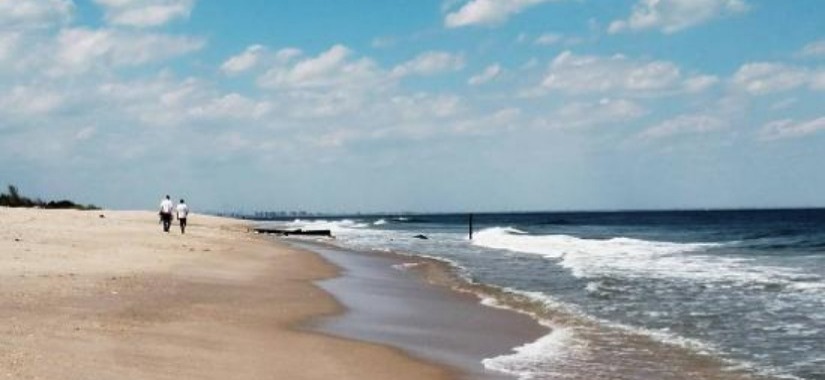 GSP Exit 117 Sandy Hook (pictured above)
Sandy Hook is a 7-mile barrier stretch of sandy beaches at the North end of New Jersey with access to both the bay and the Atlantic ocean sides.

Open:
5am - 7pm, no fee until June (but limited to 50% capacity)
Parking: $15/day or $30 for oversized vehicles
Limited portable bathrooms available (all bathrooms facilities will be open May 30)

Closed:
Sandy Hook Lighthouse closed
Visitor Center closed
Guardian Park Picnic area closed
Campground closed
Food and Ferry Service closed

Nearby Attractions: Closed until further notice
Explore Gateway National Park at Sandy Hook, the Nike Missile Radar Site, Fort Hancock Museum, Sandy Hook Lighthouse. Activities: birding, biking, boating, canoeing, hiking, kayaking (under normal times)
GSP Exit 117 Keansburg
Keansburg is the closest shore destination, and the most convenient for North Jersey folks. Filled with wildlife, fishing, water recreation activities, an amusement park plus views of the NYC skyline, there's lots to do for kids. It also received a national award for best restored beach. You'll also find a bay walk that was constructed along the beaches for leisurely strolls. This beach is free.

Open:
Beach is free and open (but no lifeguards), closes at 7pm.
Parking Lot open
Nearby batting cages, select restaurants, fishing pier are open.

Nearby Attractions: closed now until further notice.
Keansburg amusement park
GSP Exit 105 Seven Presidents Oceanfront Park (and Beach)
Monmouth County Park System's Seven Presidents Oceanfront Park is a 38-acre beach park offering families a great place to enjoy swimming, sunning, and beach fun. It has a snack bar, eating areas, changing area, and showers. You'll find Tony's Place, a universal accessible playground and Skateplex, which offers skaters a skating bowl with ramps, floating ramps, planters, and steel rails.

Open:
Beach is open on duty weekends.
Daily $8/pp (kids 17 years and under Free)
Daily guarded swimming starts June 13.
Boardwalk open

Closed:
Skateplex closed


GSP Exit 105 Long Branch Beach
Miles of sand at the public beaches at Long Branch NJ. Enjoy the sand, water, and surf. There are playgrounds at each of the 4 beach locations, Cottage, Great Lawn, Laird and Melrose. Lifeguards on duty, plenty of restrooms and concessions.

Open:
All beaches are open
Daily Fee: $5 Mon - Fri, $7 weekend/holidays. $3 for 14-17 yrs, Free for kids 13 & under.
Parking: paid metered lots $5 Mon - Thur, $10 Fri - Sun and holidays.
Showers operational

Closed:
Restrooms closed, with Porta Johns open at various locations

Nearby Attractions:
Pier Village boardwalk with shops and restaurants.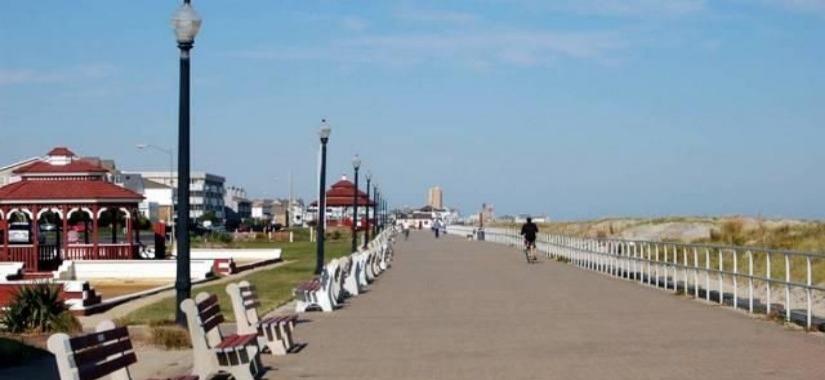 GSP Exit 102 Bradley Beach
A family favorite destination. Bradley Beach offers pristine beaches which are perfect for swimming, surfing, and sunning. Lifeguards on duty. It also had a nice Boardwalk, a playground, and is close to nearby beaches with restaurants and shops.

Open:
Beach is open (starting June 18, 2020, beach will be fully staffed and open for Summer 2020)
Daily $10/pp (12 years and under Free)
All Access points will be open: Lake Terrace, Cliff Ave, Newark Ave, Park Place, Ocean Park/McCabe, Lareine, Brinley, Fourth Ave, Third Ave, Second Ave and Evergreen
Showers and Restrooms will be in used with a proactive cleaning process
Public Restrooms are opened
Metered parking available
Fishing is permitted on beach jetties at Lake Terrace, Park Place, Brinley and Second Avenues at the discretion of lifeguards.
Beachfront food concessions at Brinley and Second Avenues.
Toddler park for children (ages 1-4) located on Park Place Avenue.

Closed:
Water Fountains, Picnic Areas, Playgrounds, and Pavilions;
No Bicycles on the boardwalk


GSP Exit 102 Avon By The Sea
Avon offers a scenic public beach with wide sandy beachfront, an expansive boardwalk & nearby concessions. This is a great family oriented beach if you're not looking for an amusement filled boardwalk.

Open:
Beach is open on weekends, and open daily starting June 15; opened until 8pm.
Boardwalk is open until 8pm. (No bicycles, only before 9am)
Daily badges sold, $10, 11 year and under Free. Available online through viply app. (Daily badge sales limited to 500 badges per day).
Bathrooms are available only on weekends until June 15.
One shower is open to rinse off.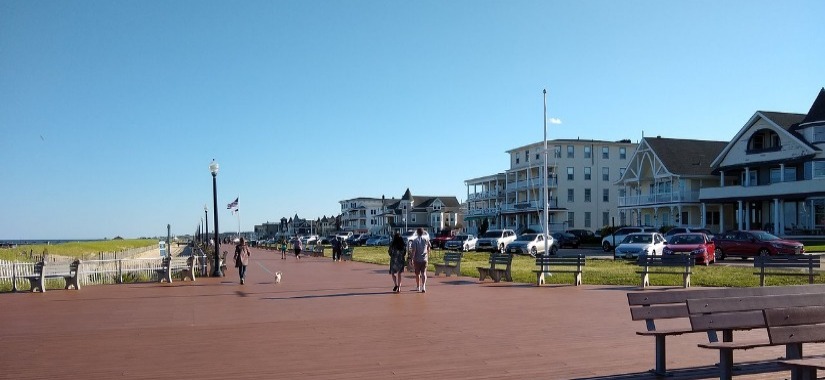 GSP Exit 102 Ocean Grove (picture above)
Ocean Grove is a perfect square mile of natural beauty. You'll find a clean beach that's great for families, and a cute town with great shops and food nearby. Take a stroll along the boardwalk.

Open:
Boardwalk opened
Daily $9/pp. Kids 11 & under Free

Closed:
Public restrooms closed, but portable toilets available near the beach
Tennis courts closed until further notice

Nearby Attraction: Walk around Ocean Grove's cute and eclectic main street with rows of colorful Victorian houses, quaint shops, arts and crafts shows (canceled), ice cream and cafes, and the well known giant flea market (canceled this season) at the Great Auditorium.


GSP Exit 98 Belmar
Belmar beach is clean, safe, fun, family friendly. The 1.3 mile beach is perfect for a long stroll, or walk or jog on the boardwalk. Belmar is well known for its sandcastle contest, Cruise Nights and Belmar Feast, however all canceled.

Open:
Beach open
Daily $9/pp (kids 15 & under Free)
Boardwalk for pedestrians only
Closed:
Kids playgrounds at 4th, 8th, 12th & 16th Avenues.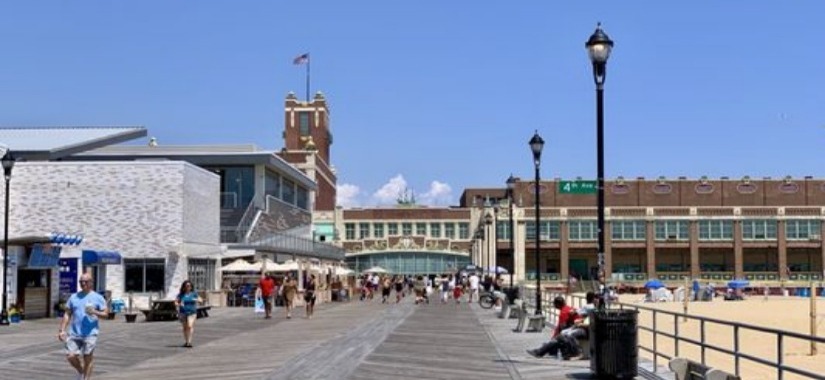 GSP Exit 98 Asbury Park (pictured above)
Asbury Park is a historic shore town known for miles of sand and water. The beaches here are for swimming, sunbathing, surfing, fishing, and people watching. The revitalized boardwalk is lined with shops, restaurants, arcades, cafes, mini-golf, and music.

Open:
Beach open Through Labor Day weekend
Daily $5/pp, $7 weekends/holidays (Kids 12 & under Free)
Boardwalk is open and setup for one-way travel in each direction
Public restrooms, showers, water fountains
Restrooms limited to one person at a time

Closed:
Beach showers, water fountains and new water bottle refilling stations will be unavailable until further notice.
Beach Playgrounds
Nearby Attractions: Closed until further notice
Silver Ball Museum Arcade which houses vintage arcade games and pinball machines. Asbury Splash Park. Amazing fine dining restaurants and shops.


GSP Exit 98 Spring Lake
Quiet and beautiful beach at Spring Lake. Children can play on the sand, build sand castles, and enjoy the water. There are no playgrounds. Non-commercial boardwalk where families can go for a gentle stroll. No coolers are allowed on the beach. Spring Lake is a quaint town with Victorian mansions, bed and breakfasts, cute shops and restaurants.

Open:
Beach is open with multiple access points (official opening June 15 - September 7)
Daily $10 (Kids 12 & under Free)
North and South End pavilions with food, outdoor showers and restrooms open beginning June 15, 2020.

Closed:
Boardwalk closed except for designated access points
Showers and water fountains not available


GSP Exit 98 Point Pleasant
Point Pleasant has a mile long white sand beach and is fun for the whole family. Bring your beach chairs and play in the water or relax on the beach. Swim in life guarded areas. Visit Jenkinson's boardwalk for rides, games, and sweet shops. Play miniature golf or explore Jenkinson's Aquarium.

Open:
Daily $10/pp (ages 5-11 $3, Children under 5 are free)
No beach fee for kids 5 & under.
Restrooms open
Parking restrictions to 50% capacity

Closed:
Jenkinson's closed
Point Pleasant Beach Boardwalk closed
GSP Exit 98 Manasquan
Manasquan is home beautiful beaches. Families can swim, sun, relax, and surf. Popular beaches include: Elks Beach, Main Beach, Brielle Road Beach and Inlet Beach. Elks Beach in Manasquan offers beach access to guests who need special assistance or have physical disabilities with special needs. There are 5 surf chairs available for use and is free for handicapped guests or those with physical challenges to access the beach. Inlet Beach offers surfing year round.

Open:
Beach is open, but currently only pre-purchased season badge holder will be allowed on beach. No badges will be sold at at beachfront. Lifeguards on duty.
Some restrooms open weekends (main beach restroom closed), and daily when beach is fully open. Porta potties available.
Parking lots are open only with season parking passes. On street parking available.
Access ramps located at Inlet, Whiting Avenue, Pompano Avenue, Brielle Road, Main Beach, Riddle Way, Ocean Avenue/Sea Watch and Potters Beach will be open. Beach gates in the areas of these ramps will be open. Several beach gates along the walkway however will remain closed until further notice.

Closed:
Beach walk and inset walk will remain closed until further notice.


GSP Exit 89 Bricktown
Brick Township operates three ocean beaches and one riverfront beach at Windward Beach Park. Clean, family friendly beaches with easy parking, snack bar, bathrooms, and lifeguards. No beach fee for kids 12 & under.

Open:
Beach open
Daily wristbands $8 (children 12 and under Free)
Bathroom open


GSP Exit 82 Seaside Heights
Seaside Heights is 15 blocks of award winning beach with soft white sand. Swim in the ocean when life guards are on duty. Access to the Bay Beach is FREE every day for all.

Open:
Beach open with limited entry points
Boardwalk open, but rides and arcades closed
Daily $8 (kids 11 & under Free), Bay Beach is Free.

Nearby Attractions: Closed until further notice
Casino Pier, Breakwater Beach Waterpark

GSP Exit 82 Lavallette
Open:
Beach and Boardwalk is open for walking and exercising, but bikes are prohibited this summer.
June 20 is official open date (preorder beach badges)
Daily $12 pp (Kids 12 years and under Free)

Closed:
Beach badge office is closed at this time.


GSP Exit 63 Long Beach Island
Long Beach Island or LBI encompasses 18 miles of beach fun with 6 unique towns: Barnegat Light, Beach Haven, Harvey Cedars, Long Beach Township, Ship Bottom and Surf City. Things to do: beach, sunning, water sports, fishing, bicycling, boating, kayaking, walking, and exploring.

Open:
All six municipalities will open beaches to the public

Nearby Attractions: Closed until further notice
Thundering Surf Water Park, Mini Golf at Jen's Links, Fantasy Island Amusement Park


GSP Exit 40 Brigantine
Relax on pristine white sandy beaches at Brigantine Beach. Go swimming in the ocean, try sport fishing or windsurfing. Lifeguards on duty.

Daily $10/pp (Kids 11 & under Free)
Nearby Attractions: Closed until further notice
Shark Park Playground, Marine Mammal Stranding Center, Brigantine Lighthouse and Brigantine Beach Historical Museum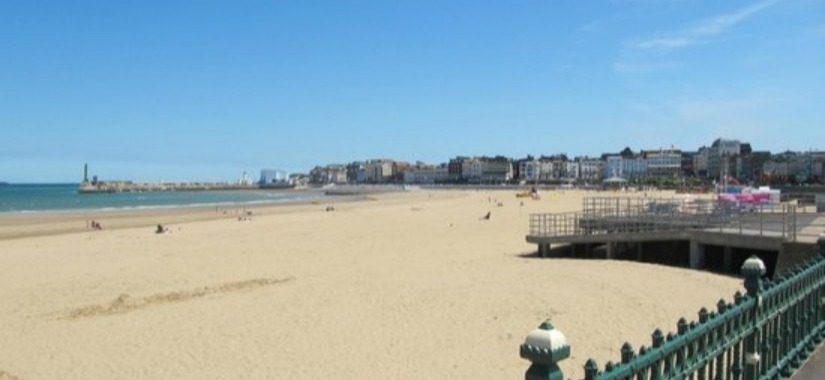 GSP Exit 36 Margate (pictured above)
Life Guarded beaches where families can spend a relaxing day. Clean and family friendly beach. Enjoy watersports, including paddle-boarding, jet skiing, fishing and boating.

Daily $15 (kids under 12 years Free)

Nearby Attractions: Closed until further notice
Lucy The Elephant, a national historical landmark six stories high
GSP Exit 30 Ocean City
The beaches at Ocean City New Jersey are perfect for families and kids of all ages. You can't go wrong with 8 miles of white sandy beaches. Enjoy the waves, sun, and sand. Lifeguards on duty.

Open:
Beach and boardwalk open
Daily $5/pp (Kids 11 & under Free)

Nearby Attractions: Closed until further notice
Gillian's Wonderland Pier Amusement Park, Playland's Castaway Cove, Boardwalk Adventures Water Park, arcades, boardwalk, and mini-golf.


GSP Exit 17 Sea Isle City
There are all types of beaches at Sea Isle City: bathing beaches, catamaran and sailboat launching beaches, kayaking beaches, kiteboarding beaches, rafting beaches, surf-fishing beaches, and volleyball beaches. Go to their website for more details on reopening guidelines.

Open:
All beaches open to regular access
$5/pp (Kids 11 & under Free)

Closed:
All playgrounds


GSP Exit 11 Atlantic City
FREE beach access to Atlantic City beaches. No badges required. Spend a day having fun playing in the water or walking in the sand. Explore Atlantic City's Boardwalk and salt water taffy shops. Enjoy beach activities, swimming, surfing, boogie boarding, kayaking, windsurfing, and fishing.

Nearby Attractions: Closed until further notice
Abescon Lighthouse, Atlantic City Aquarium, Ripley's Believe It or Not, Steel Pier amusement center, Outlet Shopping
GSP Exit 10A Stone Harbor
Flanked by the Atlantic Ocean on the East and the Inter-coastal Waterway on the west, Stone Harbor is known as Seven Mile Island and has endless beautiful, family beaches. Swimming, rafts, and surfboards are permitted on select beaches.

No beach tag fee for kids 11 & under.
GSP Exit 4B Wildwood
FREE access to 5 miles of clean and safe Wildwood beaches. No badge fee required. Voted one of the top New Jersey beaches, Wildwood has so much to do for families and kids. You've got wide white powder beaches, perfect for swimming, sun bathing, playing, and relaxing. Swim in life guarded beaches.

Nearby Attractions: Closed until further notice
Morey's Piers and Beachfront Water Parks, Surfside Pier, Mariner's Landing, Adventure Pier, Raging Waters Waterpark, Doo Wop Experience Museum.

GSP Exit 0 Cape May
Located at the southern tip of Cape May Peninsula where the Delaware Bay meets the Atlantic Ocean, Cape May is a perfect destination for families. There miles of beautiful clean powdery beaches. Go swimming near life guard stations. No beach tag fee for kids 11 & under. Walk along the Cape May Promenade.

Nearby Attractions: Closed until further notice
Cape May County Park and Zoo, Nature Center of Cape May, Naval Air Station Wildwood Aviation Museum at Cape May Airport, Cape May Lighthouse.
---
The summer of 2020 will be a limited summer beach experience. For other fun possibilities, think of venturing out to the state parks and explore trails for hiking, biking or walking. See the Great Outdoors, Guide to Parks, Trails, Nature and Gardens.