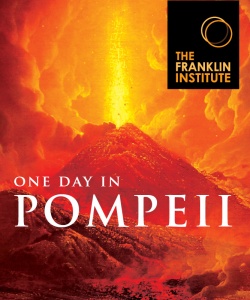 Franklin Institute in PA has an exciting exhibit going on right now. Why not celebrate President's Weekend and make it a Family Getaway to Philadelphia. There are lots of fun things to do and lots of learning too and it's totally a manageable walking city. We found the best way is to start at the Independence Hall Visitor Center and you will find within walking distance many amazing attractions and exhibits such as the Liberty Bell, The National Constitution Center, parks and gardens, beautiful architecture, art, shopping and of course the Franklin Institute.
Here is what is happening at the Franklin Institute:
In the year 79 A.D., Pompeii vanished beneath thick layers of volcanic ash left by the eruption of Mount Vesuvius. Discover the tale of this city, hidden from view and forgotten for centuries until its rediscovery over 250 years ago. See more than 150 naturally-preserved artifacts excavated from layers of hardened volcanic ash, including coins, religious altars, remnants from the day's Gladiators, full body casts and more. Don't miss One Day in Pompeii, now open at The Franklin Institute.
Located at: 222 North 20th Street, Philadelphia, PA 19103.
Museum Hours: 9:30am – 5:00pm.
For more information about this exciting exhibit, visit: http://www.fi.edu/pompeii/