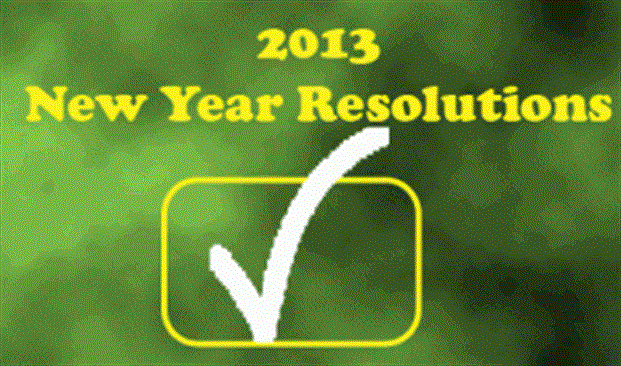 I have to admit, I'm a last minute resolutioner. It happens every year. Whether we're driving to our friend's house to ring in the New Year or relaxing at home with family waiting for the ball drop, it's not usually until the last few waning hours of the day of the last day of the year that I indulge in a quick session of introspective review and make 'The List' – that optimistic catalogue of personal self-improvement. Of course, as is always the case, 'The List' tends to be heavy on 'How to be a Better Mommy'. Sadly, if I think about it, 'The List' never really shortens from year to year. Oh well, I'm trying. This mothering thing isn't easy.
Wish me luck.
Say 'No' less often…and even if the answer is really no, try to turn a negative into a positive.
But learn to say 'No' to myself - no text or email is so vitally important that I can't put down the phone and answer my daughter's question instead.
Count to ten instead of instantly yelling
When I get to ten, if I feel like still yelling, take a time out in the other room.
And when I finish my time out, recognize that low, calm tones will drive home the point more efficiently – and diffuse the situation more quickly.
Cook more 'freezable' meals on the weekends so my weeknights are calm and nutritious – and help me avoid the usual Mommy Meltdown.
Remember to lock the bathroom door.
Welcome the warm snuggle at 6:30…AM…on a Sunday.
Savor the small moments instead of drowning in the big picture.
Take more pictures of my 3rd.
Welcome the desire for independence of my soon to be teenager…but still find a quiet moment every night to talk and ask questions.
Make a schedule for the laundry and stick to it.
Be okay with mess – it's a sign of enjoyment .., but instill a desire to clean up afterwards
Quite worrying about everything that needs to get done tomorrow and enjoy today.
Remember that motherhood is the best job in the world, even when you're tired, they're cranky, you forgot to take your time out or count to ten, the phones ringing, three kids are in the bathroom with you, there are no freezable meals left OR clean clothes ready for tomorrow.
By Jenny Tananbaum. Jenny Tananbaum is a writer, wife and mom to three. suburbanmom@njkidsonline.com