Fun Things To Do in NJ: The circus is coming to town! The circus is coming to NJ!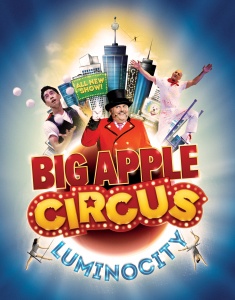 If you are looking for something fun for the weekend, look no further because the Big Apple Circus is coming to town! I remember watching the circus when I was just a tot and several more times after that, and all I can say is…every kid must experience it! Color, action, lights, and fun! The Big Apple Circus is now in its 36th season, and is ready to electrify the families of NJ. The circus is truly entertaining for young and old. It was New York's original one-ring circus and has delighted audiences of all ages under its Big Top by presenting the finest in live family entertainment featuring world-class circus artistry. You must experience the instant connection between audience and artist as your family sits less than 50 feet from the ring.
The Big Apple Circus presents "Luminocity" showing Thursday, February 27 through Sunday March 16 at the TD Bank Ballpark in Bridgewater. Here is an excerpt from their press release and don't miss NJ Kids' contest on Facebook at the end of February to win free passes.
BIG APPLE CIRCUS PRESENTS LUMINOCITY
ELECTRIFYING ENTERTAINMENT FOR ALL! TD BANK BALLPARK IN BRIDGEWATER FEBRUARY 27 – MARCH 16, 2014
It's the vivacity! It's the velocity! It's the LUMINOCITY — the All–New Show from the Big Apple Circus! Venture within the hubbub at the heart of Gotham, where the restless tide of humanity rushes through canyons of skyscrapers and shoals of billboards: The dog-walker, whose rowdy pups perform amazing tricks! Businesswomen who arrange to meet, soaring high above on a double trapeze! The rube, a clown-prince among peers, celebrating the mirth of life! Revelry at New Year's Eve, with teeter-board acrobats flying like fireworks! and a chic couple of wire-walkers suspended mid-air for the event! The humble repairman, climbing the ladder of his imagination! The mounted policewoman, directing a cavalcade of steeds! The flimflam man with his quicksilver moves! The food cart vendor, juggling his produce! Construction workers assembling athletic poses of incredible strength! The celebrated Big Apple Circus Band, under the baton of maestro Rob Slowik, provides the lively musical soundtrack, and your cosmopolitan Ringmaster, John Kennedy Kane, will conduct your tour through this luminous cityscape. Run away and join the Big Apple Circus this season for a dazzling, unforgettable spectacle of wonder, merriment and joy!
Click here for information and to get tickets.