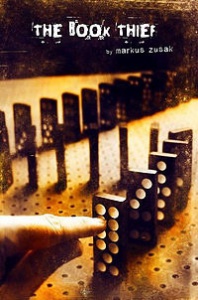 Rarely have I read a book that stays with me even weeks after I have finished it. The Book Thief by Markus Zusak is that rare novel. It has been about three weeks since I put it down, and, yet, I still find myself thinking about the story and characters, and about its intertwined theme of horror and hope.
The Book Thief is technically a young adult novel, appropriate for ages 12+, but it is a remarkable read for adults as well – and don't just cop out and head to the movies: this is a book that needs to be experienced through words, because at its heart, it is story of a young girl who finds love, laughter and courage through the written word. And although there are many noteworthy books about both World War Two and the Holocaust written for young adults, The Book Thief stands alone.
It is in many ways a simple read – and yet, the style is both unique and original. Narrated by Death in painstakingly unemotional tones, The Book Thief tells the story of Liesel Meminger, a young foster girl who is brought to live with the Huberman's, a couple residing in Molching Germany during World War Two. Molching is a working class neighborhood outside of Munich, and life is not easy. Hans Huberman is a painter, and his wife, Rosa launders clothes; both have lost many jobs recently as fewer and fewer can afford such luxuries.
Still, the house is filled with love (even despite her foster mother, Rosa's, sharp tongue and harsh demeanor, we always knows she loves Liesel), and Liesel makes new friendships, most especially with a young neighborhood boy named Rudy. Still, with Death speaking directly to us, there is a constant haze of sadness and foreshadowing, and there is an impenetrable fear of Hitler's brutality. Yet, risking their own safety, the Huberman's agree to hide a young Jewish man in their basement. It is just one small example of courage and humanity in the face of such blind cruelty.
And now the book thief. Liesel is, indeed, is a book thief - she stole her first book on the journey to her foster parents' house after her brother dies on the train ride and is hastily buried; the book, The Grave Diggers Handbook, was left on the ground by one of the gravediggers and Liesel picks it up and stows it away in her coat. There may seem little reason for her to have stolen the book – her actions perhaps clouded by grief – yet, when she steals the second, the night of a mass book burning by Hitler and his SS soldiers, we realize that books symbolize a shaky control over an uncertain situation and the words themselves are life. Strangely, however, we learn early on that she is unable to read, yet when Hans discovers the first book, there are no questions; he simply sits with her in the early morning hours after she is awoken by another nightmare, and begins teaching Liesel to read. Together they work their way through The Grave Diggers Handbook, often spending hours in the basement painting letters and sentences on the wall. Liesel continues to steal still more books, now from the Mayor's wife's library, and soon her love of reading brings happiness to her hidden houseguest and neighborhood families during air raids.
So much more happens in The Book Thief, but at its heart, the novel is a story of family love, the tragedy of war, and the bravery of men. We follow Liesel and her new family as they wander through the every day life of hunger, persecution, uncertainty, laughter and tears. And most importantly, we meet a young girl who is growing up among such madness and still finds the strength to rebel against the insanity. It may be a small sort of protest, but Liesel will not let Hitler take away the beauty of the books.
Sadly, with Death as the narrator, this is an understanding that this is a true depiction of World War Two and there will be no happy ending. War is not pretty and through the eyes of young Liesel we see both the devastation and the triumph.
The Book Thief is a must read for young adults. It is also a must read for adults. No other book has had such an impact on me in a long time, and I doubt there will be another book for quite a while that will leave me with both such sadness and such hope.
The Book Thief
Written By Markus Zakus
Published by Alfred A. Knopf
576 Pages
Recommended for Ages 12+
Reviewed by Jenny Tananbaum.