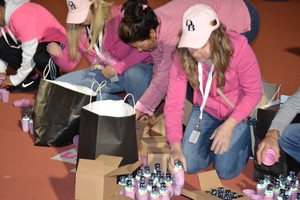 Students, teachers and members of the Old Bridge community appeared to have broken a Guinness World Record at the half time of Friday night's football game when they swished away for breast cancer. The result is pending confirmation.
The 2,000 youngsters, teenagers, and adults simultaneously swished Listerine's non alcoholic mouthwash at Old Bridge High School's annual Pink Out while more than 3,000 spectators watched.
Participants paid $1 and received Listerine's new non-alcoholic mouthwash and a pink cup, then the group simultaneously swished for 15 seconds during the halftime of the football game at Lombardi Field. The school selected the home game against Monroe High School because October is Breast Cancer Awareness Month.
The money collected from the swish away will be donated to the Susan G. Komen for the Cure, the world's largest and most progressive grassroots network of breast cancer survivors and activists. The Komen Central and South Jersey Affiliate are committed to increasing screening mammography in order to save lives through early breast cancer detection.
The project was initiated by Old Bridge High School alumnus Alyssa Monti, who is employed by Growth Management Marketing (GMM) in Piscataway, who specializes in the dental industry.
"We know how important oral hygiene is," said Monti. "When we came to the realization that dental hygiene is even more important for women going through breast cancer treatment, we knew we wanted to raise awareness about this. That's how we came up with the idea for "Swish Away Breast Cancer"."
Monti said she wanted to bring her community into this event and knew it would be more than willing to participate.
In addition, the high school students and staff participated in a variety of activities during the school day raising awareness and funds for local families affected by breast cancer. These activities included the sale of pink beads, bracelets, lanyards, t-shirts, and shoelaces. Many teens and teachers had their faces painted pink, hair sprayed pink, and had their photos taken in a booth, all for nominal fees.
Also parked at Lombardi Field at the football game was Central Jersey's Rose the Pink Fire Truck, who tours the state and is run by local firefighters.
"We believe that women own the color pink not breast cancer," said Raegina Hawkins, director of Pink Heals Central NJ Chapter.
Representatives from the local chapter also sold t-shirts at the game with the proceeds set to benefit the OBHS Scholarship Fund. The money will be given to a student who has either experienced cancer or whose immediate family has been affected by the disease.
Cancer survivors, anyone currently fighting cancer or an illness, or anyone whose immediate family member is affected by cancer, were encouraged to sign the truck, Hawkins said.
Except from http://www.oldbridgeadmin.org.