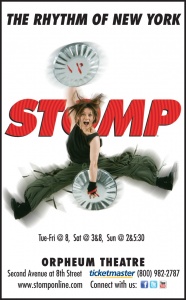 STOMP is explosive, provocative, sophisticated and sexy. The idiosyncratic band of body percussionists fills the stage with magnificent rhythms, using matchboxes, wooden poles, brooms, garbage cans, Zippo lighters and hubcaps - everything but conventional percussion instruments. STOMP! See what all the noise is about.
The Critics Rave
"STOMP does for rhythm what Freud did for sex." -Time Out
"STOMP is a sure fire crowd pleaser with a rock-and-roll heart." -NY Times
"Dazzling! Stomp makes music that is infectiously percussive!" -Newsday
"Electrifying! Triumphs in the infinite variety of the human experience." -LA Times
"STOMP has a beat that just won't quit!" -The San Francisco Chronicle
"A phenomenal show! Bashing, crashing, smashing, swishing, banging and kicking - a joyous invention!" -Chicago Tribune
TICKETS JUST $49.50!* (REG. $79)
3 WAYS TO BUY YOUR TICKETS: SUB49
Performance Schedule
Tues thru Fri 8pm, Sat 3pm & 8pm, Sun 2pm & 5:30pm.
For more information visit: www.stomponline.com
Groups Sales: Broadway GPS toll free (855)-203-9980

*Restrictions: Limit 6 tickets per order, subject to availability, not valid on previously purchased tickets. $49.50 includes the $1 facility fee, regularly $79) Valid for performances now thru 3/30/14 for Tues-Fri 8pm, Sat 3pm and 8pm, Sun 2pm & 5:30pm. Blackout dates 2/14 - 2/16, additional dates may apply. Cannot be combined with any other offers. May be revoked at any time. Normal service charges apply. No refunds or exchanges.