To stay on top of town events, store specials and more, go to their new page: facebook.com/visitspringlake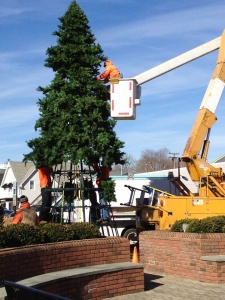 November 30 ~ Small Business Saturday ~ SHOP LOCAL.... Skip the mobs on Black Friday!!! Shop Spring Lake, SHOP LOCAL on Small Business Saturday, and throughout the holiday shopping season. You receive more personalized attention in locally owned shops and restaurants, and you support the local economy!
November 30 ~ Spring Lake Christmas Celebration Kick-off ~ Festivities begin at 6:00 p.m. - Dancers, music, hayride, Santa's Workshop, Clayton Livery Miniature Village Train Spectacular, shops open until 8:00 p.m.
Nov 30 - Jan 1 ~ Clayton's Miniature Village Train Spectacular - Clayton Livery, 1207 3rd Ave. Delight at this astounding free display of a small Spring Lake-like village with trains, a trolley, and an aerial tram competing for your attention. Donations will benefit the Spring Lake Community House and Common Ground Grief Center.
Dec 6, 7, 8, 14, 15, 16, 21, 22 - Scrooge at the Community House. Click here to purchase tickets
Dec 7 ~ 3:30 - 7:00 pm ~ Candlelight Christmas Inn Tour ~ Experience New Jersey's finest lodging, decorated in holiday splendor; $20 per ticket. For tickets and information, call 732-449-0577 or 732-449-9090.
Dec 7 ~ 5:00 pm ~ Carols by Candlelight ~ Church of the Holy Trinity at Third & Monmouth Ave