FAMILY GETAWAYS AND DAY TRIPS IN NJ, AND NEARBY NY AND PA
Pack up the family - what better way to recharge, reconnect and make some family memories than to head off for a weekend (or longer!) family getaway. And luckily, there are some great family resorts just a short drive away.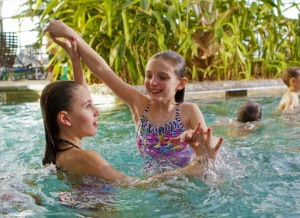 Mountain Creek Waterpark and Crystal Springs Resort
Mountain Creek Waterpark is the area's largest waterpark offering over 30 different rides, slides and attractions all nestled into a picturesque mountain setting. From the 99 foot drop of the H2-Oh-No speed slide to the whirlwind ride down the Colorado River, Mountain Creek Waterpark is a mountain of fun for the whole family. Onsite lodging includes Mountain Creek, Crystal Spring Resort (Grand Cascade Lodge, Mineral Resort and Spa) with many other onsite activities such as 7 premier golf courses (including Family golf), ZOOM Zip Lines, indoor and outdoor pools. A Great weekend getaway. Vernon, NJ, www.mountaincreek.com
Sahara Sam's Indoor Water Park

Sahara Sam's Oasis Indoor and Outdoor Water Park offers families of the greater Tri-State community affordable, high value entertainment the entire year with 58 of its 68-thousand square feet under a retractable roof system. Park features include arcade systems, surfing simulators, the world's tallest ropes course, numerous water attractions, slides and a brand new 2-acre outdoor expansion for summer 2013, The Beach Club! The $6.5 million dollar outdoor expansion features a 25 meter leisure pool (The Blue Lagoon), a children's play zone (Splish-Splash), a full service lounge (The Wipeout Tiki Bar), sand volleyball courts and a 12,000 sq. ft. wave pool (The Rip & Roll). 535 N. Route 73, West Berlin, NJ 08091. 856-767-7580. www.saharasams.com.
Coco Keys Water Park
Indoor water park. A multi-level interactive play island with 4 slides (40" height requirement), water cannons and a huge bucket that dumps hundreds of gallons of water every few minutes. Relax in the tube ride in the Coconut Grove Adventure River. Giant whirlpools offer a relaxing, sultry, tropical experience. You can even get to the outdoor whirlpool via a swim-through passage! Three 40-foot thrilling body and raft water slides that'll drive you wild! Two exciting activity pools featuring water basketball and a lily-pad adventure (40" deep). Dry off and head on over to the Key Quest Arcade, our interactive game room where state-of-the-art video games meet tried-and-true classics. 915 Route 73, Mount Laurel, NJ 08054. 877-494-2626. www.mtlaurelcocokey.com
New Jersey State Museum
The largest planetarium in New Jersey, featuring precision projection of more than 6000 stars. Get up close and personal with a rare collection of flags carried into battle by New Jersey's Civil War soldiers and learn about our important role in the history of the War Between the States. Visit 19th through 21st century American art exhibit. Visit the exciting period of history through Native American and European objects. 05 West State Street, Trenton, NJ. 609-292-6347. www.statemuseum.nj.gov
NEW YORK: Family Getaways and Day Trips
Villa Roma Resort

The Villa Roma Resort and Conference Center offers pure redesigned pleasure in NY's Catskills. From its beginnings as a small hotel-style bed & breakfast to its current revitalized splendor, the Villa Roma defines your all-inclusive Catskills experience. You can enjoy bowling, rock climbing, downhill skiing, golfing and more, all on site. You'll find indoor tennis and racquetball courts, plus pools, a Jacuzzi and spa services; there's also an arcade and game room! Beautiful, subtle touches combine with spectacular special events year round. Any summer package booked by May 1, 2014, guests will receive a $100 Villa Roma Room Credit! Credit is good for any food and beverage and more! 356 Villa Roma Road, Callicoon, NY 12723. (845) 887-4880. www.villaroma.com.
Rocking Horse Ranch
A YEAR-ROUND 85° SUMMER IN THEIR INDOOR WATER PARK! featuring 4 heated pools, 6 water slides, 100 horses, private lake and over 200 activities. Have you ridden the 250 foot long Gold Rush Flume? Can you survive Dynamite Alley Water Walk Challenge? Little ones will love the Fort Geyser Aqua Station with Slides, Interactive Fountains, Dumping Buckets and Huge Geysers! Plus, they have loads of entertainment, sports and activities, water sports, an all inclusive dining - no cooking! 600 Route 44/55, Highland, NY 12528. 800-647-2624. www.rockinghorseranch.com
Splash Down Beach
Visit America's Biggest Little Water Park! The perfect setting for your organization's summer event to remember! BRAND NEW FOR 2014 is Safari Outpost, an up-close and personal encounter with some of the world's most beautiful, exotic creatures. Featuring capuchin monkeys, live tigers, giant parrots, and huge reptiles! Safari Outpost will be open all season long! Your family will experience all types of amazing animals with whom we share the planet. 16 Old Route 9, Fishkill, NY. 845-897-9600. www.splashdownbeach.com
Statue Cruises
No visit to the New York City area is complete without a trip the world's most famous landmarks -
the Statue of Liberty and Ellis Island. Statue Cruises offers frequent, daily departures from Liberty State Park (New Jersey) and Battery Park (NYC) for the convenience of local residents and out-of-town visitors alike. Ellis Island featuring the Wall of Honor is re-opened to visitors, in addition to the Statue of Liberty's crown and pedestal museum, which provide memorable experiences for people from all over the world and of all ages. 1 Audrey Zapp Drive, Jersey City, NJ. 877-523-9849.
www.statuecruises.com
.
PENNSYLVANIA: Family Getaways and Day Trips

Woodloch Resort
Woodloch offers an array of exciting family activities and entertainment. The all-inclusive Pocono resort provides guests with immaculate and spacious accommodations, abundant and delicious family-style meals and enough unique activities to keep everyone entertained day and night! Over 30 activities scheduled daily including: popular game show spin-offs, family-friendly competitions, Olympics, scavenger hunt and holiday-themed games. Amenities include: a six sided rock climbing wall, 600 ft. Eagle Eye zip line, indoor and outdoor pools, Kiddie Splash Zone, bumper cars, go carts, bumper boats, kayaking, snowshoeing, snow tubing, ice skating and so much more! Nightly entertainment including a Broadway-Style Theme Show. 731 Welcome Lake Road, Hawley, PA 18428. 1-800-WOODLOCH. www.woodloch.com.
Penn Museum
Penn Museum has always been one of the world's great archaeology and anthropology research museums, and the largest university museum in the United States. The museum has one of the finest collections of Egyptian architecture on display in the United States. A glass-enclosed conservation lab brings you right into a museum conservator's world. Visitors can look in to see a range of artifacts in various stages of conservation, Africa Gallery showcases African cultures and objects of everyday life. 3260 South St, Philadelphia, PA 19104. www.penn.museum

The Houdini Tour & Magic Show
The Houdini Tour & Magic Show is a continuous non-stop wonderful major event. It is amazing, exciting, historic, and family friendly. A full afternoon that is fun for both locals and tourists. Visit the world's only building devoted to most famous magician of all time, Harry Houdini, who did many special challenges in our area. Not to be missed. 1433 N. Main Avenue, Scranton, PA. 570.342.5555. www.houdini.org
Visit Philadelphia!
The Liberty Bell Center offers a video presentation and exhibits about the Liberty Bell, focusing on its origins and its modern day role as an international icon of freedom. The Liberty Bell itself is displayed in a magnificent glass chamber with Independence Hall in the background. 6th and Market Streets in Old City, Philadelphia.
Independence Hall From 1775 to 1783 (except for the winter of 1777 - 1778 when Philadelphia was occupied by the British Army) this was the meeting place for the Second Continental Congress. It was in the Assembly Room of this building that George Washington was appointed commander in chief of the Continental Army in 1775 and the Declaration of Independence was adopted on July 4, 1776. In the same room the design of the American flag was agreed upon in 1777, the Articles of Confederation were adopted in 1781, and the U. S. Constitution was drafted in 1787. Chestnut Street between 5th and 6th Streets, Philadelphia.
The President's House From 1790 to 1800, when the city of Philadelphia was our new nation's capital, Presidents George Washington and John Adams lived and worked in a mansion.
Historic Gettysburg
Gettysburg provides great opportunities to learn about American History and the Civil War. Enjoy a walk on the battlefield or take a horseback tour.
Lancaster Dutch Country
Plan to spend a day in Lancaster, just 30 minutes from Hershey. Home to America's oldest Amish settlement, thousands still live a "Plain" lifestyle.