Lightbridge Academy is a family of child care centers located throughout Bergen County offering high quality early learning programs. From the first hello of the day, to the last good-bye, we want every child to feel safe, nurtured and excited to learn and grow with us and for every parent to consider us a true partner in the development and education of their child. Our unique Circle of Care, creates a truly caring and supportive environment for parents, children, staff as well as the entire community.
The proprietary Seedlings Early Childhood Education Curriculum focuses on a whole child approach to learning and is designed to prepare children for success in school and life. Enrichment programs are part of the tuition and include reading/writing, music, Spanish and American Sign Language programs. Cutting edge technology is used to enhance security, parent communication and create a stimulating learning environment. iPad technology and interactive whiteboards bring learning to life in bright, comfortable classrooms. While large outdoor play areas offer a healthy dose of outdoor learning and fun!
As The Solution for Working Parents®, Lightbridge Academy offers many services to support families. These include extended hours, a biometric security system, parent eCommunication app with real time updates, pictures and videos and ParentView® internet monitoring, allowing parents to stay connected to their child throughout the day through cameras in each classroom.
For more information on programs for children ages six weeks through pre-K, or to schedule a tour, visit www.LightbridgeAcademy.com.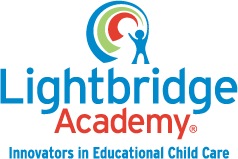 22-50 Maple Ave., Fair Lawn | 201.773.877
2 Executive Drive, Fort Lee | 201.585-2020
51 Island Rd., Mahwah | 201.529.0066
45 Eisenhower Dr. #150, Paramus | 201.843.4700
201 Rt. 17 N., Rutherford | 201.372.0049
20 Kinderkamack Rd., Westwood | 201.722.0010