SANTA TRAIN RETURNS TO THE RAILS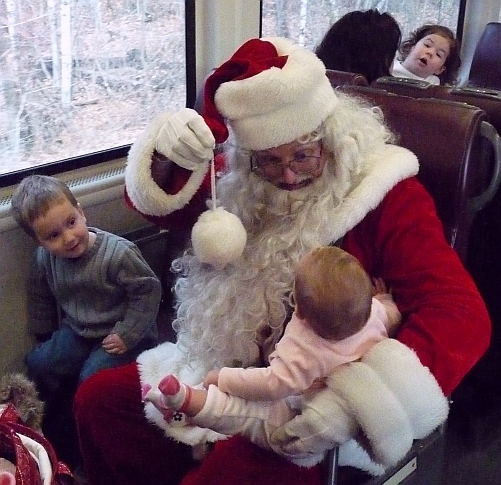 The Volunteer Railroaders Association has announced the return of their very popular Santa Train Ride. The trains will depart the NJ Transit, Boro Hall Station in Glen Rock on Saturday December 4th at 9:30 AM, 12 Noon and 2:30 PM for a round trip through Bergen County and up into Rockland Country NY and back. Each round trip will last about 90 minutes giving everyone plenty of time to enjoy the festivities on the train. Ticket prices are only $9.00 for children under 12 and $13.00 for everyone else, but if you order on line at www.santatrain.net you will save 50 cents per ticket. Group rates are available for parties of 25 or more.
During the ride the Santa will Ho Ho Ho his way through the train and visit each child giving them a special gift from his bag. In addition each child can have his or her picture taken with Santa so they can always remember their ride, so be sure to bring your cameras. Also on board will be Mrs. Claus, who will give each child a coloring book, Santa's Elves and at least 4 other cartoon characters sure to entertain the kids and make for a great day out for all on board. At the end of the trip each child will be given a candy cane to round out their fun filled ride aboard the train. For more information or to order tickets call the VRA at 877-6TRAINZ (877-687-2469) or visit them on line at www.santatrain.net. Major credit cards are accepted.
These trips are being run to continue to raise funds to restore and preserve the historic NYS&W Hawthorne train station. This little train station has been sitting on the corner of Diamond Bridge and Royal Avenues in Hawthorne for over 100 years. The station was recently moved back 75 feet to open up the corner and protect it from turning trucks that have struck and damaged its roof for many years. The station houses a railroad library and Museum and after restoration it is planned to also feature historical items from Hawthorne's past. So while you are enjoying a great day out on the rails with the kids, you will also be helping to preserve New Jersey's rich transportation and local history for generations to come.
So why not gather up the kids and Grandparents and join the VRA, Santa and his friends on these fun filled train rides. Tickets for the trains usually sell out quickly so don't delay call or visit them on-line today. The VRA staffs their ticket office on Tuesday and Thursday nights from 6 to 9 pm and Saturdays from 12 to 4 pm all other times just leave a message for a return call.
The Volunteer Railroaders Association is a federally recognized 501(c)3 non-profit corporation.