In honor of the 4th of July and The World Cup, Cool Kind Kid® is sharing this original poem/song written shortly after September 11, 2001.
Raising a Cool Kind Kid®
It all starts in the home
When a young child first says "please"
We follow him to preschool
Where he learns not to tease
Along the way, with others' help
He soon learns how to care
To be kind and honest
And play fair and share
When he steps outside his door
He then begins to see
That many different people
Live in his community
Asking what he can do to help
Gladly doing his chore
He puts the needs of others first
And cares about the poor
He learns respect for others
Himself and property, too
He appreciates what's done for him
And always says "thank you"
He's known to be the friendly one
A really kind, cool kid
He stands up to the bully,
"We don't like what you did"
He's learned to live The Golden Rule
At home, camp, sports and school
His kind heart clear to others
They see he's "kind" and "cool"
Chorus:
I'm a citizen of the USA
And proud to say I care
I'll fly our flag so high
They'll see it everywhere
I'll respect our rights and freedom
Until the day I die
And be grateful when I see our flag
Fly in a clear, safe sky
(C) Barbara Gilmour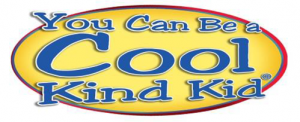 Bullying is the # 2 epidemic in our country. Our children are bombarded in school, their neighborhoods, and the media with the message that mean, rude, and disrespectful behavior is cool, and that bullying is cool. As parents, educators, legislators, the media, and other concerned citizens, we have a responsibility to help our children learn that kind, caring, and respectful behaviors are cool, and that bullying is the ultimate in uncool. As kids learn a new definition for cool, the motivation for bullying is considerably weakened. Because our children are the future of our nation, we need to provide them with the tools and skills that will help them reject bullying, and secure their successful futures.
Social Skills that Break the Cycle of Bullying by Redefining "Cool"™