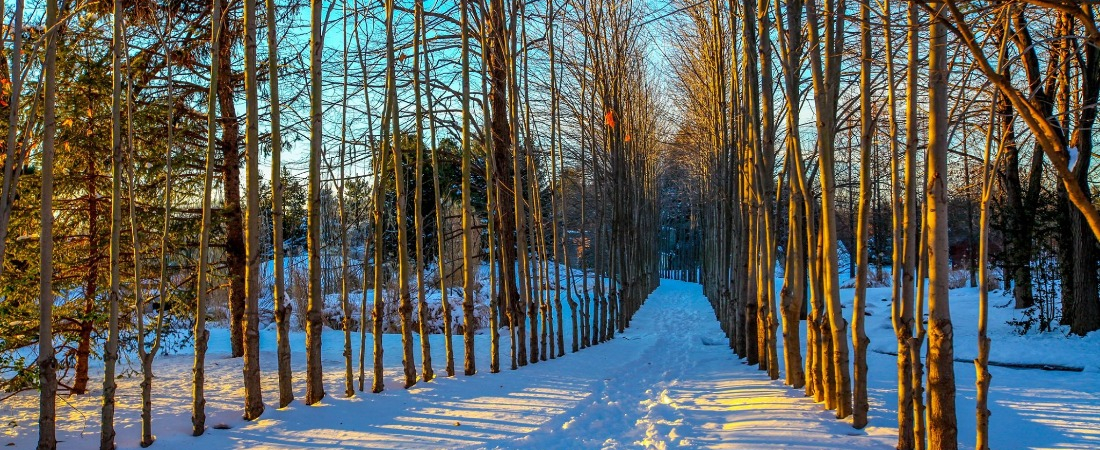 We've found some in-person and virtual things to do in case you are in need of boredom buster, or "need to get out of the house" ideas during this President's Day Week. These places are welcoming you, and have activities to keep you and your family entertained. For a list of more ideas, see our Ultimate Guide to Winter 2021 for where to go in-person. Above picture is a walk through Grounds of Sculpture, open throughout the winter for outdoor enjoyment.
Here are some places to explore, both in-person or virtual...(pls keep in mind social distancing, and online reservations due to COVID19 capacity constraints). Many of these ideas will take you to the outdoors fresh air, so be prepared to trek through the snow! We will continue to update as places open for families.
Observe Presidents Day Weekend onsite and online with family-friendly tours, talks, crafts, and more exploring the nation's first president, George Washington, and the diverse range of people he would have interacted with. Don't miss the Museum's special exhibition When Women Lost the Vote: A Revolutionary Story, 1776-1807, which explores the stories of the nation's first women voters, now available online as a virtual exhibit and on view at the Museum through April 25.
Reopening to the public with hours Fridays – Sundays, 10 a.m. – 3 p.m. Advanced timed tickets are required. If you can't visit, see the Center's NEW Virtual Museum Experience includes signature features of the on-site experience. Highlights include LIVE INTERACTIVE TOURS of key spaces including our main exhibit, The Story of We the People; the iconic Signers' Hall; the Civil War and Reconstruction exhibit, featuring over 100 artifacts; and their newest exhibit, The 19th Amendment: How Women Won the Vote.
Whitesbog Preservation Trust a historic Village - giving free tours and hike. See their website for more online and in-person events. Whitesbog Village is a historic farm and town with 25 historic buildings, blueberry farm fields, cranberry bogs, hiking trails, reservoirs, streams, a picnic grove and the Elizabeth White Gardens. History hikes, moonlight walks, gallery...Roam around outdoors.
MAM is open with new exhibits and the AACC Film Forum. Or create something at their CYBER STUDIO and make a personal collage from home with MAM art educator Agnieszka Aggie Wszolkowska, based on Janet Tyler Pickett's artwork, Me and Matisse, 2001.
Visit the animals. The zoo has begun their annual free admission season which runs until March
Iplay is celebrating Lincoln's Birthday with special offers on unlimited rides and video games.
Aardvarks are family jamming at the Superdome on President's Day @ 1pm.
GROWING IN THE GARDEN - CARTOON ANIMALS: Keith Haring for Kids. For kids ages 3-5, bring nature to life through their virtual growing in the garden program on Feb 16, 2-2:30pm
Celebrate the art of New Jersey with their first exhibition this year. In Nature's Realm: they are having a virtual opening reception and curator walk for all nature enthusiasts.
A sculpture garden, arboretum, and museum. Experience a 42-acre landscaped park and its seasonal transformation; engage with new sculptures throughout the landscape with nearly 300 sculptures on view. Flat rate admission at the reduced price of $10. GFS's six indoor galleries remain closed due to Covid-19 but Grounds will be open Thurs-Mon from 10am–6pm thru March 31.
Get outside and experience art in nature. Go hiking! But advance tickets for Saturday or Sunday visits 10am-4:30pm. New Windsor, NY.
Become an arboretum investigator and explore the grounds for hidden mysteries and treasures.
Check out our list of resorts that are open and waiting for you! Must reserve ahead of time.
GO CROSS COUNTRY SKIING!
Enjoy these great parks! Most trails are not groomed.
• Palisades Interstate Parkway, 5 mile trail (Bergen County)
• South Mountain Reservation (Essex County)
• Wawayanda State Park (Passaic County)
• Lewis Morris County Park (Morris County)
• High Point Cross Country Ski Center (Sussex County), groomed
GO SNOWMOBILING!
• Allamuchy Mountain State Park, Hackettstown NJ
• High Point State Park, Sussex NJ
• Ringwood State Park, Ringwood NJ
• Wawayanda State Park, Hewitt NJ
• Wharton State Forest, Hammonton NJ
GO SNOWSHOEING!
Snowshoeing is fun and easy to learn! Here are some parks and trails:
• Ramapo Mountain State Forest (Bergen County)
• Round Valley Recreation Area (Hunterdon County)
• Pyramid Mountain Natural Area (Morris County)
• High Point State Park (Sussex County)
• Allamuchy Mountain State Park (Warren County)
• Jenny Jump State Park (Warren County)
******************