Special Needs families often face a daily roller coaster of challenges and joys - and finding the right resources for both the children and parents can be a time consuming and overwhelming process. The NJ Kids Team is here to help - we are constantly updating our educational, emotional and early intervention contacts. We also know that kids just want to be kids, regardless of their disabilities or issues, so we've got the best museums, water parks, gardens, indoor play spaces and more for you and your special needs child. And please, if you have any tips that would help other special needs families, don't forget to e-mail suburbanmom@njkidsonline.com. Remember, you are not alone.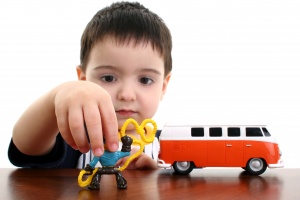 Spend an hour, the morning or the day at the museum. Pick one room or gallery, or find a museum that highlights your child's special interests, such as the Aviation Hall of Fame Museum at Teteboro Airport (get up close and personal to airplanes), the Battleship New Jersey, or the Transit Museum in Brooklyn, NY.
Many art programs also offer special programs for special needs, including The Newark Museum, which has on-going drop-in art activities that can be adjusted for different developmental levels and the teacher/participant ratio is low for individualized attention. Try the NJ Visual Arts Center in Summit, the VSA Arts of NJ in New Brunswick or NJ PAC in Newark, which have special art programming and workshops. Bergen PAC, in Englewood just expanded their space to open programming to children with special needs.
Need to climb, jump and move about? Hands - on museums are perfect combination of learning and fun! Head to Imagine That! in Florham Park or Garden State Discovery Museum in Cherry Hill for an open floor plan chock full of touching, feeling and discovery. Bonus: Garden State Discovery Museum offers: Open Arms: Family Night – a night when the museum is open to families with special needs only!
Gardens are a great place to roam and get out into the fresh air – and The Fragrance and Sensory Garden in Somerset is perfect for the visually or physically impaired. It illustrates how plants can appeal to all of the senses and visitors are invited to touch and smell the plants.
Therapeutic horseback riding is beneficial both physically and emotionally. Special needs children who work with horses develop self-esteem, concentration, patience and confidence – and it also relaxes and stimulates unused muscles and joints, builds muscle tone, and improves strength and coordination. Many stables offer special lessons and classes for special needs children.
How about an hour or two of bounce? Head to Pump It Up – or any other indoor gym - to burn off a little steam. Many places offer special 'bounce time' – Pump it up has partnered with Autism Speaks and offers Sensory Jump Time, a program for all children on the autism spectrum. Children get to make new friends, jump, slide and play sensory-friendly games within a controlled, safe environment while parents have a chance to bond with other adults dealing with similar struggles. This program is open only to children on the autism spectrum and their siblings only.
Many special needs children feel a sense of relaxation in the water – and Sahara Sam's is offering a special night for special needs families on May 10th. Enjoy the pools and water rides. There will be a Quiet room available, and there will be modified Lighting and Sound throughout the Park. Bring your own snacks for those special dietary needs or dine from our full-service café. Tee shirts and shorts are OK!
Open up the Night Sky – many planetariums offer special shows for kids with special needs. The Raritan Valley College Planetarium offers a one-hour sensory-friendly program. The doors will remain open so that children will be able to come and go. Lights will be left dim and audio will be lowered and at a consistent level.
Many enrichment and schools offer classes specifically designed for special needs children – for example, Kid•Netic in Montville, and The Little Gym have classes that include music, movement and more and is tailored for kids of different abilities. Also try your local gymnastics centers and search for special yoga classes!
What about cooking? Classic Thyme in Westfield has a great cooking program which can be tailored. Bring your group for a special mixture of fun and food.
Dance and Performing Arts enrichment is great enjoyment for kids. Cresskill Performing Arts in Cresskill is a state approved facility for special needs. Aside from their summer performing arts camp, they offer a fencing camp, and Creative Lego workshops.
Don't forget the theatre and performing arts! A number of venues offer sensory-friendly events. Call up the Paper Mill Playhouse, Union County Performing Arts Center, or NJ PAC. Plus you will find all sorts of shows for children of all ages.
And of course, everyone needs a party! We heard that Glowhouse Kids in Butler has a special glow party once a week, catered just for special kids.