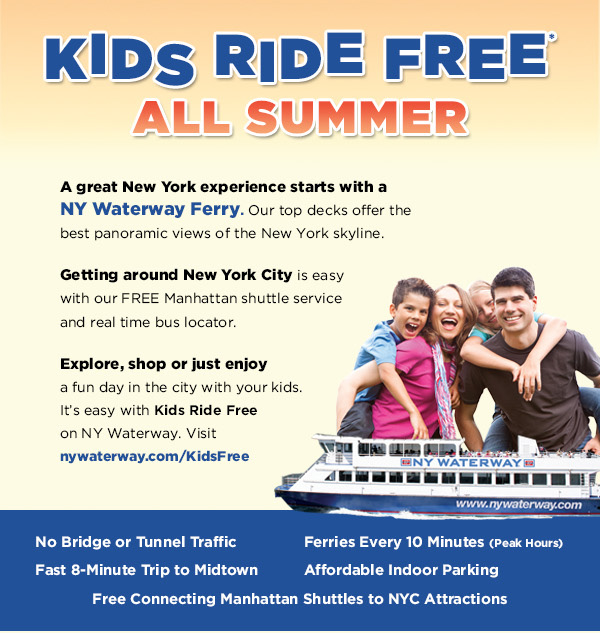 Children 12 & Under Ride Free*
EXPERIENCE ALL NEW YORK HAS TO OFFER
A great New York experience starts with a NY Waterway Ferry! Our top deck offers the best panoramic views of the New York skyline. Our modern ferry terminals have food services, air conditioning, free WiFi and clean restrooms.
Take in a show with your kids, have a great food experience, see the sites from street level and from the top of great buildings! Experience world -class museums, Broadway or professional sports with your family. A great experience has always been close and now NY Waterway makes it easy and fun.
EXPERIENCE THE BREATHTAKING VIEW FROM THE FERRY
The fun begins when you cross the Hudson River on one of our fast, frequent ferries. In New York City, we get you to your destination with our free multi-route buses. When you are ready to come back to the terminal, just wave down a NY Waterway bus from any of the public bus stops along any of 5 routes.
EXPERIENCE A NEW LEVEL OF SERVICE
Our convenient modern terminal at Port Imperial/Weehawken, NJ has plenty of affordable and secure parking, a restaurant, coffee and snack service. Our staff if there to answer your questions. The Midtown/39th Street Terminal is also modern with coffee and restaurant service.
EXPERIENCE FREE CONCIERGE SERVICE
Call us in advance and we can help save you up to 56% off admissions to New York's best attractions. The service is free and the savings are great! Call us at 1.800.53.FERRY (800-533-3779) about "Your Key to the City" savings or questions you have about NY Waterway Ferry services.