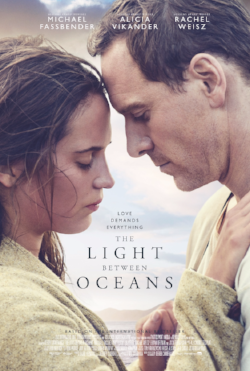 MOVIE SYNOPSIS: This romantic drama based on M.L. Stedman's best-selling novel stars Michael Fassbender and Alicia Vikander as lighthouse keepers on a remote island caught in an impossible situation.
Reel Rating: 4 out of 5 Reels
MPAA Rating: PG-13 for thematic material and some sexual content
Released in Theaters: Sept. 2, 2016
Best for Ages: 15+
Genre: Drama, Romance
Runtime: 130 minutes
Directed by: Derek Cianfrance
Studio: Buena Vista
Cast: Alicia Vikander, Michael Fassbender, Rachel Weisz
MOVIE REVIEW: Romantic, heartbreaking and epic all describe "The Light Between Oceans," a sweeping film based on M.L. Stedman's best-selling novel. Michael Fassbender stars as Tom, a World War I veteran who takes a position as a lighthouse keeper on the isolated island Janus Rock, off the coast of Australia.
After the horrors of war, Tom looks forward to finding some peace of mind on the remote island. Then he meets Isabelle (Alicia Vikander), who lives with her family on Point Partageuse, the nearest land to Janus Rock. The two fall in love and get married, with dreams of raising a family in the lighthouse's idyllic location.
But parenthood eludes them, as Isabelle suffers not one, but two painful miscarriages, leaving the couple heartbroken. Then Tom spots a boat floating in the middle of the sea. He brings the boat into shore and finds a deceased man and a baby girl very much alive. Tom wants to report the baby to the authorities, but Isabelle feels this is a gift from God, and pleads with him to keep the baby and raise it as their own - which he does, reluctantly.
For several years, they raise baby Lucy and live a happy life on the remote island. But on one of their visits to Isabelle's family, Tom encounters a woman (Rachel Weisz) who might be connected to the baby. Tom and Isabelle disagree on what they should do, but either path leads to guilt and heartbreak.
You can't go wrong with director Derek Cianfrance ("The Place Beyond the Pines," "Blue Valentine") paired with the excellent acting skills of Fassbender, Vikander and Weisz. (As a side note, this movie is also the one where Fassbender and Vikander fell in love in real life.)
Like Cianfrance's other films, "The Light Between Oceans" is moody and dramatic, only with more sweeping cinematography - in this case, of the gorgeous Australian landscape and ocean. Cianfrance makes sure we're fully invested in Tom and Isabelle as characters before upending their happy life for a grief-stricken, uncertain future.
This movie is not for the faint of heart. It's rated PG-13, but with themes of profound grief and intimacy torn apart, I'm going with kids aged 15 and older on this one. But it's also a really beautiful film that's worth a look - if you can handle the heartbreaking moments.
PARENT OVERVIEW: Like M.L. Stedman's book upon which this film is based, expect a heartbreaking series of events, including miscarriages (some blood is shown), several deaths, and a storm that leaves a man dead and his child alone in a boat. This film is pretty gloomy overall, with themes of grief, death, marriage, motherhood, morals and xenophobia. Romance includes a few sensual sex scenes with brief nudity (bottom, side of breast), as well as a scene in which Australians treat a German harshly and a moment where a child appears to be in danger.
PARENT DETAILS (May Contain Spoilers):
Violence/Gore: A woman's two miscarriages are depicted as heartbreaking and painful; blood is shown. The babies are buried; no bodies are shown, but we see the tiny crosses on the graves. A dead man is discovered in a boat; his corpse is shown briefly and then buried. Australians treat a German harshly after WWI. A child disappears and appears to be harmed.
Sex/Nudity: A married couple is shown in bed, and it's clear the wife is having sex for the first time. Brief nudity includes the side of a woman's breast and her backside. Some embraces.
Profanity: None.
Drugs/Alcohol: Adults drink socially.
JANE'S REEL RATING SYSTEM:
One Reel – Even the Force can't save it.
Two Reels – Coulda been a contender
Three Reels – Something to talk about.
Four Reels – You want the truth? Great flick!
Five Reels – Wow! The stuff dreams are made of.
Jane Boursaw is the film critic and editor-in-chief of Reel Life With Jane. Contact her at jboursaw@charter.net. Images in this review used courtesy of the studio and distributor.