Where to find the best cold weather indoor activities in NJ and the tri-state area! Don't let the cold weather get you down. There's still plenty to do! NJ Kid has found the top 50 indoor places to go and things to do that are sure to keep the entire family – from toddlers to teens – happy and warm.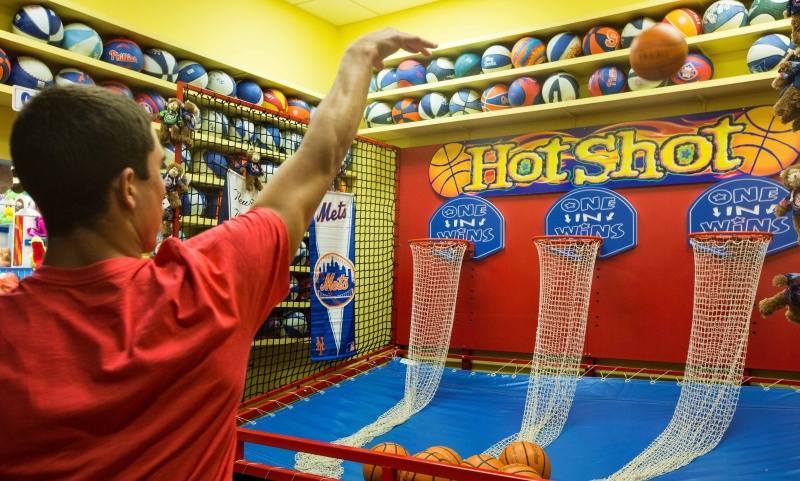 Catch a performance of Dance Theatre of Harlem, at the NJ Performing Arts Center in Newark on Jan 17 celebrating their annual Rev. Dr. Martin Luther King Tribute.
Celebrate Martin Luther King's birthday at the Newark Museum on Monday, January 20, 2014, 12:00-4:00 pm – the day will be filled with activities for the entire family.
Depart NJ on a Statue Cruise to Liberty & Ellis and get some history, culture and fresh air! Frequent departures from NY and NJ.
Prepare to be amazed by master illusionist, Bill Bragg on Jan 18th at the BergenPAC; or MatheMagic @Berrie Center for Performing and Visual Arts on Jan 29th.
Sign up for a Mommy and Me class at the local gymnasiums near you; My Gym, Fitness Factory, Little Gyms, Kids U… all cater to you and your tot! Don't miss Imagine That's Mommy and Me event Jan 29th.
Chug on up to the NY Botanical Garden in the Bronx to see the annual Holiday Train show – it's running through 1/12….
…Or head to Grand Central in NYC for a smaller model train display, tooting along through February 23rd, then ask for a family friendly scavenger hunt of the iconic Grand Central Terminal.
Step out onto the field at the Gridiron Glory Exhibit at Liberty Science Center, an interactive exhibit that combines history and hands on football fun. On January 20th, meet Former Jet player, Randy Beverly.
Grab a ball, lace up the shoes and enjoy a Sunday morning special at Plaza Lanes Bowling Alley in Madison, from 9-11:30AM….
…Or hit the links…. inside, at Monster Mini Golf in Union, Fairfield, or Paramus locations.
Introduce your toddler to a new skill or language at L3 Academy in Montclair – Mommy and Me classes in Lego, Science, Spanish and more.
Or maybe even engineering for kids? Check out the summer programs for kids at International Ivy with locations at various campuses.
Get a behind the scenes tour of Jenkinson's Aquarium on January 26th (ages 5 and up).
Skate away the afternoon at Union Sports Arena, Codey Arena, Mennen Sports Arena, Ice House or if you're in the city, check out Bryant Park's outdoor rink, free to the public.
Marvel at the art of Nathan Sawaya – a master brick artist who has taken the Lego to another level at the Morris Museum.
Listen to a new type of music when a young Julliard quartet visits the South Orange Performing Arts Center on January 26th
Visit Planet Swirl for out of this earth yogurt. Special parties too!
Warm up in the butterfly atrium at World of Wings.
Explore Poison and its role in nature, myth, and human health at the new American Museum of Natural History exhibit.
Pump up the fun at 'Tuesdays 2 for 1' bounce at Pump it Up in Roselle Park.
Tour hundreds of camps during January's camp fairs sponsored by Summer Sensations held each weekend at various locations, and bring and engage the kids to collect material, watch video footage and ask questions.
Then attend some open houses…Spring Lake Day Camp has theirs on Jan 5 and 19.
Bring your favorite doll and make a matching bracelet at Just Bead Yourself's Afternoon Tea with My Doll and Me on Jan 5th (registration required)
Gallop into the Chinese New Year at a daylong celebratory extravaganza at the Penn Museum in Philadelphia on Jan 25th.
Visit the animals (there are tons of indoor exhibit halls) at the Bronx Zoo in NY…
…Or watch the sea mammals dive, swim and play at Adventure Aquarium in Camden.
Investigate the world of art at the Visual Art Center in Summit NJ – a small, child-sized gallery with changing exhibits.
Jump on over to Bounce U in Paramus on Wednesday nights for their 6PM family bounces (the family that bounces together stays together!).
Get ready for some foot pounding, percussion beating, broom thumping fun at STOMP in NYC.
Try your hand at a variety of boardwalk arcade games at iPlay America (they've also got bowling, laser tag, and much, much more).
Gear up for the next Iron Chef and take a class at Classic Thyme in Westfield.
Spend an hour or two at Trailside Nature and Science Center and explore the night sky, Native American exhibit and more.
Combine fun, fitness and trampoline play at Rebounderz in Edison
Spend quality time with family at Woodloch, nestled in the picturesque Pocono Mountains, an all inclusive getaway.
Grab a harness and get ready to scale the 37-foot wall at Diamond Rock in East Hanover.
The bell is ringing…. at Kid U, the campus for kids! Take a class or come enjoy the PlayQuad, the 2000 square foot play and exploration area.
Think Florida at CoCo Key in Mt. Laurel, an indoor waterpark with gallons and gallons of water fun.
Gaze up at the stars at the New Jersey State Museum Planetarium.
Dress up, build, shop, dance. …and just pretend the day away at the Garden State Discovery Museum
Stand next to the famous and infamous at Madame Tussauds in Time Square.
Spend a Saturday playing and learning at the Bucks County Children's Museum
Explore the world of martial arts at Apex Tigers in Florham Park and Millburn...
…Or find your daughter's inner fashion diva at Future Fashionista in Livingston.
Visit a local library and spend the morning reading - bring a friend or two and create a small 'book club'.
Perfect your putting at Greenhouse Golf, an indoor golf center in Waldwick (they've got PGA simulators AND mini golf).
Calling all Homeschoolers – Fernbrook Farms Environmental Center offers classes and programs for homeschoolers.
Create lotions, scrubs and other luxurious bath products at Bath Junkie in Westfield.
Tuesday morning is free playtime for little tykes at Glowtime Kids in Butler.
Download a family activity and tour guide then head to the Princeton University Art Museum for a day of fun and learning.
Make an indoor campfire – then make some s'mores, enjoy a cup of a cup of hot cocoa and have a game night. Build a living room fort, bake cookies, draw a picture…. Or simply enjoy a snuggle on the couch.
Grab a towel and think summer at Sahara Sam's – an indoor waterpark where the temperature is always warm and the fun is always hot, hot, hot.