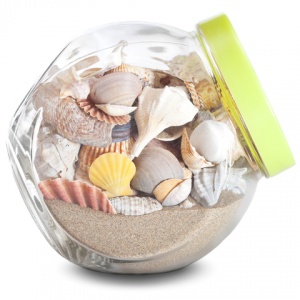 Summer is the time for higher electric bills, of course, but it is also vacation season. Going on vacation is a great way to leave the hustle and bustle of everyday life behind and enjoy time with our family and friends. What about when we get home? What are we to do with those Statue of Liberty snow globes or figurines made from seashells?
If there is one thing I have noticed in working with clients is that souvenirs are hard to keep, hard to store, hard to display and even harder to let go of. The trick is to select souvenirs for a functional purpose rather than rushing in to purchase a piece of kitsch on the way out of town. Putting souvenirs to good use provides a real reminder of the great time we had on a regular basis.
Here are some examples:
PRESSED PENNIES - Granted they are absolutely EVERYWHERE but if you already have a pressed penny collection, why not carry on? Find a jar that you love and place them in there as they come home. It would be very meaningful to sort back through them and reminisce without them being scattered all over
MAGNETS – Magnets have been in souvenir shops for generations and I have yet to see a clients home without any. The trick is to find a place for them to display that is not on the refrigerator. The side of the washing machine, or even a magnetic white board are great places for these magnets. Keeping the refrigerator doors magnet free will help your kitchen feel less cluttered.
POSTCARDS – Postcards are wonderful souvenirs. They can be used in scrapbooking or placed in the photo album with pictures from the trip. An added bonus is they are very inexpensive and several could be purchased and ride home easily in luggage. Being TSA friendly is the icing on the cake.
LOCAL ART – Buying local art is a new trend in souvenirs. On a recent trip to New York City, I bought a picture from a street artist and it is now one of my favorites in my office. These can range from caricatures to photography and there is almost always something to suit any taste.
BOOKS – This is my personal favorite. On a recent trip my husband and I were contemplating the life cycle of a grain of sand…where it comes from, where it goes and how long it takes to get there. Google was a disappointment. While shopping for souvenir t-shirts (see next section) we came across a book titled A Grain of Sand and it was set! We now buy a book everywhere we go. If you have children, this is a great way to commemorate a trip, especially if you buy books from local authors, none of your friends will have one like it!
T-SHIRTS – T-shirts are great souvenirs although once they have lived their life, it is time for them to move on to a rag or charity. If you would be inclined to save them all to make a quilt "someday", opt to bring back something else.
Those are some ideas for what to buy when you go on vacation but what are you going to do with what you already have?
If you have a set of glasses from say, a cruise, keep only one unless you are using them daily. One glass will do just as much as four or eight.
If you have shot glasses, coasters, spoons, etc. use them. If you aren't interested in using them then try a display cabinet. Don't want to use them or display them? Pack them up or donate them.
Mugs are tricky. I would recommend letting go of all logo mugs (unless they are your favorite or your business) and keep only purchased memorabilia mugs. This should clear out the cabinet a little. Still have too many? Eliminate duplicates.
My favorite thing to do with kitschy souvenirs is place them in a large jar with a lid. All of these small little things mixed together in a sort of souvenir soup. It is fun too look at, friends ask about it, and it is fun to sort through.
Finally, the very best souvenir is photographs. They are very personal as you only photograph what is meaningful to you. You can make them into a book or anything else you could possibly imagine on sites like shutterfly.com. If you still have souvenir troubles, feel free to post your question on Neat as a Pin Facebook page.
Happy souvenir hunting and have a Neat day!
Jennifer Snyder
Neat as a Pin Organizing Experts
www.neatasapin.net
Facebook: www.facebook.com/neatasapinorganizingexperts