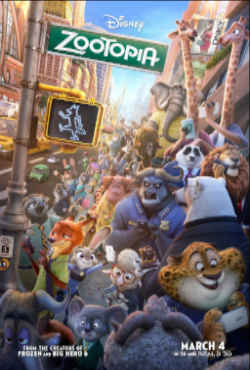 MOVIE SYNOPSIS: This fast-paced animated Disney film takes place in the world of Zootopia, where animals live peacefully together. But that may change when a young bunny starts her first job as a new cop.
Reel Rating: 5 out of 5 Reels
MPAA Rating: PG for some thematic elements, rude humor and action
Released in Theaters: March 4, 2016 (2D, 3D, IMAX 3D)
Best for Ages: 6+
Genre: Family, Animation
Runtime: 108 minutes
Directed by: Byron Howard, Rich Moore, Jared Bush
Studio: Disney
Cast: Ginnifer Goodwin, Jason Bateman, Jenny Slate, Idris Elba
MOVIE REVIEW: Oh.My.Gosh. "Zootopia" is super cute. It's the kind of family movie where I started texting and Facebooking people to go see it on my way out of the theater. I told my 18-year-old daughter and 21-year-old son to go see it. Not sure about the son, but the daughter said she'd go see it with me - because I want to see it again! I saw the 2D version, but it's also available in 3D and IMAX 3D. So I'll definitely be seeing one of those versions.
The story takes place in the modern mammal metropolis of Zootopia. The city includes various climate-themed neighborhoods, like frozen Tundratown and glitzy Sahara Square. Zootopia is basically a melting pot where animals from every environment live together peacefully, because they've evolved beyond prey and predator tendencies.
Young bunny Judy Hopps has been dreaming her whole life of moving off the carrot farm on the outskirts of town and becoming a cop. So she goes through the rigorous training, gets that coveted cop badge, and moves to Zootopia for her very first job as a cop with the Zootopia Police Department.
The optimistic bunny soon learns that being the first bunny on a police force with big, tough animals isn't easy. In fact, she's passed over for a big missing persons case and assigned the job of meter maid. But the opportunity to crack the missing persons case presents itself, and Judy promises a worried otter that she'll find her missing husband.
With only 48 hours to crack the case if she wants to keep her badge - Police Chief Bogo (Idris Elba) is a tough water buffalo boss - Judy realizes her best bet is to enlist fast-talking, scam-artist fox Nick Wilde (Jason Bateman) to help her.
"Zootopia" is one of those rare family movies that appeals to all ages. Kids will love the cute characters, bright colors and fast action. Grownups will love the great dialogue, fun storyline and sly humor (there's even a "Breaking Bad" reference). It's a whodunit mystery, a buddy-cop movie, and a fish-out-of-water tale with important social commentary about living and working together.
Judy and Nick's snappy banter reminds me of an old screwball comedy starring Katharine Hepburn and Spencer Tracy. The plot twists are reminiscent of old-time noir films where you're never quite sure where things are headed.
The voice casting is spot-on, from Goodwin's energetic Judy, Bateman's cynical Nick and Elba's brusque Bogo, to Tommy Chong's "naturalist" life coach yak, Shakira's pop star Gazelle, and Maurice LaMarche's tuxedoed crime boss Mr. Big.
"Zootopia" delivers a great message for both kids and adults: Be who you want to be and follow your heart. Even if that means being a very small bunny on a tough police force.
PARENT OVERVIEW: "Zootopia" includes chase scenes, jump-scare predator attacks, an explosive crash, and references to mob activity, kidnapping, torture and bullying. Language includes insults like "stupid," "jerk," "dumb," "butt," etc. A pop star gazelle wears sexy, form-fitting clothes. Most of the grownup jokes will go over kids' heads, including references to The Godfather, the DMV, and Breaking Bad. The story features great messages about teamwork, tolerance, courage, empathy and working hard to achieve your dreams.
PARENT DETAILS (May Contain Spoilers):
Violence/Gore: Several scenes of peril and danger, including chases, fighting, dart guns, and intimidating large animals. Predator animals go savage and try to attack other animals. A "wild" animal is held captive in a cell and scares Nick and Judy. In one scene, it appears that an animal has turned on his friend. A few tense moments in dark places as Nick and Judy investigate a missing mammal case. A mobster kidnaps Nick and Judy and threatens to "ice" them (throw them into frozen water). A young fox bullies a young bunny, shoving her and clawing her across the cheek.
Sex/Nudity: A pop star gazelle wears sexy, form-fitting clothes and dances suggestively with her tiger back-up dancers. A "naturalist" club features nude animals communing together (Judy is shocked, but viewers just see animals like we usually see them).
Profanity: Insults like "dumb" "jerk," "loser," "stupid," "moron," "butt," "shut up" and "oh my God."
Drugs/Alcohol: None.
JANE'S REEL RATING SYSTEM:
One Reel – Even the Force can't save it.
Two Reels – Coulda been a contender
Three Reels – Something to talk about.
Four Reels – You want the truth? Great flick!
Five Reels – Wow! The stuff dreams are made of.
Jane Boursaw is the film critic and editor-in-chief of Reel Life With Jane. Contact her at jboursaw@charter.net. Images in this review used courtesy of the studio and distributor.