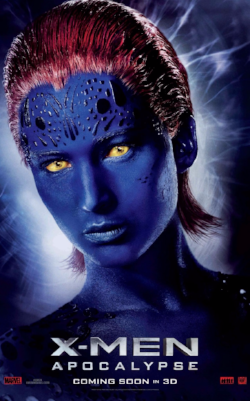 MOVIE SYNOPSIS: This third film in the X-Men reboot pits the superheroes against a mighty foe bent on destroying the world.
Reel Rating: 4 out of 5 Reels
MPAA Rating: PG-13 for sequences of violence, action and destruction, brief strong language and some suggestive images
Released in Theaters: May 27, 2016
Best for Ages: 13+
Genre: Action/Adventure, Sequel, Superheroes
Runtime: 144 minutes
Directed by: Bryan Singer
Studio: 20th Century Fox
Cast: Jennifer Lawrence, James McAvoy, Michael Fassbender
MOVIE REVIEW: How fun to see the X-Men characters back on the big screen. This third film in the reboot franchise takes place in the 1980s, with the mutants scattered across the globe. Professor Xavier (James McAvoy) is now running a school for kids gifted with superpowers, although some of them think of their powers as more of a curse.
Raven (Jennifer Lawrence) is mostly keeping to herself, and Magneto (Michael Fassbender) is living a quiet life as a humble factory worker, with a wife and young daughter. But when a 6000-year-old super-mutant, Apocalypse (Oscar Isaac), is awakened from a deep sleep, he's ready to wreak havoc on the world, aided by a crew of evil mutants (Alexandra Shipp, Ben Hardy, and Olivia Munn).
Will the X-Men reunite to save the world? And will Magneto, after suffering a tragic loss, be lured to the dark side
You don't always get some good character development and depth of story with a superhero movie, but "X-Men: Apocalypse" delivers. Rather than just jumping from one superhero battle to another, we get a touching storyline that brings the gang back together.
At times, the film seems a bit overcrowded with characters, which tends to happen with these big ensemble films. But director Bryan Singer makes sure that everyone gets some good screen time, even Wolverine (Hugh Jackman) for a few brief moments.
Beautiful special effects, good character development, an engaging storyline and a cadre of A-List actors make "X-Men: Apocalypse" one to watch. Other characters include Hank McCoy/Beast (Nicholas Hoult), Peter Maximoff/Quicksilver (Evan Peters), Jean Grey (Sophie Turner), Scott Summers/Cyclops (Tye Sheridan), Alex Summers/Havok (Lucas Till), Kurt Wagner/Nightcrawler (Kodi Smit-McPhee), Angel (Ben Hardy) and Ororo Munroe/Storm (Alexandra Shipp).
You don't have to know the backstory to enjoy "X-Men: Apocalypse," but it's helpful if you watch the first two movies, 2011's "X-Men: First Class" and 2014's "X-Men: Days of Future Past."
As with all Marvel movies, stay through the end credits to see a little bonus scene that moves us into the next film.
PARENT OVERVIEW: Lots of superhero-style action violence, mixed in with quieter moments. Aside from some brief scenes of slashing, there's not much gore, but plenty of weapons, destruction, and combat. Language includes "damn," "piss," etc., and one use of "f--k." A few scantily-clad characters and form-fitting costumes on the female characters. A character experiences a tragic loss. The good vs. evil storyline features strong female characters.
PARENT DETAILS (May Contain Spoilers):
Violence/Gore: Plenty of superhero-style action, including weapons, big explosions, and hand-to-hand fights. A group of men's heads are lopped off in one brief scene, and Wolverine fights some bad guys by slashing them. Overall, though, there's not much gore. A menacing evil character is bent on destroying the world. A character loses his family and grieves for them.
Sex/Nudity: Some flirting. Female characters wear skimpy outfits or form-fitting costumes. As her superhero character, Mystique is technically nude, but it looks like body armor.
Profanity: Aside from one "f--k," language is fairly mild, including "damn" and "piss."
Drugs/Alcohol: None.
JANE'S REEL RATING SYSTEM:
One Reel – Even the Force can't save it.
Two Reels – Coulda been a contender
Three Reels – Something to talk about.
Four Reels – You want the truth? Great flick!
Five Reels – Wow! The stuff dreams are made of.
Jane Boursaw is the film critic and editor-in-chief of Reel Life With Jane. Contact her at jboursaw@charter.net. Images in this review used courtesy of the studio and distributor.