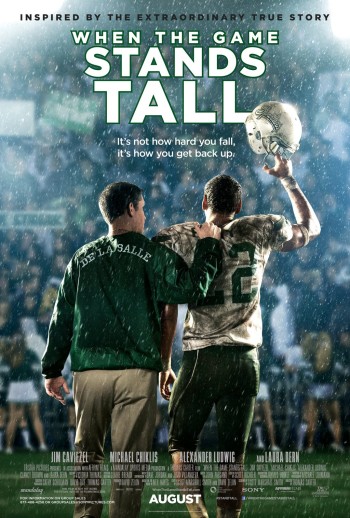 SYNOPSIS: ;This movie follows the journey of legendary football coach Bob Ladouceur, who took the De La Salle High School Spartans from obscurity to a 151-game winning streak that shattered all records for any American sport.
Reel Rating: 3 out of 5 Reels
MPAA Rating: PG for thematic material, a scene of violence and brief smoking
Released in Theaters: Aug. 22, 2014
Genre: Drama, Faith-Based, Sports, Based on a Book
Runtime: 115 minutes
Directed by: Thomas Carter
Studio: TriStar Pictures
Cast: Jim Caviezel, Alexander Ludwig, Michael Chiklis, Laura Dern
Official Site: When the Game Stands Tall
REVIEW: It's never a good sign when the end credits showing the "real people" are more interesting than the movie itself. I love the concept of "When the Game Stands Tall," and the positive messages are fantastic. But they jumped into the story without much explanation, and the pacing seemed off for the whole movie. Honestly, I'd rather watch a documentary about the real people.
Based on the book by Neil Hayes, this movie follows the true story of Bob Ladouceur (Jim Caviezel), the head coach of the De La Salle Spartans, the high school football team with the longest-running winning streak — 151 games — in the history of the sport. Things get interesting when the team finally loses a game, and this movie is about that specific season.
As they struggle with the loss, they're also dealing with a tragedy involving one of the team members. At home, the coach deals with the personal fallout of devoting so much time and effort to a team, while his wife (Laura Dern) and young kids need his attention.
One thing about seeing the real coach over the end credits is that you see how passionate and animated he is while talking with the team. We get none of that from Caviezel, whose acting is as cardboardish as the cue cards he appears to be reading.
And I don't believe they missed one sports movie cliche here, including, but not limited to: a diverse team hoping for a better life, a quiet but intense coach, an abusive father who's living vicariously through his son's wins, an ignored wife and kids who want to spend more time with their dad, everything coming down to that "one big game"…
I generally love sports movies, because there's always that inspirational element where the team comes together for the greater good. And that's actually the main story here, which we see right at the beginning when the team walks onto the football field holding hands. You don't see that very often in a sports movie.
I like – and may steal for my own business – the team's "commitment cards," where each of the team writes down a goal or commitment and vows to carry out certain things for the greater good of the team. There are also some great quotes, like:
"Don't let a game define who you are. Let the way you live your lives do that."
"It's the difficult times in life where growth occurs."
"It ain't about the game. It's about moving you in a direction that will help you grow."
But this faith-based movie follows the trend of others, where it just gets too preachy and melodramatic. One of my Reel Life With Jane writers recently interviewed Johnny Remo, who talked about the difficulties of making faith-based movies and why he continues to do it. There's definitely a fine line between making a message-based movie that's entertaining, but not overly preachy.
The intention of "When the Game Stands Tall" is good — to elevate ideas about faith, love and perseverance. But unfortunately, it comes off as formulaic and predictable.
THE DETAILS:
Sex/Nudity: A husband and wife kiss. Young couples hug and hold hands. A guy asks his friend if he's getting intimate with his girlfriend, and the friend replies that they're "waiting for the big day."
Violence/Gore: A father is abusive towards his football player son. A character is shot and killed by a young man with a gun. Two friends argue heatedly and shove each other. Football players get into a fight on the field.
Profanity: "Damn," "lame," "stupid," and "dumb."
Drugs/Alcohol: Teens drink at a party. A coach smokes cigarettes.
Which Kids Will Like It? Kids 12 and older who like sports or faith-based movies.
Will Grownups Like It? I love the positive messages of this movie, but the pacing is off and the story predictable.
JANE'S REEL RATING SYSTEM:
One Reel – Even the Force can't save it.
Two Reels – Coulda been a contender
Three Reels – Something to talk about.
Four Reels – You want the truth? Great flick!
Five Reels – Wow! The stuff dreams are made of.
Jane Boursaw is the founder and editor-in-chief of Reel Life With Jane. Her credits include hundreds of print and online publications, including The New York Times, People Magazine, Variety, Moviefone, TV Squad and more. Reel Life With Jane.